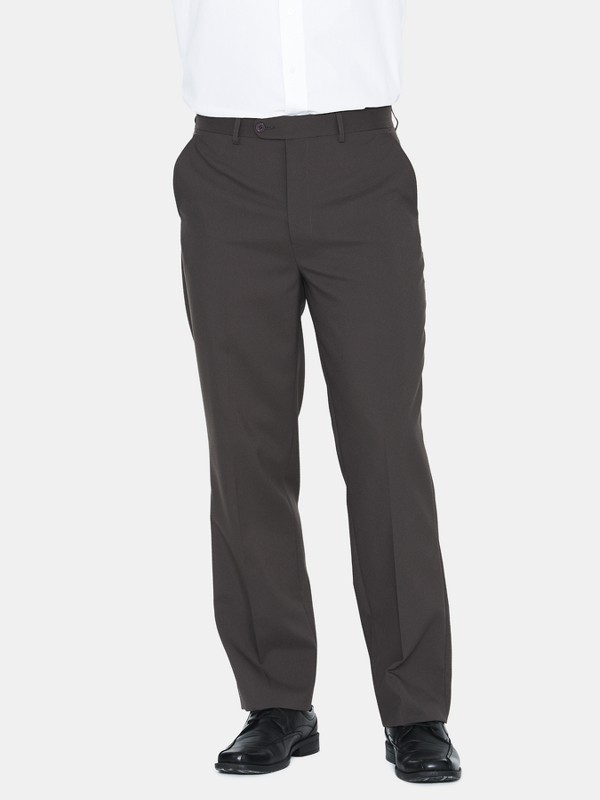 There are a number of reasons that men have for buying a pair of trousers: fashion trends cause changes in the popularity of trousers, a new job requires a new dress code, and men buy trousers because of changing waistlines. Where do men shop for trousers? They typically purchase new trousers in the men's section of large department stores or in men's clothing shops. With the negative stigma of buying secondhand clothing having waned, men should consider shopping for used trousers to fill the void in their wardrobes.
Men can find used trousers at nationally-owned and independent neighbourhood thrift shops. They can also buy secondhand trousers at consignment shops, albeit at a slightly higher price than what they find at thrift shops. The most convenient way to shop for used trousers is online at the leading auction site, eBay. Before men shop for used trousers, they should learn how to buy used clothing, what to look for in a pair of trousers, the primary materials used to construct trousers, and how to obtain the perfect fit for trousers.
How to Buy Used Clothing
Before men shop for used trousers, they should learn about the general principles that pertain to buying used clothing. The most important principle is knowing where to find used men's trousers. Most department and men's clothing shops only sell used clothing during seasonal sales. They acquire returned clothing returns over a few months, then they typically run unannounced sales over a 48-hour period.
Thrift Shops
Most neighbourhoods within larger cities have at least one nationally-operated thrift shop. The same neighbourhoods can also be home to smaller independent thrift shops. Thrift shops offer customers a wide selection of both off-brand and brand name used clothing, which includes men's trousers. They also provide fitting rooms, which are essential for men who want to find a pair of men's trousers that fit snugly, yet comfortably.
Consignment Shops
Many consumers confuse consignment shops with thrift shops. While thrift shops operate on clothing donations, consignment shops split the profits from clothes sold with those who provide the used clothes. Consignment shops usually offer used clothes at higher prices than thrift shops because of the profit factor. However, men can still find better bargains on used trousers at consignment shops than they can at department stores or men's clothing shops.
eBay
Online shopping makes it convenient for men to buy used trousers if they have obtained accurate measurements. eBay provides the most convenient online shopping platform and some of the best bargains on men's trousers. Some sellers offer men's trousers that are in mint condition. This is because the seller either bought the wrong size or the wrong style of trousers. While they may have tried on the trousers, the sellers usually do not wear the trousers enough to downgrade them to used products.
Brand Names
Buying used clothing means taking a bit of a risk. Men can minimise the risk by shopping for brand name trousers. Brand name trousers are constructed with the finest fabrics by the most talented designers. Men can count on trousers that possess rugged durability and offer supreme comfort, even after years of use. Some of the brand names to consider include Armani, Z-Brand, and Orvis trousers.
What to Look for in a Pair of Men's Trousers
Men must consider a number of factors before they buy trousers. While most men do not have a strong opinion about whether to buy button-fly or zip-fly trousers, they have probably made up their minds about most, if not all, of the following factors.
Stitching
Quality stitching may be the difference between trousers that rip or tear and trousers that provide years of use. The seams should be neat and straight. Stitches should be evenly placed and they should consist of cotton threads. Trouser pockets should align on both sides and no wrinkles should appear along the seams, pocket joints, and crotch area.
Pleats and Fronts
Men's trousers are available in two styles: pleats and flat fronts. Men's clothing designers consider pleats to be more formal than flat fronts, and hence, pleated trousers are excellent clothing choices for professional and upscale social environments. Flat fronts are more appropriate for side pockets than they are for horizontal front pockets. Men should also consider pleats if they have larger than average thighs or they carry extra weight below the waistline. Some designers add one or two pleats to present some formality to a pair of trousers, but the addition of even one pleat can overwhelm men who possess slimmer body proportions.
Colours
While colour is mostly a matter of personal preference, men should remember that blue, grey, and black represent the colours most appropriate for formal settings. Lighter colours look best during the warmer months of the year, but most men's clothing designers believe light coloured trousers are off limits from mid-September to the end of May. Darker trousers also allow men several matching possibilities with shirts and ties. Trouser colours are usually associated with specific textures. Formal trouser colours combine with textures that feel smoother and ostensibly look more refined.
Cuffs
To have, or not to have cuffs, that is the question. Cuffs look best on tall, slim men who need cuffs to hold pleats steadily in place. Shorter men appear taller by not wearing cuffs, and cuffs are not required to match with flat front trousers. Men who buy cuffed trousers cannot utilise a tailor to remove the cuffs. Therefore, designers recommend that men purchase trousers that do not have cuffs, since tailors can add cuffs at any time.
Men's Trousers Fabrics
The type of fabric, or fabric blend, used to construct a pair of trousers is an important buying factor when considering men's trousers for purchase. Trouser fabrics determine durability, breathability, and comfort levels.
Wool
One of the advantages of wool is that manufacturers can construct trousers using lightweight or heavyweight materials. This means men can wear some variation of wool trousers throughout the year. Wool is the most durable trouser fabric, but it does require more care than other trouser fabrics. Wool trousers must be dry-cleaned, which increases the cost of wearing them. However, men can wear a pair of wool trousers five times before they need to take the pair of trousers to the dry cleaners. For the softest wool feel, buy trousers made with super 120 long stranded wool.
Cotton
Men who live in warm, humid climates should consider buying cotton trousers. Cotton trousers do the best job of absorbing moisture and immediately evaporating it. Wool and polyester blends take more time to transfer body sweat. Cotton trousers come in a variety of weaves, with corduroy and twill being the most popular types of cotton weave. Cotton trousers do not require dry cleaning, but they can bleed bright colours if washed under high temperatures.
Polyester Blends
As a standalone fabric, most trouser designers do not recommend polyester because of the fabric's rough feel. However, polyester that is added to cotton or wool provides extra durability and wrinkle resistance. The blended fibres cost less than pure cotton or wool trousers, which can be the difference in deciding which trousers to purchase.
How to Fit Men's Trousers
Some men have a difficult time finding trousers that fit properly. The reasons for the difficulty vary, but the primary reason is that men do not take accurate trouser measurements before they shop. They simply try on trousers in an exhibition of trial and error. Men should obtain accurate trouser measurements before they walk into a shop.
Waist
Hold a measuring tape 2.5 cm above the navel. Make sure to stand straight and do not hold the stomach in during the waist measurement. Run the tape around the waist and then add 2.5 cm to calculate the waist size. The extra 2.5 cm compensates for trouser fabric and style differences.
Hips
Sometimes, a man's waist area can be significantly larger than the hip area. Men who do not measure the hip area may buy trousers that feel baggy around the crotch and thighs. Hold a measuring tape on one hip and pull the tape around to the other hip. Purchase trousers that correspond to the largest portion of the body, and then have them professionally altered, if needed.
Legs
To obtain an accurate inseam measurement, hold the end of the tape measure at crotch level. Then, allow the measuring tape to fall until it reaches the tip of the shoe. Trousers should partially cover shoes and they should never touch the ground. The best fitting trousers leave about 2.5 cm on the heel between the trousers and the floor.
Here is the UK men's trousers size chart as measured in centimetres (cm):
Mens trousers. Men who take their own accurate fitting measurements should consider buying trousers on eBay. Many eBay sellers offer trousers that have never been worn, at discounted prices.
| Trousers Leg Size | Inseam Measurement (cm) | Waist (cm) |
| --- | --- | --- |
| Short | 167-174 | 74 |
| Regular | 174-181 | 79 |