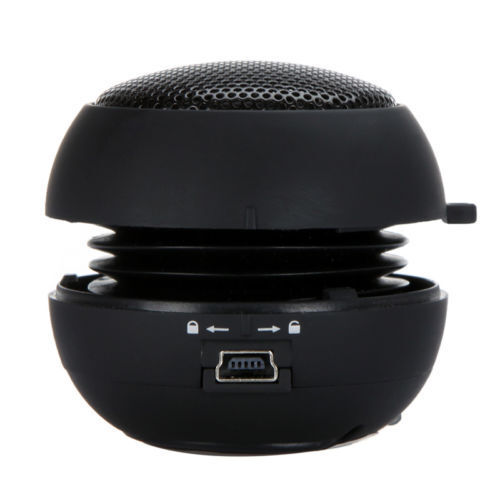 Following the rapid rise in digital portable music players, such as MP3 players, smartphones, and iPods, mini speakers designed for these players are becoming increasingly popular and increasingly common. Loudspeaker technology is constantly advancing and small 'capsule' loudspeakers can now deliver more impressive sounds than ever. Greater volume, better bass response and improved sound projection are what's required to do justice to the sound quality of a digital music player, and modern speaker manufacturers continually rise to the challenge. New models frequently appear offering a new feature or an improved specification. Many people upgrade to take advantage of the latest improvements, and their previous speakers promptly enter the used mini speakers market.
About Mini speakers
Modern mini capsule speakers are made very small and light in order to complement, and be as portable as, the small music players that they're designed to be connected to. Some are designed for specific brands or model of digital music player, but most mini speakers can work with virtually any headphone-enabled music source. Their surprisingly clear and powerful sound combined with their portability have made mini speakers a very popular item. The technical challenges for loudspeaker manufacturers lie not in producing speakers that are small, but in making small speakers that produce adequate volume, clarity and tone. Progress in this regard has been steady over recent years, and this is something to keep in mind when buying used mini speakers. The older they are, the less likely they'll be to have the most recent technical improvements.
Mini Speakers Features Checklist
Mini speakers have various features included. Simple and cheap mini speakers are small and portable enough, but are likely to be limited in quality and lacking in any extra features. In general, the higher the quality of new mini speakers, and the more features that are included, the more the speakers will cost. However, with used mini speakers, it is not so clear-cut. Other factors, such as the age and condition of the mini speakers, are also going to affect the asking price. Use the following checklist to gauge how good any particular mini speakers are. The more of the following features that are present, the better the mini speakers are.
| | |
| --- | --- |
| Form | Typical mini speakers have a capsule form that can be extended by pulling the top and bottom slightly apart. These are called open and closed positions. The open position provides better bass response, while the closed position provides greater portability. |
| Stereo or mono sound reproduction | Mini speakers are available as paired stereo speakers or as single mono speakers. Stereo speakers combined in a single speaker unit need to have superior sound projection capability to produce a realistic stereo effect. |
| Wired connectivity | Cables are supplied that enable the speakers to be connected to a variety of music players. A 3.5 mm mini jack cable is usually included, housed neatly under the base of the mini speaker. This enables it to be connected to the headphone socket of any device, from smartphones, iPods, MP3, and MP4 players to laptop and tablet computers and more. |
| Wireless connectivity | Higher-end mini speakers can be connected wirelessly to Bluetooth enabled music players or, if compatible, to other systems of wireless-enabled music players. Some claim to be able to operate up to 30 feet from the player, although most are limited to just a few feet in range. Some wireless-enabled mini speakers with a built in microphone can be used with a smartphone to make hands-free calls. |
| Daisy-chaining | Most mini speaker systems allow daisy-chaining of multiple speakers for greater volume. Each speaker has an audio output that can connect to the audio input of another. |
| Battery charging | Mini speakers are powered by rechargeable (usually lithium-ion) batteries. A charger may be included. Otherwise, the speaker's batteries can be recharged via a supplied USB cable plugged into the mini speaker's charging port. Any suitable USB-equipped device, such as a laptop, can then be used to recharge the batteries. |
| Power saving | To save battery life, speakers may be automatically switched off when the audio cable is disconnected from the player. |
| Miscellaneous Features | Volume control, on/off switch, volume mute and LED indicator are commonly included in modern mini speakers. |
Buying Used Mini Speakers Online
The vast majority of used mini speakers that are available for sale are being sold privately by owners and not by retailers. A few refurbished mini speakers may be offered for sale occasionally in smaller computer and audio shops, but the choice is severely limited at best. Local newspaper classified ads are an equally disappointing place to look for used mini speakers. The high advertising costs involved put most sellers off. Unsurprisingly, the greatest choice of used mini speakers, by far, is to be found online. As any online search for mini speakers will confirm, they are available in large numbers. Online shopping is as safe as shopping on any High Street provided common sense steps are taken to make it so. Keep in mind the following points when buying used mini speakers online.
Obtain Full Details of the Mini Speaker
As it's not possible to see the mini speaker (or speakers) before buying from any online source, make sure that the advert or listing contains a large, clear, and sharp photo of the actual mini speaker. The mini speaker should also be described in full detail with all the included features and specifications listed. Ideally As the mini speaker is pre-owned, the condition should also be clearly described, and any visible marks should be mentioned. Contact the seller to ask for more information if anything isn't clear about the description or features of the mini speaker.
Buy From a UK-Based Source
Avoid expensive international delivery charges and a long wait for the mini speakers to arrive by buying from a UK-based source. Many UK-based sellers will provide free delivery to mainland UK addresses. In addition, if there's any need to communicate with the seller, especially by phone, it will be far easier to do so with a UK-based seller.
Use a Secure Payment Option
Pay for any purchased mini speaker by using a secure payment method such as PayPal or a credit card as these payment methods offer various levels of buyer protection. If the seller is unable or unwilling to accept these or any other secure payment method, find another seller. An obvious exception to this is if the mini speakers are located very close by and can be collected personally.
How to Find Used Mini Speakers on eBay
As one of the Internet's most trusted and popular online shopping venues, eBay handles a large amount of sales of mini speakers, both new and used. A simple search on eBay UK's homepage with the search term "used mini speakers" returns a list of several hundred used mini-speakers available for sale either by auction or by direct sale. The list is unsorted and will contain items that aren't required, such as small speakers designed for permanent mounting in cars or other vehicles. To make the search results more relevant to what's required, click any of the relevant categories shown on the left side of the search results. Categories such as Vehicle Parts & Accessories can be ignored in favour of more relevant categories, such as Sound & Vision and its subcategories: iPod & MP3 Player Accessories and Audio Docks & Mini Speakers. Also make use of the filtering options that are displayed along with, or in place of, the categories. These tailor the search results to exclude any mini speakers that don't match the chosen requirements.
Conclusion
Mini speakers, due to their small physical size, are never going to match large hifi loudspeakers in terms of power or quality. What manufacturers have achieved with mini speakers, however, is impressive. Modern mini speakers are capable of a power level and quality that wouldn't have been possible a decade ago. With no moving parts to wear out, mini speakers tend to keep their quality, which is good news for those buying used mini speakers. Provided the mini speakers haven't been abused by their previous owner, they should look and sound every bit as good as they did when they were first bought, with no significant reduction in sound quality. As the only real reduction will be in price, used-but-modern mini speakers in good condition can make very good economic sense.