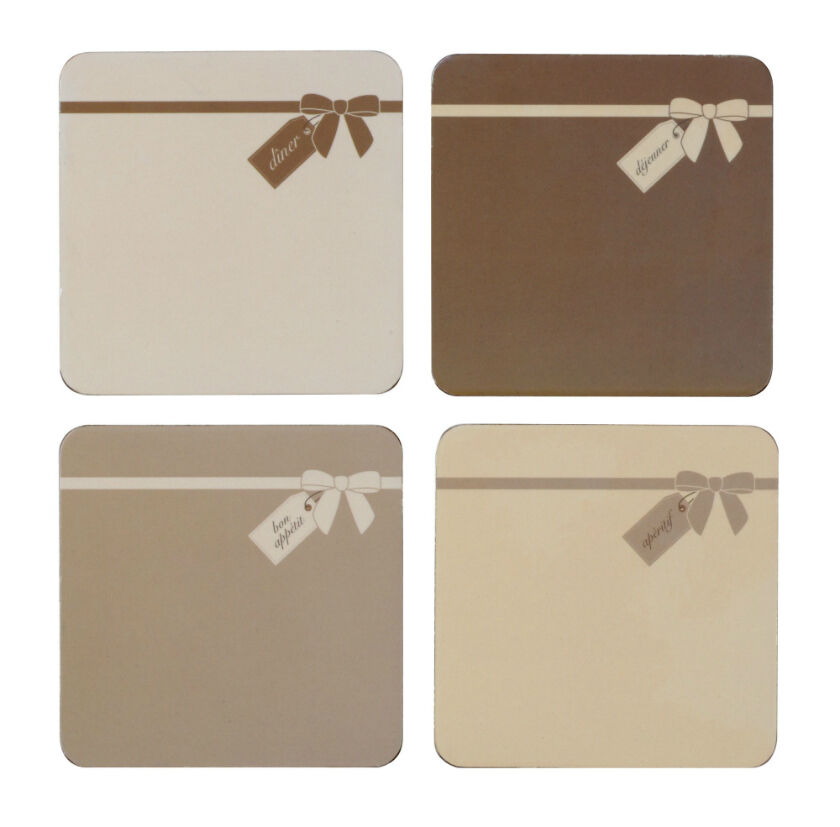 Placemats are an integral part of the dressed dining table. They are used for placing hot plates upon and protecting the underlying table and tablecloth from heat damage as well as liquids and stains. They also have a decorative function and are used with other elements of the table, such as tablecloths, napkins, and dinnerware to create an inviting and attractive atmosphere.
Choosing Placemats
Considering the main features of placemats is key to purchasing the most suitable.
Material
Placemats come in an astonishing variety of materials, from paper, plastic, and wood to cotton, leather, and glass. The choice of material will depend upon its appearance and practical considerations such as ease of maintenance and safety for children.
| | |
| --- | --- |
| Paper | Suitable for children. Disposable. |
| Wood | Interesting natural placemats. Oak is one of the best hardwearing woods. Can usually be wiped clean. |
| Cork | Economical and lightweight. May stain or break with frequent use. May have a finish that is stain resistant. Can be wiped clean. |
| Bamboo | Lightweight and attractive natural placemats. Can also be prone to staining. |
| Fabric (natural fabrics such as cotton and linen, synthetic fabrics such as polyester and acrylic, and blends) | Elegant solutions for both formal and informal meals. Lightweight. Not stain resistant but usually machine washable. May fade with frequent use. |
| Lace | Relatively fragile and not stain resistant. Often not machine washable. Best reserved for special occasions. |
| Felt | Interesting and attractive placemats. Not stain resistant but may be washable. |
| Leather and suede | Durable and hardwearing. Lightweight and practical. Generally stain resistant though suede may be less so. |
| Faux leather | Similar properties to leather. |
| Plastic (e.g. melamine, acrylic, vinyl, PVC) | Lightweight and practical. Stain resistant and won't generally break or chip if dropped. Good for outdoor use and for young children. Can be easily wiped clean. |
| Glass | Very elegant. Need to be handled with care and not suitable for children. Stain resistant and can be simply wiped clean. |
| Stone e.g. granite, slate | Beautiful placemats for contemporary tables. Heavy and need to be handled with care. Not suitable for children. Can be wiped clean. |
| Metal e.g. steel | Lighter and less fragile than glass and stone. Can give a nice contemporary effect. Can be cleaned easily. |
Some placemats come with a lining to protect the table and/or to prevent the placemat slipping. Protection is especially useful with hard, heavy placemats such as those made from stone. Non-slip linings can help both heavy placemats and soft ones like cotton slipping.
Style
Placemats come in just as many different styles as they do materials.
Leather or faux leather rectangles, squares or circles
Neutral colours e.g. cream, beige, brown, grey
Bold colours
Laser cut felt mats in bright colours
Glass
Stone
Metal
Contemporary stylised floral motifs

Formal traditional

White or ivory cotton
Lace, lace borders or detailing
Rectangular mats
Traditional motifs e.g. Fleur de Lys

Rustic

Natural slate
Wooden e.g. bark shapes
Chunky mats
Hessian

Country

Pictures e.g. countryside scenes or farm animals
Gingham
Pretty florals
Bright primary colours and pastels
Quilted fabric
Appliqué detailing
Heart shapes
Quirky items e.g. record placemats
Union Jack and other iconic British symbols
Bold colours
Plastic e.g. melamine, laminated boards

Shabby chic

Embroidered detailing
Lace or lace detailing
Appliqué detailing
Pastels e.g. dusky pink, pale blue and yellow
Handmade items
Art nouveau – swirling patterns and bird or floral motifs

Oriental

Bamboo, woven or spun
Fabric
Lace detailing
Black, red and gold
Lacquered placemats
Stylised animal motifs e.g. fish, dragons

Festive

Sparkly fabrics such as synthetic organza and faux silk
Sequins and metallic borders
Gold and silver detailing
Red, green, gold and silver predominant colours
Gold and red lacquered
Brushed metallic vinyl
Glass with glitter
Festive pictures e.g. snowmen, stars, Christmas trees, wintery scenes
Rectangles are the most popular shape, but placemats are also widely available in other basic shapes, such as squares, circles, ovals, and even triangles. Some placemats are basically rectangular or square, but have rounded edges. Placemats often also come in cute and quirky shapes such as hearts and interesting forms such as natural bark shapes form solid wood. Placemats come with all kinds of decoration and picture. Countryside scenes, and pictures of birds and animals, are popular traditional pictures. Contemporary placemats tend to be more minimalist. Look for novelty placemats for something different or for parties, and for seasonal placemats for special occasions throughout the year.
Matching Items and Sets
Placemats often come in attractive boxed sets or with similar presentation, for example, slate placemats might be tied with twine. They can make nice gifts. Consider how many placemats are needed. If the table will usually seat six, it may be worth looking for a set with eight placemats so that there are spares. This may be particularly important if the placemats are fragile. It is often worth looking for sets with matching coasters. Ideally coasters should match the placemats, or at least complement them. Be sure to keep to a similar style when dressing a table, and make sure that all elements of the table work well together. Similarly, some sets come with two or more larger mats for placing dishes on in the centre of the table. They might even come with items such as a cheeseboard or similar items.
What to Look for when Buying Used Placemats
It is likely when purchasing placemats that a completely undamaged set is required with no signs of wear and tear. The definition for used items sold on eBay states that they should be fully functional. However, some wear and tear may be acceptable on one item if they are not all required, or some wear to the presentation box may be acceptable. The seller should clearly state what condition the items are in. Read the product description carefully and check seller feedback to have confidence in their evaluation of the items. Used placemats may be a number of years old or they may be fairly new. Looking for used placemats is a good way to find quirky vintage items that bring individuality and charm to a table. If kept well, they may well be in perfect condition. Buying used placemats that are fairly new may be far cheaper than buying completely new ones. They may also be in almost the same condition, so it can be a great way to find a bargain. It may be possible to check the price of the new items on retailer's websites, but it is also likely that this will be stated by the seller.
Find Used Placemats on eBay
To find used placemats on eBay, follow the left hand side tabs to the Home & Garden page and then the Cookware, Dining & Bar page. Proceed to the Tableware, Serving & Linen page, where all kinds of table linen as well as placemats can be found. Click on Placemats. Under Condition select Used. Using the left hand side tabs, the large number of results can be refined by criteria like Shape, Material, Price, Main Colour, Style and Pattern. Alternatively, used placemats can be searched for in the search bar by typing in keywords such as "used placemats", "used glass placemats" or "used placemat set". When using the search bar, it can be useful to change the category in the adjacent field, in this case to Home, Furniture & DIY. This ensures that only the more relevant results appear.
Conclusion
Placemats are a vital component of the dressed dining table and a chance to express individual style and flair as well as to complement the particular occasion or meal. They should work in harmony with other elements of the table, especially table linen such as tablecloths and napkins and also with dinnerware and glassware. Look for matching coasters and sets. Placemats are available in many different materials, and which is chosen will depend upon style and also practical considerations such as stain resistance, whether they are washable or not, and ease of handling. Placemats are also available in many different styles, from contemporary and formal traditional to rustic, shabby chic and Oriental. Whichever style is chosen will ideally work well with the room, decor and furniture and complement the meal itself. Buying used placemats is often a way to find a good bargain, especially for more expensive sets, and is also a way to find more unusual vintage and retro items. Finding the perfect placemat is simple using the search facility and navigation tabs. Browse listings and read the product descriptions carefully to be sure the items are free from damage or wear, if that is important. The perfect placemats will be the finishing touch to a stylish and inviting table.