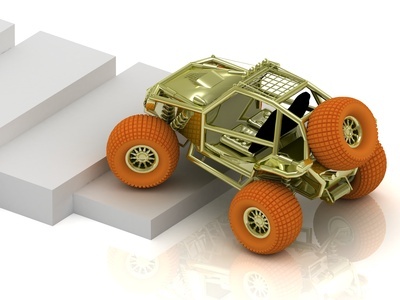 For those seeking a pastime with a passionate fan community that offers a strong competitive edge and a real sense of personal achievement, building and racing radio-controlled (RC) cars is a great hobby to get involved in. For many enthusiasts, the feeling of pride that comes with a successful race is matched only by the sense of a job well done that comes from building and fine-tuning your own machine – a process that has more than its fair share of obstacles to navigate. But before taking their place on the starting line, both budding and experienced radio-controlled car enthusiasts alike should be sure to read this guide to the various parts and accessories needed for their car, and the best ways to get them second-hand for a reasonable price.
Engine Type
The first step for anyone setting out to build a radio-controlled car or truck should be to decide on what type of engine they wish to use: either electric or nitro. Each type has its advantages and disadvantages, and a buyer's choice largely depends on what they're looking for from their RC car.
Nitro Engines
Unrestricted by battery capacity, these high-powered internal combustion engines run for much longer than electric motors. But ask nitro enthusiasts why they really prefer their engines to their electric counterparts and they're likely point to two things in particular: noise and smell. The unmistakeable sound of a nitro engine and the trail of exhaust smoke that it leaves in its wake are certainly a draw for those looking to make an impression, but there is a downside; the fumes make it impossible to drive indoors. In addition to this, nitro engines can suffer from wearing if not cleaned and maintained regularly, so be careful when buying one used – when buying on eBay, look at any photographs closely to get a good idea of its condition, or even better, ask the seller for a video of the engine running, if they haven't uploaded one already.
Electric Engines
While electric engines have traditionally been slower than nitro engines, the increasing prominence of brushless motors has led to improved acceleration and increased top speeds without further modifications. Other than that, the electric engine's biggest advantage is its accessibility – it is generally easier to use, doesn't need cleaning and doesn't require fuel. Electric engines are also quieter and cleaner than their fuel-powered equivalents, and allow a car to be used indoors. There are downsides however, with the aforementioned battery capacity an issue (though battery packs are continuously getting bigger and better) and lengthy charging times a nuisance – expect to wait around thirteen hours for a full charge in some cases. They're also not built for rugged outdoor pursuits like nitro engines are, so be sure to keep the car's circuitry from getting exposed to water.
A wide range of second-hand electric motors can be found on eBay, and there's generally less risk attached to buying electric motors second-hand than there is when buying used nitro engines. Nonetheless, make sure to get as much information as possible before buying – ask the seller for pictures and get information on how many times the engine has been run.
The key characteristics of each type of engine are summarised in the table below:
Engine Type

Key Benefits

Key Disadvantages

Notes

Nitro

Long run-time

Powerful

Realistic sound and exhaust smoke

Cannot be used indoors due to fumes

Should be cleaned regularly to prevent wear

Electric

Easy to charge

Cleaner and quieter than nitro

Does not require cleaning

Less powerful than nitro

Small battery capacity – must be recharged frequently, often for a long time

Brushless motors can increase top speeds and acceleration
Other Essentials
When the engine type has been decided, those looking to build their own RC car can move onto sourcing the other parts that they need. There is a wide range of additional accessories that are key for any would-be RC enthusiast, all of which can be found at competitive prices on eBay.
Tyres
In many ways, buying second-hand tyres for a radio-controlled machine is quite similar to buying used tyres for a regular car. RC tyres are prone to wearing out quickly, so, when buying on eBay, be sure to ask the sellerfor in-depth, accurate information about the condition of the tread. Where possible, try to arrange to see the tyres in person if the seller lives nearby, or at least find out the seller's returns policy in case the tyres are not satisfactory.
Servos
The servo, responsible for a radio-controlled car's steering system, is one of the key components of any model, so research any potential purchase carefully and make sure that the part is suitable for the job that it's needed to do. Those building a car designed purely for speed will require a servo with a high rotation speed for swift responses, while larger trucks and off-road vehicles will need a servo with lots of torque and metal gears in order to be able to deal with the tougher conditions. In terms of brands, Savox is generally considered to be the leading name for servos. There are several Savox servos currently for sale on eBay, available at a wide range of price points to cater for any budget.
Body Shells
Customising a car's Radio-Controlled Car Parts & Accessories store has nearly 500 listed dealers, and a number of them, such as Revamp RC and G's Model Spares, focus on used parts in particular. The larger sellers, such as Radicool Racing and JE Models, have thousands of listed products, so you'll be likely to find whatever you're looking for here. Furthermore, all registered eBay Shop sellers have a feedback score of at least 10, meaning that you can browse without worrying.
To search eBay Shops for the parts you're after, navigate to stores.ebay.co.uk and find the Toys & Games portal. From there you can find the Radio-controlled category, from where you can go to Cars, followed by Parts & Accessories. Input your keywords into the 'I want to buy...' bar, and then specify 'Used' on the search results page under the Condition heading. You can also narrow down your results to specific brands, scales and vehicle types. Alternatively, browse the different sellers' pages by clicking on the links on the main page, where they're sorted by the number of items that they have in stock. This is a good way of getting to know certain retailers and what they specialise in.
Conclusion
Building and racing a radio-controlled car can be a time-consuming but highly rewarding pastime. From choosing the type of engine and sourcing tyres and servos to customising the finished product with body shells and decals, there's plenty to keep any enthusiast busy.
Buying used parts online can be a great way to save money on some of the more expensive accessories, and an experienced shopper will be able to pick out a good deal. For those with less knowledge in this area however, there is fortunately an extensive network of well-informed and passionate RC car fans and sellers who are happy to offer advice to a novice. In eBay Shops, a wide range of specialist retailers can be found in one place, with the Car Parts & Accessories shop making it easier than ever to find used parts for any RC project. The extensive selection of retailers and products on offer makes eBay a great place to find RC car parts and accessories at competitive prices.