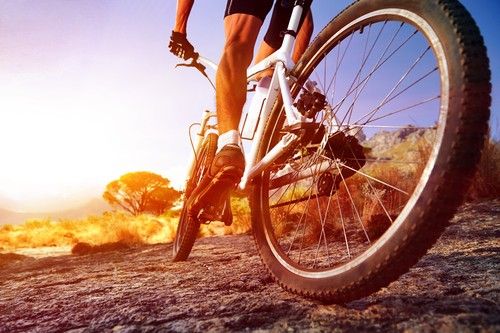 Buying used replacement parts for bikes is the best way to get good value.
Sometimes they are nearly new; sometimes they have never been used. Nevertheless, market forces prevent the seller from asking anywhere near the original price. This provides a great opportunity to buy premium brands like Shimano and SRAM for less than shops charge for new parts of inferior provenance and quality. It is also more sustainable to buy used parts.
In buying Used Mountain Bike Parts, however, extra caution is advised. Compared with all other kinds of bike, they can take a hammering. That is what mountain bikes are for.
Start by searching extensively for pre-owned parts on eBay and get to know market price levels. Having made a short list, read through the product descriptions thoroughly to tell whether the parts meet your needs.
Look carefully at the photos, check they are of the original product and not just a stock photo from the manufacturer's website. If you are not satisfied with any of the details then do not hesitate to Ask the Seller& to get clarification.
By filtering the search according to distance and finding a promising seller who lives close to you, it might be convenient to make a personal inspection. Try to ascertain the reasons for selling.
Many cyclists sell because they want to upgrade. This means that it is possible to get relatively new parts in a good condition at very competitive prices. If they have been taken off a bike belonging to the seller, investigate how often was it ridden, whether it kept indoors or outdoors and what kind of mileage it has done.
Parts check-list
All parts of a bicycle wear at different rates, some more visibly than others. Here is a brief run-down of the main parts and components, where they show signs of wear or damage and how to recognise a promising prospect.
Frame
First check the frame for cracks, dents or bends. Aluminium, steel and titanium frames can take dents, gouges and dings without compromising the structural integrity, for the most part. Cracks, bends and huge dents mean the frame needs to be replaced.
Carbon fibre frames require more caution. Dents and scratches that do not fully penetrate through the resin clearcoat are nothing to worry about. But if it is chipped it is most likely ruined.
There are two type of frame on mountain bikes; full suspension (to accommodate rear suspension) and rigid (for front suspension only). Here are some factors which relate to the type of frame and the metal it is made from:
Forks/suspension
First visually inspect the suspension for any major dents or breaks. Forks, just like frames, are made mainly of aluminium, steel, and carbon fibre. This guide's recommendations for checking welds, lugs, and chips/scratches also apply to forks.
It is not possible to find out whether the suspension actually works without trying it. Given that opportunity, focus how it feels when it is compressed. It should be smooth and even in travel.
Headset, Bottom Bracket, Hub
These three types of parts are a bit risky to buy used since they all contain ball or cartridge bearings, which can, if not maintained, ruin the part as a whole. Buying these parts only if the seller accepts returns is not a bad policy.
Newer types of bottom brackets tend to use sealed cartridge bearings. It can be very hard to tell whether or not a cartridge bearing is working properly by looking at the outside of the part housing it. Try to ensure that your seller at least knows which type of bearing it contains.
Non-cartridge bearings need to be kept clean. They should be free of everything but grease and they should be kept under a certain amount of pressure. If a hub or headset with non-cartridge bearings has been well maintained, then it can last a very long time, but a hub or headset that is too dry (lacking grease) or under the wrong amount of pressure, can and probably will be damaged.
Drivetrain
The drivetrain is composed of cranksets, freewheels, cassettes, chain, derailer - components that generally last a long time. They all have gears that wear out slowly over a period of years. If cog teeth are missing on any of these components or they have been used extensively, do not buy them.
On the other hand, it is likely that putting a new (or nearly new) crankset, freewheel, or cassette on the fairly worn drivetrain of one's own bike, will result in shifting problems.
Drivetrain Components
Crankset

When buying a crankset,, it is important that you can see the spindle in the product pictures. The spindle is the opening in the metal that the bottom bracket slides into. A spindle that looks out of shape can result in all sorts of problems.

Freewheels

It's important to get a look at the threads that screw onto the hub. If these don't look clean (with clear, distinct, and consistent thread lines), then don't buy the freewheel, as it won't thread onto the hub.

Pedals

Except for the really cheap ones, pedals are generally made to last. Pedals occasionally have bearing problems, and the clipless type common on mountain bikes can have springs wear out. If pedals look in good shape, generally they are functional.

Derailers

(or derailleurs)

These are one of the more durable mountain bike components. Rear derailers tend first to wear at the pulleys - the two small cogs enclosed in the derailer hanger (the cage that sticks out below the derailer body)
These are often replaceable, but check before buying. As both front and rear derailers clock up the miles, their springs lose their strength. This results in somewhat sloppier shifting than a new derailer. As with pedals, if a derailer looks good, then it's probably functional.
Shifters
Higher-end, higher-quality shifters tend to last fairly well and therefore are decent investments. Try and avoid really old shifters, as replacement parts may be hard or impossible to find.
Seat, Seatpost, Stem, Handlebars
These components tend to be very durable. But look at the seat for signs of tears, and check the seat rails are straight. Cheap or abused tubing can be bent, and heavily used seatposts, stems, and handlebars can develop tiny cracks resulting in creaking noises when they're under load. Check paint on these parts, as rubbed-off paint can be indicative of a worn out area.
What Not To Buy Used
| | |
| --- | --- |
| | A used chain is much more likely to break than a new one. Used are also likely to cause shifting problems. For safety as well as function, a new chain is much better than used. |
| | Used tyres will fail more often than new ones. If they do fail, there's no warranty to cover a replacement. New tyres also grip much better than used ones. This improves performance. |
| Cables/Housing | These items are very cheap. You are as well to replace with new ones as cables tend to fray with use. It simply isn't worth saving a pound to end up with brake cable that could snap. |
How to Buy Used Mountain Bike Parts on eBay
Now that you've worked out which Used Mountain Bike Parts you want, find them quickly on eBay. While you shop, don't forget Tyres & Wheels, Handlebars & Stems, Headsets,, Drive, Brake Components and Saddles & Seatposts. To start shopping, go to the Sports and Leisure category. Click the Sporting Goods portal aand click Cycling..
Categories
The Categories list on the left side of each page will help you narrow down your listings by item type. You'll find links for Bikes, Bike Parts, Clothing, Footwear & Helmets, Cycling Accessories,, Trophies& and Other Cycling. As you refine your search you'll be able to narrow down your choice by subcategory.
Product Finder
Use the Used Mountain Bike Parts Finder to quickly narrow down item listings by type of club, brand, model, condition (new or used), and shaft material.
Keyword search
Search eBay listing titles for specific words. For example, if you want to find used mountain bike parts, type the keywords "mountain bike parts new" (without quotation marks) into the Search box. Click "Search title and description" to expand your results. Visit eBay's Search Tips ppage for more tips on searching with keywords.
If you can't find exactly what you want, try browsing eBay Stores or tell the eBay Community what you're looking for by creating a post on Want It Now, or save a search on My eBay and eBay will email you when a matching item becomes available.
Buy Used Mountain Bike Parts with Confidence
Make sure that you know exactly what you're buying and understand how eBay and PayPal protect you.
Know your item
Read the details in the item listing carefully.
Remember to add delivery costs to your final price. If you're buying a high value item, check that the seller will insure it until it is delivered to you.
If you want more information, click the "Ask seller a question" button on the seller's profile or the "Ask a question" link at the bottom of the item listing page.
Always complete your transaction on eBay (with a bid, Buy it Now or Best Offer) otherwise you will not be covered by eBay Buyer Protection.
Never pay for your eBay item using an instant cash wire transfer service like Western Union or MoneyGram. These are not safe ways of paying someone you do not know.
Know your seller
Research your seller so that you feel safe and positive about every transaction.
What is the seller's Feedback rating?
How many transactions have they completed?
How many positive responses do they have?
What do buyers say in their Feedback?
Are they positive about the seller?
Most top eBay sellers operate like retail shops and have a returns policy.
Do they offer a money-back guarantee?
What are their terms and conditions?
Buyer protection
In the very unlikely event that you do not receive your item or it is not as described, eBay Buyer Protection your purchase price plus original delivery cost.
Conclusion
This guide is partly for those who already have a mountain bike who want to choose high-end branded parts that will enable them to upgrade its performance. Other people are perhaps thinking about custom building a complete mountain bike from components selected to achieve their vision. Either way, buying used parts on eBay will deliver a quality result for a budget price.