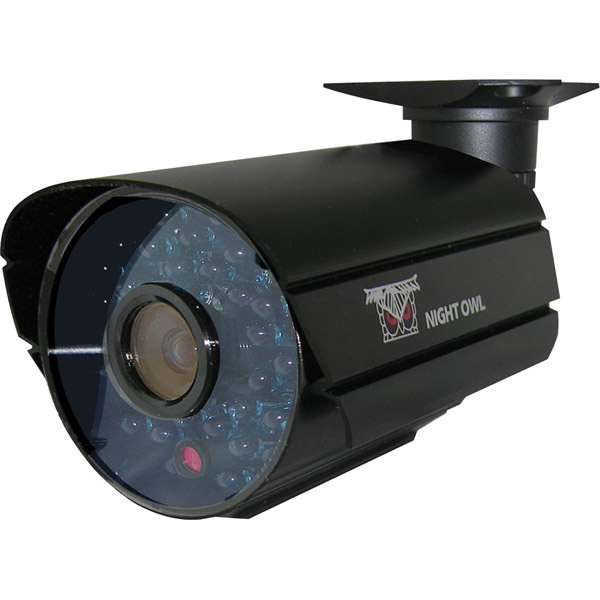 Security cameras are not only used to carry out surveillance at commercial premises, offices, and public places, since everybody has the option of installing security cameras in their homes. Security cameras or closed-circuit television (CCTV) have been around for many years, and they can be very helpful in preventing break-ins and other crimes from occurring since potential burglars and criminals may be deterred by the sight of security cameras.
Although security cameras are widely available, they can still be quite expensive. Therefore, buying used security cameras is a good idea for those who are on a budget but still want to get quality security cameras to preserve the security of their homes or premises. Before buying used security cameras, one should know what are the different types of security cameras, features of a security camera, and how to choose a good quality used security camera. The Internet is a good place to search for used security cameras, and knowing how to buy them from online shops such as eBay can help buyers get good value for their money.
Choosing the Type of Security Cameras
The first CCTV systems were used in the 1940s, and they were standard wired cameras that recorded relatively low-quality images. Now, there are three main types of security cameras, which are the wired, wireless, and IP or network cameras. Each type of camera has its pros and cons, so users who plan to buy used security cameras should choose the type of camera that best suits their needs.
Wired Camera
Wired cameras are commonly used by many businesses and in public places. Although wired cameras may be considered old-fashioned, they are probably the best choice, as they offer the best video quality and do not suffer from signal interference. Most wired security cameras are suitable for both indoor or outdoor use, and have infrared as well as a cut-filter to enable night vision recording. The night vision recording is always in black and white as this improves the contrast and detail of the recorded image. Buyers can install wired security cameras far away from the security digital video recorder (DVR) since wires of any length can be used. Also, it is not necessary for users to provide a local power source for the cameras since the power can be provided through wires.
Some parts on a used wired camera may be damaged, such as the lens and wires. When checking the lens, buyers should make sure that it is clean so the camera can record clear videos. If buyers find that the wires are damaged, they should probably buy other cameras in better conditions.
Wireless Camera
Wireless security cameras are becoming more popular as they are usually more cost-effective and easier to install than wired cameras. They do have most of the capabilities of wired cameras, such as infrared and night vision capabilities, but are less reliable since most wireless security cameras are designed for outdoor use with a visible line of sight (LOS). This means that the transmitter and receiver antenna of the camera system must be outside of a building, and there should be no obstruction between them. Also, the video signal from the camera cannot go through walls and other solid objects very well, and since users still need to connect wires to send power to the camera, they may as well choose to get a wired camera.
When looking for used wireless security cameras, buyers should make sure that the transmitter and receiver are functioning properly, and the best way to do this is to test the camera, if possible. It is also important to check other parts such as the lens and wires. When buying online, such as on eBay, this is not possible, so one should read the product description carefully and contact the seller, if they want to know more information about the device before purchasing it.
Internet Protocol or Network Camera
IP cameras can connect to the Internet through one's local network. This allows users to access the video recording of the camera on devices that are connected to the Internet. IP or network cameras are gaining popularity as they are usually cost effective and are very simple to use. Many IP cameras also allow users to record videos directly onto their computer or to a network video recorder (NVR). Just like any other camera, they also require a power supply, which may be from a cable or battery.
An IP camera usually has its own software, which needs to be installed on a computer. Therefore, when selecting a used security camera, buyers should make sure that the software is included and that it is compatible with their computer. Buyers should also determine if batteries are included with the cameras or if they need replacement because this may incur an additional cost once the device is purchased in order for it to function properly.
Dummy Security Camera
Buyers who are on a budget can also get dummy security cameras. Although they do not serve any surveillance functions, they look just like any real security camera, and the sight of them can deter criminals as well. Used dummy cameras can be purchased at a small fraction of the cost of fully functional cameras.
Choosing Used Security Cameras
Before buying used security cameras, one must first decide where they will be placed and how many cameras are needed. After determining these two factors, one can then decide on what features they want on the cameras. Another important thing to do when buying used cameras is to examine them and make sure that they are in good working condition.
Location of the Security Cameras
First, buyers must select a location to install their security cameras. By doing this, it is easier to determine what type of camera is needed and what features should be selected. The most common location to install a security camera is right outside the front door so the camera can get a good view of the entire entrance. Users may also choose to place a few cameras outside their garage and back doors. Homeowners usually place their cameras outside, but some also install them inside their homes.
If buyers only plan to use one or two cameras, or use them indoors, wireless and network security cameras may be a good idea as they are more cost effective than wired cameras. However, wired cameras are the best in terms of reliability and security. Second-hand cameras that have been used outside might be damaged by the elements, so buyers should always check them thoroughly. Also, those who are planning to use a few cameras for their home or business premises can look for a set of used cameras since buying them in a set is usually cheaper than buying single cameras.
Security Cameras Features
Security cameras come with many extra features to suit different tasks. An important ability for a security camera to have is to record clear images at night. To do this, some cameras have an infrared illuminator or a cut-filter to record in the dark. When buying night vision cameras, it is always a good idea to examine them to make sure that the night vision is functional. Many cameras used in buildings nowadays are dome shaped, which are more visually appealing than the traditional box-shaped ones (full body cameras). Both types of security cameras are widely used, so one should not have a problem finding a used camera in any design.
Buyers should determine the light conditions where they want to install the cameras. Black and white cameras work well in areas with poor lighting, whereas colour cameras work well in areas with good lighting. There are consumer-grade security cameras that record in colour and are suitable for indoor use. Plus they usually have an infrared function for night vision.
Camera resolution is another important factor for buyers to consider. Cameras with a higher resolution can produce better quality images. Compared to standard resolution cameras, two-megapixel cameras are becoming more popular as they can record in a high resolution and have a wide field of view. However, since two-megapixel cameras can be quite expensive, buyers may find it difficult to find used ones. For people on a budget, buying used standard resolution cameras should be good enough, unless they are willing to spend more on a higher quality camera.
Another feature that users might consider is a camera's ability to pan and tilt, which means that it can move around to look at its surrounding. To record and store the videos, users need a DVR or NVR and a monitor to view the recordings. They are usually sold separately but users can look for a set of security cameras with a DVR included.
Examining Used Security Cameras
Used security cameras may sometimes be faulty, especially if they have been used for a long a time. Therefore, one must always check the cameras for any damage. Since security cameras are only stationary, they may not have any damage at all, but it is still a good idea to inspect them, especially cameras that were installed outdoors and have been exposed to the elements. Things to look at are the lens, wires, and the mounting platform. If one does not have the expertise or is not confident enough to examine the used cameras, it is always good to get help from someone who knows better, especially a trained professional.
Conclusion
Security cameras are great devices to have at one's home, shop, or office as they can increase the security by deterring potential criminals from carrying out any wrongdoings. However, security cameras can sometimes be too expensive for some people. Therefore, buying used security cameras is a good idea for anyone on a budget.
When buying used security cameras, it is important to determine where they will be installed and how many cameras are needed. Buyers should also decide on other features that they want to have on their security cameras, such as night vision, the ability to pan and tilt, and so on. Those who wish to save more money on security cameras can also buy dummy cameras, which look exactly like real, functional security cameras, but cost a lot less. Used security cameras are more abundant than one may think, since people are constantly buying new cameras to replace their old ones. However, one should always check the cameras for any damage before buying them. For good offers on a large selection of used security cameras, buyers can search online stores such as eBay.