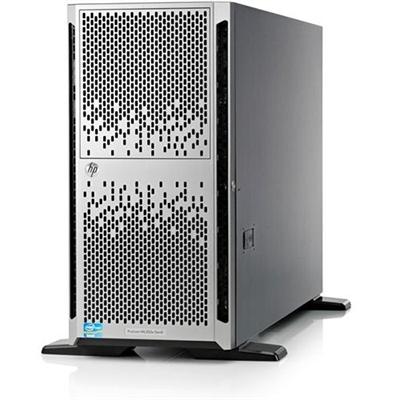 Servers are best described as specially designed computers. They are have large hard drives and immense amounts of memory that allows other computers to connect to them through a network. When connected, the server and attached computers, known as clients, are able to share data and access the same files and programmes. In addition, servers allow users to back up networked PCs, share an internet connection, and connect remotely. A server may have single or multiple processors. The processor must be fast enough to handle all requests for data from its clients. Servers are generally more powerful than normal computers as they must support fast operating systems and be able to store large amounts of information.
Servers are often used by businesses, where the sharing of systems, processes, and data is crucial. However, servers may also be used in schools or other environments that use networked computers. Before purchasing a used server at retailers such as eBay , buyers should learn about how servers function, consider the different types, familiarise themselves with the various server configurations, and understand the factors to consider in order to choose the right product.
Function of Used Servers
Used servers have many functions. In addition to storing important files in a central location for multi-computer access, buyers can use a used server to regulate internet traffic between all of the computers on a network. Used servers also allow multiple computers to access the same peripherals, such as printers or scanners.
Types of Used Servers
There are several types of used servers including entry-level, midrange, and enterprise. Choosing the right type depends heavily on the number of concurrent users, as well as any desired storage requirements.
Entry-Level Used Servers
Entry-level used servers are ideal for small business owners with fewer than 10 computers. These servers are designed to handle file sharing, email, and printer tasks. However, they are unable to handle growth as the usage of the server increases. Entry-level used servers are typically housed in towers or in rack-mounted structural frameworks and include one processor, up to two gigabytes of memory, and up to three IDE or SCSI hard drives. High-end entry-level used servers may also have dual core processors, true server optimised chipsets, and up to two 64 bit PCI slots for high speed devices, such as Gigabit Ethernet adapters and drive array adapters.
Midrange Used Servers
Midrange, or general purpose, used servers can handle a wider array of tasks than entry-level models. In addition, they can exist in a cluster configuration where two or more connected servers allocate their duties to provide data to their clients. They are able to support up to eight gigabytes of memory and multiple external components including Fibre Channel storage area networks and other attached storage devices.
Midrange used servers typically come equipped with safety nets. These safety nets allow for continual service in the event that the server goes down. Devices such as hot-swap hard drives, fans, and power supplies can be removed easily without compromising the functionality of the entire server. Midrange used servers can be found in various forms, including tower configurations, and rack-mounted models.
Enterprise Used Servers
Enterprise used servers have greater levels of power and reliability. They are ideal for businesses that require continual operation without downtime. These servers are best suited to medium to large-scale businesses as they are designed to accommodate 500 to 1,000 or more users and can handle up to 64 processors. Enterprise used servers support large databases, data warehousing, and e-commerce applications. So, they are generally found in banks, government agencies, airlines, schools, and large retail distribution companies. These used servers are the most expensive type, due to their efficiency and reliability.
Used Server Configurations
There are three different types of used server configurations, each varying in their characteristics. When choosing the best type, buyers should consider the amount of available space as well as the functions they need their used server to fulfil. The various used servers and the characteristics of each are provided in the table below.
Used Server Configurations

Characteristics

Upright, free-standing units

Contains all traditional server components: hard disks, motherboards, central processing units (CPUs), networking, cables, and power

For direct attached storage (DAS), buyers may choose to add a hard drive

Requires additional floor space

Offers less scalability

Ideal for small, remote, or branch office environments

Designed for compact, vertical arrangement within a mounting rack or cabinet

Has expansion slots for adding network interface cards (NICs) or Fibre Channel host bus adapter (HBA) cards

Uses floor space efficiently

Offers centralised cable and server management

Increases infrastructure scalability by letting buyers add servers as needed and connect to external storage

More limited than other types in the number of new drives and memory that can be installed

Can run servers from different manufacturers in the same rack unit because the servers do not share proprietary components

Ideal for data centres and use with external storage

Small servers housed in blade enclosures

Designed to fit more servers into a smaller space

Includes server blades and room for storage, in addition to many shared components such as power, cooling, and ventilation

Requires less space than rack-mounted servers

Uses less power per server because of shared power and cooling

Less heat output and lower cooling costs
Buyers looking for a used server to use as a dedicated email or host server, or to support file or print services should consider a tower server. However, for hosting enterprise databases, buyers should invest in a rack-mount or blade used server as these offer more storage space.
Factors to Consider when Buying a Used Server
There are many factors to consider when searching for a used server. In addition to security measures, buyers should keep in mind applications, clients, and reliability.
Number of Clients for Used Servers
The number of clients that operate on the same server can help buyers to decide which server is best for their operation. Small business owners may opt for an entry-level server that is specifically geared towards a smaller number of users, while an enterprise server may best fit the constant demands of a large-scale operation. If too many clients are running on the same server, without large-scale server capacity, the performance may be affected severely.
Applications for Used Servers
Buyers should consider what type of applications they need their server to support. Some may simply need a server to support email, while others rely on their server to support the streaming of video or complex internal systems over the network.
Reliability for Used Servers
Buyers should keep in mind how important the server is to their business. Businesses that are able to function without the continual need of a server may consider an entry-level device. Businesses with operations that are greatly affected if the server is down for a given period of time should opt for an enterprise server that offers greater reliability and backup control options.
Security for Used Servers
Buyers should consider security when purchasing a used server. Servers send and receive information from all of the client computers. This increases the risk of obtaining a virus. So, buyers should invest in high quality anti-virus and spyware blocking software as well as firewalls for use on the server and all networked computers. For added security, buyers should keep their server in a secure location so that data is not compromised.
Associated Risk for Used Servers
There is little associated risk connected to buying used servers. However, buyers should avoid used products that are outdated. As manufacturers improve their servers continually, older equipment, while cost effective, tends to offer less memory. Buyers should look for used servers that have at least one gigabyte of memory as this allows them to run larger applications.
Buying Used Servers on eBay
Buyers who would like to purchase used servers on eBay can start by going to eBay ' s home page. From there, buyers can enter any related key terms into the search bar such as "used servers". For a more precise search, buyers should try entering more specific key terms such as "used enterprise servers". Once on a search results page, buyers can continue to follow the subcategories to further narrow down their choices.
For those who wish to browse listings within a certain price range, eBay offers an advanced search feature to help buyers select a budget limit. This can help buyers to determine which sellers are offering the best deal on the used servers they are interested in buying.
Know the Seller
Before purchasing a used server, buyers should get to know the seller. Buyers can always ask to see a photograph of the used server if one is not readily available in the listing. This is best accomplished through the "Ask a question" link. Buyers should also check to see if other customers have left positive feedback on the seller's profile. Positive feedback indicates that sellers have proved that they offer excellent customer service and good quality products. Buyers can also look for listings from Top-rated sellers. These sellers are known by the eBay community for providing the highest levels of reliability.
Conclusion
Choosing the right used server is an important business decision. The used server should fit the needs of the business, provide adequate storage and computing power, and give the business room to expand. In addition, buyers should make sure that their used server addresses network security. There are three main types of used server configurations available: including tower, rack-mount, and blade. Tower servers are best for small companies that need to perform simple tasks. Rack-mount and blade servers offer greater capabilities and are better suited for larger businesses.
It is also important to consider the reliability of the used server and the number of clients that operate on it when choosing the best type. If a buyer's business is greatly impacted when their server goes down, they should invest in an enterprise server, which offers greater reliability and more backup options if the server fails for any given period in time. eBay sellers offer a range of used servers for a variety of business needs.