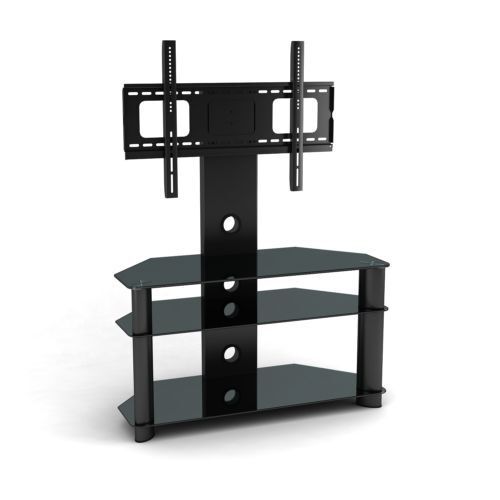 A television stand is one of the most crucial, yet overlooked pieces of an entertainment area. Television stands embody and portray the design concept of the room in which the television is set up. The overwhelming variety of designs, dimensions, features and materials guarantee that television owners will find a desirable stand for their personal design taste and television. When purchasing used TV stands, research various brands and examine specific sellers to ensure many years of valuable application.
About TV Stands
TV stands are primarily used as an object or piece of furniture meant to hold a television and other components of the entertainment section. Many TV stands feature shelves and areas to store other electronics including DVDs, remote controls, DVD players, gaming consoles and more. TV stands are traditionally placed in a living room or any room that contains a TV and can vary in size, material and colour based on the owner's preferences.
TV stands have progressed and developed based on the ever-changing designs of televisions. As modern TVs trend towards sleeker and thinner designs, TV stands adapt to meet the needs of new designs. Originally, TVs were much thicker meaning the accompanying TV stands were also larger in size. Most household TVs are some variation of a flat screen, while TV stands become thinner to accompany the modern television. Modern stands are mostly found in wood, which tends to be long lasting and durable. People who are moving or just want to sell their TV stands tend to let them go for a fraction of the price of a brand new stand. As most TV stands are sturdy, they can be found in great used conditions for a bargain price.
Choosing TV Stands
Usually, choosing a suitable TV stand will be subject to personal taste; however, many important factors will influence the search. The available space and the overall design of the room come to mind when selecting an appropriate stand. Price is another crucial deciding factor. Selecting a stand that fits and can carry the television is clearly the most important aspect. Also, thoroughly researching the item and asking all possible questions leads to a confident purchase, especially with used goods.
TV Stand Materials
Hardwood is generally considered the best material for quality TV stands. It provides a modern and sleek design that easily blends in with other pieces of furniture throughout the home. Hardwood is durable and long lasting, though remember to count in the fact it is also quite heavy. Because of its weight, hardwood will usually be more expensive to ship. Various types of blends and colours are offered based on the large variety of woods to choose from. Hardwood furniture is as unique as the wood it is made of. Hardwoods include oaks, cherry, teak, mahogany, ebony, and maple.
Wood Veneer
Wood Veneer is a cheaper alternative to hardwood that has a similar visual appeal. Thin pieces of wood are glued together and pressed over other materials to give the furniture a wood appearance on a budget. Wood veneer stands are notably lighter than their hardwood counterparts and will incur cheaper shipping charges to reflect this characteristic.
Engineered Woods
Engineered Woods are a great choice for the environmentally conscious. Engineered wood stands are made from wood scraps and other recycled materials. These woods include plywood and medium density fibreboard. As a cheaper alternative to hardwood, they do not warp.
Metal and Glass
Metal and Glass usually portrays a sleek and modern look in a space. Metal stands commonly utilise stainless steel to avoid rusting but may also be found in aluminium or brass. Stainless steel stands come in a variety of attractive finishes, while aluminium stands are known for their lightweight. Tempered glass is the quality choice for furniture made of glass. Tempered glass is much stronger than traditional glass and will be clearly marked.
TV Stand Designs
Cabinets provide support for the TV and storage areas beneath. They are a very common choice that blends well with other furniture in the space. Cabinets are available in all materials.
Corner Stands and Swivel Stands
Corner Stands are designed to be placed in the corner of a room. They are usually smaller in size and will contain few storage areas. They draw focus to the corner of a room. Swivel Stands are used for viewers who constantly move around their televisions. They are also usually smaller and will contain limited storage space. They usually rotate 45 degrees to the left or right for optimal viewing. Swivel stands are foun in a variety of materials.
Wall Mounts
Wall Mounts have no stand underneath, rather, simply secure the TV to the wall. They usually have tilting options to point the TV in the ideal direction. TV Stands with a mount suspend the TV in the air without causing damage to the wall. They include a cabinet below with a metal frame that suspends and supports the TV.
Entertainment Centres
Entertainment Centres are the biggest and most lavish TV stands. They showcase the TV as well as all the entertainment gadgets. Entertainment centres are larger in size and usually come equipped with all sorts of extra goodies including storage, lighting, and a high-quality exterior.
What's Included with the Purchase?
Remember to check this as a priority. If the TV stand needs assembly, then a manual would be needed. This is important, as it will help keep the product in top shape and provide a guide on utilisation. Also, some TV stands may require extra parts that are not included, like an articulating wall mount or even shelving units. Some of these products are sold separately and should be taken into account when considering a purchase, especially for a used stand.
Warranties
Warranties are not mandatory, but they do provide buyers with confidence from the manufacturer and seller. Even if the prospective buyer is not interested in purchasing a warranty, it is always a good idea to inspect them and see what is provided in case of malfunctions. Also, when buying a used item, most warranties are transferable, thus protecting the buyer for a number of years. Look at the warranty provided by the manufacturer to make an informed decision on the product.
Repairs
When purchasing used goods, always be aware of what repairs need to be done or what repairs have been done. This is crucial as a minor repair can be cheap and easily fixed, but a major repair can be costly and lead to problems in the near future. If the previous owner has done repairs, then make sure to ask what has been done. Small cracks in the wood of a TV stand can easily be repaired with wood glue. If the seller has done minor repairs to the TV stand such as minor gluing, paint or minor wood filler, then the purchase can be worthwhile.
Return Policies
In the same vein as warranties, return policies provide the buyer a safety net in case of product malfunction, or lack of product expectation. If the buyer is buying a used stand, then make sure that the seller offers a return policy. Depending on if the TV stand offers shipping or a collection only policy, the used TV stand may not be returnable. Purchasing a seller refurbished used TV stand from a store will usually guarantee a return policy. However, purchasing a used TV stand from a personal seller will usually not come equipped a return policy. Most personal sellers demand collection only and do not accept return for used TV stands.
Measurements
This may seem obvious, but it's surprising how many buyers don't purchase the right wall-mounts for the correct television. Make sure to note the model of the TV purchased, along with the width and length in order to determine the correct wall-mount needed. Confirm with the seller when buying a used wall-mount what the measurements are if they are not listed.
Compatibility and Weight
There are varying sizes of TVs; therefore, it is important to note the size and even weight of the television. A lot of TV racks can only support a certain amount of weight, making it the buyer's priority to figure out if the rack is compatible and can hold the weight of the television in mind.
Buying a TV Rack on eBay
eBay is a great source for looking up different models of TV racks available. Once on the eBay home page, go to the Categories drop down box. Click on the arrow and select Sound & Vision, from their go to the left hand column and selectTV & Home Audio Accessories, followed by TV Stands. Once on this page, the buyer has the option to select the brand, the type of cabinet (as in wood cabinets, Stands, Wall brackets) as well as the material. Features are easily selectable in order to match the decor of the house. Features can be found on the left hand column.
Conclusion
There are many reasons for buying a TV rack. As the market has been flooded with flat screens, they provide a stylish look to the living area. It is the buyer's responsibility to do his or her research before purchasing the rack in order to avoid a hassle. Make sure to go through this guide to help determine a proper purchase. Make sure the seller gives details about the product and ask all questions before committing to a purchase. When the buyer's decision has been made, then they can utilise the world of eBay's convenient online shopping in order to find a variety of products available to them at an array of prices.