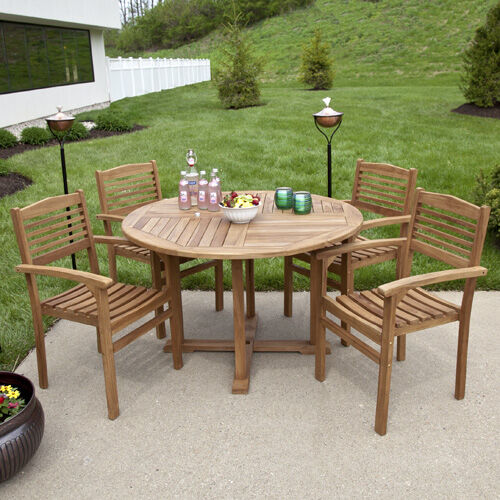 Table and chair sets are an essential part of every home and establishment. Whether used indoors in a dining room or outdoors in a garden, a high quality set can provide years of service. The best furniture is generally expensive, but it is possible to purchase used sets at a fraction of the cost.
Buying used table and chair sets does not mean that the buyer is purchasing an inferior set. In fact, besides the fact that used furniture is cheaper to buy, it may also be cheaper to remodel it to suit the buyer's tastes and in some cases may be made from superior materials.
There are just a few simple details to be aware of before purchasing a used table and chair set. An informed choice ensures obtaining an excellent set of furniture at a fraction of the cost of a new one. This guide discusses the different types of table and chair sets available and lists what a buyer should look for when purchasing used ones online.
Types of Table and Chair Sets
There are many different types of table and chair sets. The buyer should consider the size, styling, and colour scheme of the house or garden when deciding what type of furniture to buy. It is also important to know where the furniture is to be used to make an informed choice. For example, a restaurant would require a much sturdier set of chairs than a family dining room.
Wooden Furniture
These are tables and chairs made completely or partially of wood. There are several types of wood used to make wooden furniture. The best ones are hard woods like walnut, mahogany, oak, and fruitwoods. However, since these woods are rare and expensive, the hidden parts are usually made of cheaper woods. Most modern wooden furniture is made from wood that is more easily available, including ash, pine, and gum.
If a used table or chair set is dated before 1900, there is a high chance that it is worth restoring because of the probability of rare woods being used in the construction. Wooden furniture for outdoor use needs to be periodically treated to deal with exposure to the elements. Teak furniture is ideal for outdoor use since it contains silica which makes it resistant to fungal decay, water damage, and chemicals.
Wicker Furniture
Also known as rattan furniture, wicker furniture is usually based on plant fibres, but it can also be made from synthetic fibres like plastic. This type of furniture is light and can be used in places where moving it often is necessary. Despite its lightness, rattan furniture is strong and often used outdoors.
Metal Furniture
Made with metal frames of aluminium or steel, these sets usually have chairs with padded or upholstered seats. Foldable chairs made for camping may use canvas seats as well. Metal furniture can be used indoors or outside, and it is much more resistant to the elements than wooden furniture.
Plastic Sets
Tables and chairs made of plastic are usually cheaper than those made of other materials. They also have several other advantages. They are light, and with today's technology, can be made to look like other traditional materials used for furniture. However, plastic furniture is fragile and needs to be handled with more care than other types.
Wrought Iron Sets
Generally characterised by intricate designs, wrought iron furniture is made of iron with low levels of carbon, which is called wrought iron. It has been used to make furniture since the time of the Romans, but modern versions are usually meant to be used outdoors. It is considered expensive when compared to plastic, synthetic wicker, and aluminium, but it is highly durable, requires low maintenance, and long lasting. Wrought iron requires a good coat of paint to prevent rust.
Factors to Consider When Buying Used Table and Chair Sets
Buying used tables and chairs require some extra care on the buyer's part. Considering the following factors help ensure that a good investment is made on the used set of furniture.
Size
It is difficult to visually estimate how furniture may fit in a house. When viewed in a store, tables and chairs seem smaller than when they are in a house. This problem is exaggerated when buying online. The buyer should take the time to measure the area available for the table and chair set and make sure that the purchased items fit within this area comfortably.
Quality of Materials and Workmanship
When buying furniture, it is worth investing in a set that uses high quality materials. Tables and chairs of poor quality usually do not last long, especially when bought used. The buyer should take pains to ensure that the quality of materials and workmanship are high.
Furniture with good joints is stable and lasts for many years. When purchasing used furniture, the quality of the joints becomes even more important. The joints should be inspected whenever the buyer gets a chance, either by asking a seller for more details or by inspecting the piece when it arrives. For chairs, check under the seat. For tables, one needs to either turn the table over or crawl under it to have a look. Well-made joints glued with good bonding glue result in solid frames that can hold up well for many years. It is best to avoid any furniture that uses staples. Lastly, upholstered furniture can be freshly re-upholstered as long as the frame and joints are strong.
Storage
For situations in which the set of furniture is used only on certain occasions, or when space is an issue, the buyer may consider furniture that is designed for easy storage. Various chairs and tables are available that can be folded and put away easily, which increases the versatility of a space in a home.
Visible Damage
Severe water damage, wood worm, and cracks in the wood are signs of decay. Minor dents and water rings do not affect the life of the piece, so buyers should not easily visible damage to assess the condition of the used sets.
Furniture That Needs Work
If the buyer finds a table and chair set with solid frames but have surface damage, repair costs must be taken into consideration. It is definitely possible to paint over unwanted colours, put the gloss back on, or reupholster a chair, but it may not be worth the time and effort.
Inspecting Used Furniture After Arrival
One of the biggest recommendations when purchasing used furniture is to test it before making a purchase. Though this is not possible when buying online, it can be accomplished after the purchase. It is possible to inspect the furniture for defects that were not visible when viewing the table and chair set online. Besides repeating all visual inspections that were carried out online, the buyer should also try using the furniture. Normal use reveals defects that are sometimes not visible. After arrival, sit on chairs and make sure they are stable, and lean on the table and make sure that it is solid.
Finding Used Table and Chair Sets on eBay
A buyer in search of used table and chair sets can find a wide range of choices on eBay. To begin, you just need to visit the eBay home page and enter a term for the type of furniture. For example, if you are looking for used contemporary table and chairs, just enter the term "used contemporary table and chairs" into the search field. If you have a particular style of table and chairs in mind, it is also possible to enter other search terms, including, for example, the type of material, or the number of chairs desired.
Since it is impossible to manually inspect a set of furniture that is available on eBay, you should carefully examine all photographs of the item for visual signs of wear and damage. You can also ask the seller questions and request more information before committing to a purchase. It is also recommended to find out about the seller's return or exchange policy.
Conclusion
There are different kinds of table and chair sets that are suitable for various uses. Whatever type a buyer is looking for, it is possible to acquire a quality set of furniture at a fraction of the cost by purchasing a used set. Before starting to look for used furniture, the buyer should consider the purpose of the furniture set and should also measure the area available for the table and chairs. The space allotted to the used furniture should be able to accommodate the entire set, or the buyer may want to invest in sets that can be easily stored. Based on these factors, the buyer can then start searching on eBay for furniture sets that are suitable to their needs.
eBay is a great online shop to find used table and chair sets. The listing is extensive and easy to navigate and sort through thanks to the site's useful and powerful features. All buyers can find a great set of used table and chairs to suit whatever needs they have.