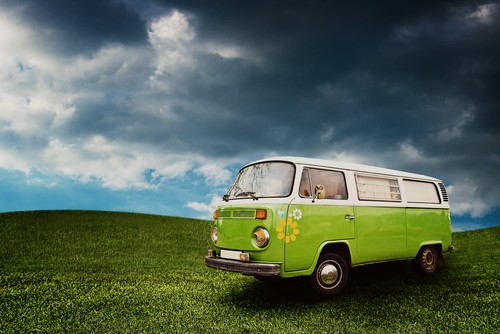 Buying used van and pickup truck parts is a cost-saving and ethical way to get spare parts that are needed for repairs. As recycled goods, used van and pickup truck parts are often sold at affordable price points, and they have the virtue of reducing a buyer's carbon footprint, as well. Finding the right van and pickup parts in the used marketplace, however, involves adhering to a few tips that can help guarantee that consumers find good parts that are the right fit for their vehicles.
Everything from proactive communication to utilising the right resources can make a significant difference to a consumer's experience when searching for used van and pickup truck parts. Resources can take the form of vehicle literature or retailers for used vehicle parts. The online retailer eBay typically offers a large selection of used vehicle parts for sale, or buyers can search locally by talking to automotive repair businesses to find out their sources. By following these recommendations, consumers can have an easy and pain-free experience in the used marketplace for auto parts.
Finding Serviceable Used Van and Pickup Truck Parts
When buying a used part, consumers always want to be sure that they are getting a serviceable part in good condition. This can be easily done by following a few protocols that can help guarantee that a part is in good condition and can be used on a repair or restoration project.
Requesting Photos When Shopping Online
The online marketplace is a vital resource for purchasing used van and pickup truck spare parts. The advantages of buying used parts online include the ability to scan multiple vendors and weigh several options at once. A stumbling block for some in the online shopping process, however, is the fact that they cannot view the part in person. Fortunately, photographs can typically provide sufficient clarity on a part's condition. If an online vendor does not provide enough photos for a consumer to vet a part properly, he or she should request additional photos and information before purchasing.
Asking Questions About a Used Van or Pickup Truck Part
Consumers should feel comfortable asking any questions they want about a used van or pickup truck part. Taking the initiative to communicate with a vendor to ask detailed questions is an essential part of purchasing used spare parts. Questions consumers may want to ask include:
How long was this part in use?
What was the condition of the vehicle that previously used the part?
Was the part used on a vehicle that was used for long commutes, rough terrain, or industrial work?
Has the part been refurbished in any way?
Asking these questions and more can provide a consumer with important clarity as to the serviceability and quality of a used part for a van or pickup truck.
Shopping for Parts Related to the Safety of a Vehicle
In general, it is recommended that consumers do extensive vetting and research when purchasing used parts that are related to the safety of a vehicle. These parts include items such as airbags, safety belts, and sensors that monitor safety systems in a vehicle. Brake components also fall into this category. A used spare brake pad, for example, is not a serviceable used item; however, a different brake component could be if it has been used lightly and maintained well.
When purchasing any part related to the safety of a van or pickup truck, consumers should do their due diligence and confirm a part's condition before completing a sale. Communicating with a seller, requesting photos, and asking questions can help a consumer ascertain whether a safety-related used part is serviceable and a good purchase option.
Considering New Old Stock
An extremely viable alternative to used parts that still offers the virtues of cost efficiency and sustainability is New Old Stock. These 'NOS' parts are older, legacy items that are no longer manufactured but are still stocked on a supplier's shelf. These options are in unused condition but are not current stock or the latest technology. As such, NOS parts offer consumers a like-new option and increase the odds of enjoying the benefits of a quality, serviceable part without having to pay the cost associated with a new part.
Consumers should be as thorough when shopping for NOS items as they are when shopping for used parts. Asking questions and investigating the quality of an NOS van or pickup truck part is still important. Some NOS parts may be decades old, and their applicability to a repair project should be confirmed at the point of purchase.
Finding the Right Used Van and Pickup Truck Parts
A primary consideration for consumers when shopping for used parts for a van or pickup truck should be finding the right part for a vehicle. This can be accomplished in a variety of ways, including utilising the right literature and leveraging retail options that facilitate accurate searches for used parts.
Utilising Parts Catalogues and Manuals
The literature associated with a van or pickup truck, including the manuals or parts catalogues provided by a manufacturer at the point of purchase, can be a great resource when shopping for a replacement part. If consumers do not have access to this literature or have misplaced it, they can often find multiple sources of information online. These options include literature by the original manufacturer and third-party resources. Finding and purchasing vehicle literature not only facilitates the search for the right part, but it also aids the eventual repairs.
Searching for Parts with Year, Make, and Model
It is important that consumers use the year, make, and model of a vehicle as much as possible during a search for used parts. This helps ensure that a used part is the right fit and works with the design of a vehicle. Using all three criteria is crucial, as design schemata can change drastically from one year to the next or from one model to the next within a vehicle series. If a consumer has an older vehicle or is working on a remodel of a classic vehicle and is unsure of a van or pickup's exact year, make, and model, a vehicle's chassis number can provide some clarity and guidance. The chassis number is usually located on a metal plate riveted to the frame of an older van or pickup truck's chassis.
Leveraging the Right Retail Options
One of the most straightforward ways to aid the search for used parts and to ensure that consumers find the right parts is to leverage the right retail options. Consumers want to utilise retailers that facilitate the used parts search process and allow a shopper to search for parts with specific criteria, such as a vehicle's year, make, and model. Consumers can also benefit from retailers that divide used parts into useful categories and provide detailed information as to the condition of a part. One of the best resources for facilitating the used part search in this way is the online retailer eBay.
Conclusion
Before undertaking a repair or remodel project on a van or pickup truck, it is important for one to find and purchase the right parts. Whether a consumer needs a body panel piece for an external restoration or an essential component of a van's engine, used parts can be one of the most useful resources to tap into when searching for parts. Used parts can be extremely beneficial to a project, as they give consumers a cost-effective, recycled alternative to new parts while still delivering serviceable and reliable performance.
When searching for the right used parts, consumers should adhere to specific tips that can help ensure they find the correct part in a serviceable condition. The diverse and wide-ranging used marketplace offers a lot of options through which a consumer must search for the best selection. By asking questions, leveraging vehicle literature, and utilising the right retail options, such as the online retailer eBay, consumers can quickly and easily find quality used parts for their vans or pickup trucks.