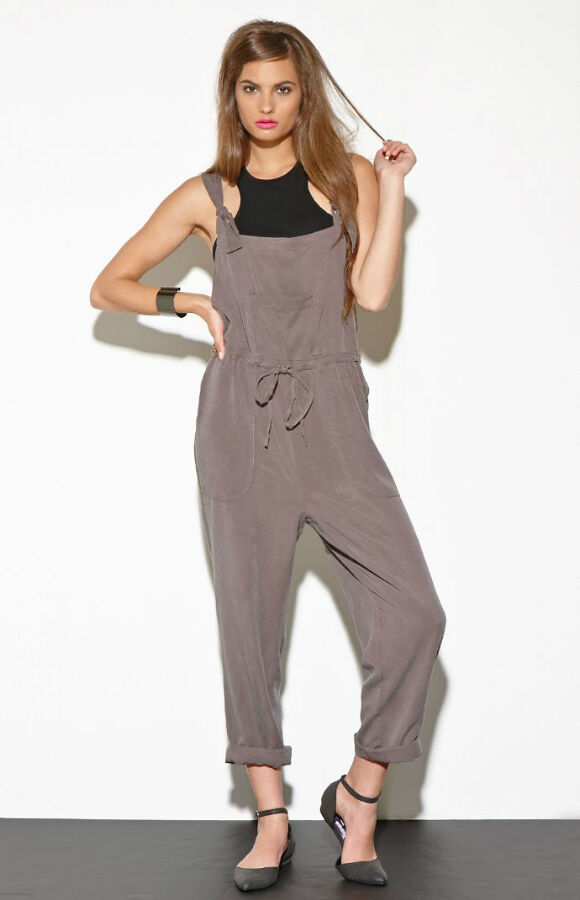 Purchasing used women's jumpers is an affordable way to acquire comfortable and fashionable attire in preparation for the cold weather months. As with any type of clothing, one of the first steps in choosing a jumper is determining what style will look good on one's particular body type. When purchasing used, it is also important to look for a well made option that has little to no wear, ensuring it will withstand another season or two. When purchased secondhand, jumpers are often available for a fraction of what they would cost new, even nice, designer selections. With gentle care and storage, they can remain as comfortable and attractive looking for years.
Wearing Jumpers Well
A jumper is a type of pullover sweater, usually knit, worn primarily during the winter. Cardigans, which typically feature a button-up front are sometimes referred to as jumpers, as are hoodies, which feature a hooded top part. However, the essence of the name "jumper" is that one can jump in and jump out of the article of clothing. Hence, having the item be pullover in nature, and hood-free is a distinguishing trait.
Wearing jumpers well, means having something that is both comfortable and attractive to wear when the temperature drops. Jumpers do not have to equal frumpy, uncut frocks. They can be fitted, stylish, and come with a variety of options. In order to look good in a jumper, it is important for a woman to know what sort of body type she has and look for a style that accentuates the positive of that particular form.
Body Type
There are several different styles of jumper. Before making a selection it helps to know what sort of body type one has and what style of jumper will best suit that figure. This goes a good way toward ensuring a good, stylish fit, even when the option to try on the ensemble does not exist, such as when shopping online.
| Body Type | Description | Weight Gain Characteristics |
| --- | --- | --- |
| Rectangle (Straight, banana, tube) | Most common; no defined waist and few visible curves. | Fairly even weight gain, with emphasis around the midsection |
| Pear (Spoon, bell) | Shoulders are narrow in relation to hips; Often wear a smaller size above the waist than below. | Weight goes to to areas below the waist, most notably the hips and rear |
| Hourglass | Hips and shoulders are in balance with one another, while waist is short and nipped inward | Weight gain tends to be fairly evenly distributed |
| Oval (Apple) | Heavy frame typically featuring a wide hipline and large bust | Weight gain most prominent around the stomach |
| Wedge (Inverted triangle) | Shoulders are wider than hips, traditionally athletic build | Weight is gained in arms and chest |
Once a consumer has taken a good look at themselves in a full-length mirror and knows what sort of body type they naturally possess, finding the right style of clothing for that type makes it easier to get a good fit. Jumpers, which come in a variety of different cuts, are no exception to this rule of fashion.
Remember, there are individuals who are both naturally thin and naturally thick within every body type. There are variations in the way excess weight is carried, such as the wedge who carries more up top or the pear who tends to gain weight in the rear, however, thinness or lack should not be a criteria for determining body shape.
Finding the Right Jumper for One's Shape
Once a consumer has determined what type of body shape they have, the chart below makes it easy to determine what cut, styles, and colours of jumpers will likely look best on her figure.
| Primary Shape | Best Jumper Style |
| --- | --- |
| Rectangle | Bright and light colors; "Nipped" or "fitted" waistline; Printed details from the bust up |
| Pear | Wide, round necklines; Light and/or bright colours; Should fall a few inches above the hipline |
| Hourglass | Sweaters with low necklines which extend just below the hips or past the thighs |
| Oval | Low necklines, empire waists, and flowing, non-tapered hems work best |
| Wedge | Vertical details, nipped waist, flaring ends. Choose soft, drapey fabrics as opposed to rigid, bulky materials |
Nearly everyone fits one of the five major body types. Knowing what body type that one possesses, makes it easy to get information regarding sort of clothing best accentuates the figure.
Sizes
Once a consumer knows what figure they have and what style of jumper will look best on that figure, the next step to making a selection is determining what size they will need. Some jumpers come in fitted sizes, while most are fall into the more general small, medium, and large options, which span multiple sizes. For instance, in the UK a small is generally a numerical size six to an eight.
What determines a size varies by country of origin, manufacturer, and material. Taking one's measurements, particularly across the widest parts of the chest and stomach, helps to ensure a good fit. To be certain that a seller's size "small", is the same as the buyer's size, taking or requesting measurements of the jumper is smart.
Getting the Most Value Out of a Used Jumper
Used jumpers that have been cared for often have the potential to last through several winters. The key to maintaining shape and appearance is proper care and maintenance. Caring for a jumper is a bit more complicated than many other types of clothing. However, nearly all jumpers can be well maintained within the average home, all it takes is a bit of know-how.
Laundry
Though most jumpers are made out of knit material, there are several different styles on the market today. As a result, it is important for consumers to first and foremost consult the care label provided by the manufacturer. However, most jumpers last longer and maintain shape better when washed up by hand, using a very gentle detergent.
Many common knit materials will shrink when placed in the dryer. Again, consult manufacturer's labeling for details, but when in doubt it is best to let the jumper dry flat after wiping excess water off with a towel. Both hanging and wringing of the jumper made lead to a loss of shape.
Prevent Pilling
Pilling is common with women's jumpers, particularly around the areas that are subject to a lot of wear and friction, such as the elbows. Regularly removing pilling from the sweater by hand or with a pilling shaver helps to keep the piece looking good. It is best to do this removal process frequently, rather than allowing an overwhelming amount of pilling to appear.
Remove Dandruff, Lint Carefully and Regularly
Using a soft brush to gently remove dandruff, lint, and pet hair helps to extend the life of knit fabrics substantially. Sticky lint rollers are often too harsh for these types of material, but regular brushing is smart. A baby's hair brush or a soft bristle toothbrush should work effectively at removing the many unwanted particles that tend to cling to this sort of material.
Give it a Break
It is better to keep multiple jumpers on hand and alternate them frequently rather than wearing the same favorite every single day. This helps to cut down on wear and prevent perspiration and other body oils from building up on the delicate knit fabric from which most jumpers are formed.
Repair Damage Immediately Upon Discovery
Most jumpers are made out of stretchy, knit material. When this material becomes torn or otherwise damaged, it is important to make repairs immediately. Otherwise the hole is likely to stretch, leading to further damage and misshaping.
Storage
Hanging a jumper can potentially lead to stretching. It is best to gently fold the jumper after washing and place it away in a drawer or chest. Always make sure the jumper is completely dry before placing it away.
When storing sweaters away for summer, it is important to make sure they have been washed first and are located in a safe, dry location. This helps to reduce the odds of moths or other critters getting in during the summer and making a meal out of one's favorite jumper.
Finding Used Women's Jumpers on eBay
Finding used women's jumpers on eBay is best accomplished by utilising the search bar located atop every eBay page. Simply input terms related to the item that one hopes to find. Vague terms, such as, "used jumpers" are sure to bring up a large number of listings. More specific searches, like, "used black jumper small" or "medium used womens jumper", are likely to result in fewer but more precise results. Following a search, the consumer may use various refinement options to reduce the number of listings to a more manageable number of highly-specific choices.
Get to Know the Seller
Prior to making a purchase on eBay, making a visit to the seller's feedback profile can offer the consumer a wealth of information regarding the person with whom they plan to do business. From the seller's eBay profile it is possible to read reviews from previous clients, find out the seller's location, and even send private messages regarding any questions or concerns that may arise regarding the listed item.
Conclusion
Jumpers are both comfortable and fashionable. Well made jumpers can last several years when properly cared for and purchasing used jumpers is a frugal, eco-friendly, way to stock up for the cold winter months ahead. There are several jumper style options, making it possible for individuals of every size and shape to find a choice that both looks nice and fits well. When purchased used, jumpers from even high-level designers are typically available for much less than they would cost new. Often consumers will offer up a sweater that they only wore once or twice, if ever, for 10 per cent of the expected retail price. Most frugal consumers know that purchasing used clothing is smart, easy, and fun. Fashionable, long-lasting women's jumpers offer a great place to begin second hand shopping. Brands such as Karen Millen, Laura Ashley, Marks & Spencer, Monsoon, Oasis and more all offer a great range of jumpers in a variety of colours, styles and materials.