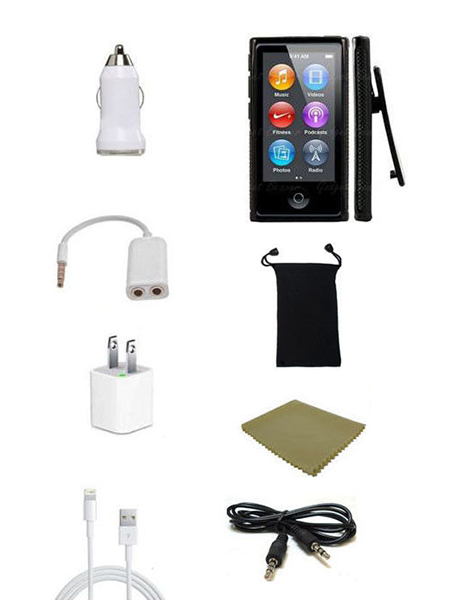 The iPod is the world's largest selling digital music player, with more than 350 million units sold worldwide. The success of the iPod has led to the creation of a number of accessories, from audio docks and mini speakers to FM transmitters and specialised cases. These accessories can enhance the iPod's functionality, protect it from damage, or help create a better user experience. Used iPod accessories are easily available at very attractive prices on marketplaces such as eBay.
About iPod Accessories
The first iPod was released in October 2001. It was a revolutionary device for the time, capable of storing up to 1,000 songs on a 5 GB hard disc. With subsequent improvements in the device, consumer interest increased. By 2003, sales had increased to 937,000 units - a figure that would jump to 42.6 million units per year by 2011. With so many iPods being sold, manufacturers rushed to create accessories that enhance the iPod experience. The first iPod accessories were simple cases and covers designed to reduce external wear and tear. This was followed by charging and speaker docks, FM transmitters, screen protectors, and a host of other accessories. The exponential increase in quality and quantity of accessories was spurred by Apple's adoption of USB instead of FireWire connection, starting with the fourth generation of iPod (released in July 2004). USB is compatible with both Windows and Mac and is more versatile than FireWire (a format that has now been deprecated). In March 2005, Apple started the Made for iPod program to help consumers buy accessories meant specifically for use with iPod. Such accessories could be identified by the Made for iPod sticker and covered everything from speakers to headphones to cases and covers. The first accessory to carry this sticker was Macally IceTune speaker system. Most big name manufacturers, including Bose, JBL, Griffin, etc. jumped on board and were soon manufacturing devices specifically for the iPod. Apple itself started producing iPod accessories, starting with the iPod Hi-Fi, a speaker dock that was released in February 2006. Today, iPod accessories cover a wide range of features and functionalities. There is an accessory for virtually every need imaginable, from FM transmitters to speaker docks to covers that enhance the look and feel of the device.
Buying Used iPod Accessories
A number of factors have to be considered when buying used iPod accessories. This includes the quality and condition of the device itself, compatibility, and cost, alongside accessory-specific factors such as manufacturer, model type, functionality, etc. Some of these factors, organised according to accessory-type, can be seen below:
Buying Used iPod Cases and Covers
The iPod bears an iconic industrial design. While not fragile, the iPod can be easily tarnished through regular wear and tear and misuse. Cases and covers protect the iPod and can also be used to personalise the look and feel of the device. Some of the things to consider when buying used iPod cases and covers are:
Compatibility
The form factor of the iPod is different across all four models - Touch, Nano, Classic and Shuffle. Furthermore, dimensions and form factor may vary even within generations of the same model. Consequently, covers meant for one device may not fit those meant for another. iPod cover availability also varies by model. For instance, few manufacturers make covers for iPod Shuffle, while the delicate nature of iPod Touch and iPod Nano touch-screen means there is a huge variety of covers for them. Similarly, iPod Classic is tougher than Nano or Touch and many people choose to use it without a cover.
Type
Broadly speaking, used iPod cases and covers may be classified as follows:
| | |
| --- | --- |
| Fitted Cases and Skins | Provides a skin tight, fitted cover for the iPod. Keeps the profile low and does not add unnecessary bulk. As a downside, such cases offer limited protection and are not recommended for high-end iPod Touch devices. |
| Pouches and Sleeves | A pouch or sleeve is less a case and more a storage option. While a pouch offers a lot of protection, it suffers from limited functionality as the iPod cannot be accessed while it is in the pouch. |
| Wallet or Flip Type | A wallet or flip type cover provides a lot of protection in an aesthetically pleasing profile. As a downside, such cases tend to be expensive and add unnecessary bulk to the device. |
| Armband | An armband type cover is used to attach the iPod to the arm and offers non-intrusive, easy access to the iPod when working out. |
Material
Silicone, metal, leather, plastic, and rubber are some of the materials used to make iPod cases and covers. Each of these materials has specific advantages and disadvantages, as can be seen below:
| | | |
| --- | --- | --- |
| Silicone | Flexible, cheap, can be moulded into any design. Available in a wide variety of colours. | Does not offer enough protection, can appear 'cheap'. |
| Rubber | Same as silicone: flexible and cheap, has a better texture than silicone. Also provides better grip. | Aesthetically poor, does not offer as much protection as leather. |
| Leather | Gives a premium look and feel, does not damage easily. | Expensive, limited variety of colours and designs. |
| Metal | Extremely strong, can take a lot of damage. | Expensive, increases overall weight of the device. |
| Synthetic Leather | Cheaper alternative to leather, strong and aesthetically pleasing. | Not as strong as real leather, can appear 'cheap'. |
| Plastic | Flexible and cheap, plastic can take on any shape or colour. | Suffers from poor aesthetics. |
Buying Used iPod Audio Docks and Speaker Systems
An audio dock is a speaker system that connects to the iPod via USB. Besides audio docks, a lot of manufacturers also make mini speaker systems that connect to the iPod via a simple 1/8 inch audio cable plugged into the headphone socket. Some of the considerations when buying used iPod audio docks and mini speakers are:
Compatibility
Audio docks are not compatible with every iPod model as different models have different USB socket specifications. This may even vary within generations of the same model. Older generation iPod Nanos, for instance, have a smaller USB socket that isn't compatible with audio docks meant for sixth generation iPod Classic or iPod Touch. Speaker systems with 1/8 inch phono plug, on the other hand, are compatible with every iPod as the plug only needs to fit into the headphone socket.
Features
Some of the prominent features found in iPod audio docks and speaker systems are:
| | |
| --- | --- |
| LCD Screen | Some high-end audio docks have built-in LCD screens to display song and artist information. The LCD screen may be touch-sensitive, making it possible to change track and artist without using the iPod. |
| Alarm Clock | Many audio docks also work as alarm clocks, playing music from the iPod as the wake up tune. |
| Foldability | Portability is a major consideration when buying iPod docks and speaker systems. Some docks can fold in half to fit inside a small bag. Others have a small profile which makes transportation easier. |
| USB Charging | Most audio docks also work as charging stations. Plugging in the iPod into the dock keeps the device charged, besides playing music. |
| Bluetooth | Bluetooth support makes it possible to play music remotely without physically connecting the device to the audio dock. Most new audio docks meant for iPod Nano or iPod Touch have Bluetooth support. |
Buying Used iPod Chargers
By default, the iPod is charged by connecting it to a computer via USB. However, iPods can also be charged from a wall outlet, a car cigarette lighter outlet, or a dock by using the appropriate charger. Apple itself manufactures a number of chargers for its different iPod models. As a rule of the thumb, if two different iPod models can use the same USB cable, they can also use the same charger. Broadly, there are four different types of iPod chargers:
| | |
| --- | --- |
| Charging Dock | A charging dock may also be called an audio dock. It typically consists of a USB plug and a set of small speakers. It may also have additional features such as alarm clock, FM radio, etc. |
| Mains Charger | A mains charger plugs into a wall outlet and provides an easy, versatile way to charge an iPod. |
| Car Charger | A car charger plugs into a car's cigarette lighter slot and provides an easy way to keep the iPod charged while driving. |
| Charging Mat | Charging mats work on the phenomenon of inductive charging and offer wireless charging for the iPod. This reduces the risk of electrical shock and USB socket wear and tear. |
Additional Used iPod Accessories
Besides covers, speaker docks, and chargers, a number of other accessories are available for the iPod. Chief among these are:
Used iPod Cables and Connectors
By default, the iPod utilises a 1/8-inch jack for audio, and a special USB cable for connecting the device to the computer. Different aftermarket cables can be bought to extend the functionality of the iPod. Some of these are:
| | |
| --- | --- |
| Lightning to Dock Converter | Apple introduced an altogether new lighting connector for the fifth generation iPod Touch, making all previous iPod accessories redundant. The Lightning to dock type converter makes it possible to use older generation accessories with the new iPod Touch. |
| Auxiliary Cable | An aux cable is a simple cable with a 1/8 inch audio jack at both ends. It is typically used to connect the iPod to a car music system without using USB. |
| AV Cables | An AV (RCA) cable consists of three separate cables and is used to connect the iPod to a TV screen via USB. |
Used iPod FM Transmitters
FM transmitters make it possible to listen to radio on older generation iPod models. Barring the fifth generation iPod Nano (and onwards) and iPod Touch, all other iPod models don't have in-built support for FM radio. A FM transmitter connects to the iPod via USB socket and turns the iPod into a portable radio.
Used iPod Cassette Tape Adapters
A cassette tape adapter is a device that consists of a special cassette tape with a 1/8 inch audio jack. The audio jack connects to the iPod while the cassette tape goes inside a car cassette player. This adapter makes it possible to listen to the iPod on car audio systems that do not have an auxiliary port.
How to Buy Used iPod Accessories on eBay
eBay has a large inventory of used iPod accessories at attractive prices. To buy used iPod accessories on eBay, search for 'iPod' on the eBay UK homepage under Sound & Vision category. Select the iPod & MP3 Player Accessories sub-category and choose Used under conditions from the left selection pane. The resultant searches can be filtered according to a number of criteria. This includes filtering by accessory type, such as iPod Cases, Covers & Skins,, iPod Audio Docks & Mini Speakers , iPod Chargers & Docks,, iPodCables & Adapters,, and iPod FM Transmitters,, etc. iPod cases and covers can be filtered according to case type, colour, and compatibility. Similarly, audio docks and speakers can be filtered according to manufacturer, compatible model, and features. In the same way, chargers can be selected by type ( Mains Charger , Car Charger , etc.), and cables by functionality (Auxiliary, RCA).
Conclusion
The iPod is a wonderful device that can be made even better by using different iPod accessories. A number of iPod accessories are available, from cases and covers to protect the iPod and speaker docks for portable audio to car chargers and cassette adapters for listening to music on the go. Used iPod accessories are far cheaper than their new counterparts. A wide selection of used iPod accessories is available on eBay at affordable prices.