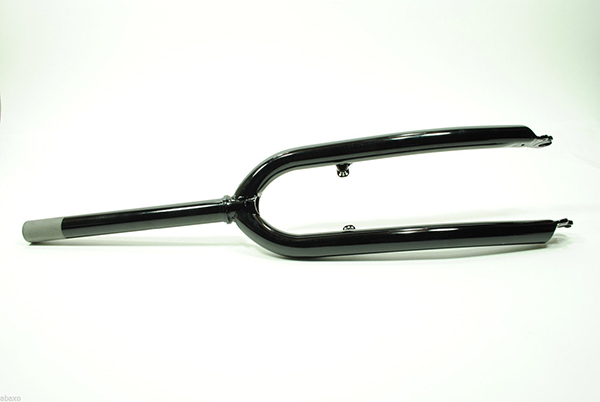 The bicycle is a widely popular form of transport among all types of riders, from casual cyclists using their bikes to get to work to athletes who train intensively for bicycle races. The design of the modern bicycle, with its two equally proportioned wheels and diamond shaped frame, comes from the safety bike of the Nineteenth Century.
Modern bicycle frames are made up of a number of components, one of which is the bicycle fork. This integral component is the part of the bike that holds the wheel and connects to the handlebar, ensuring that the rider can control and balance the bike. There are numerous different types of fork available suited for different types of bike, as well as offering different features and materials. A wide range of used and new bicycle forks are available on eBay.
Bicycle Fork Dimensions
There are a number of key dimensions and characteristics present in a bicycle fork. It is by altering these that different types of fork are made more suited to different types of bicycle and different types of riding.
| | |
| --- | --- |
| Offset | Most bicycle forks feature an offset, sometimes called a rake, which places the fork ends forward of the steering axis. The extent of this offset affects the handling of the bicycle, impacting elements such as turn speeds. While this is generally achieved with a curved design, forks with suspension are often straight. |
| Length | Generally, the length of the fork is measured from the bottom of the lower bearing brace to the axle of the front wheel. The length can vary somewhat between different types of bicycle. |
| Width | The width of the fork, also called the spacing, refers to the distance between the inside of the two fork ends. Most adult sized forks have a width of 100mm, though different designs can vary. |
| Blade Size | It is important that the blades of a fork are large enough to fit over the wheel they are being put on, as well designed with an offset that handles well when placed on the frame. |
| Threading | Forks are available in threaded and unthreaded form. Threaded forks can often offer an adjustable height of handlebar. |
| Steerer Tube Diameter | The diameter of the steerer tube should be matched to the diameter of that of the frame, in order for the fork to fit properly. Tapered forks are also available for high-end bicycles, and some cyclists feel they offer additional stiffness and better handling. |
Rigid Forks
Many forks, particularly those for road bikes and less expensive models, do not feature suspension. These rigid forks have no suspension built in to help absorb the shocks of riding across any rough or uneven ground. Due to this, they are most suited for bikes that are intended to ride over paved, smooth surfaces. Racing bikes may be suitable for this kid of fork. These forks can often be cheaper than suspension forks, though high-end models are available.
Suspension Forks
Suspension forks feature suspension that can help offer the cyclist a smoother ride over rough and uneven ground. These forks are frequently found on mountain bikes and similar types of bicycle, which often also feature frames will full suspension. While often more expensive then rigid forks, prices can vary greatly depending on material, brand, and the age of the fork.
Bicycle Fork Materials
There are a number of different materials that are commonly used not only for bicycle forks, but also for the other parts of a bicycle frame. These vary in characteristics such as weight, strength and cost, and different materials can be suited to different uses. It is not uncommon for bicycle forks to be made out of different materials than the rest of the frame, for example a strong and light carbon fork attached to a less expensive aluminium frame.
Steel
Steel is one of the oldest materials used to make bicycle frame components such as forks.
* Steel bicycle components are among the cheapest available types, due to their wide availability, and the ease with which steel can be worked.
* Some prefer steel bicycle parts, due to the softer metal offering some level of shock absorption, though this is a matter of rider preference. Steel is also more resistant to crash damage, as it can bend without losing its strength.
* The metal is also, however, often much heavier than other options, and is also susceptible to rust unless treated.
Aluminium
Aluminium is the most commonly used metal for use in modern bicycles.
* It is a strong material, with a good strength to weight ratio, meaning lighter forks can be just as strong as heavier forks made of other materials.
* Aluminium bike parts do not have the same shock absorption of steel, though some cyclists prefer this more rigid feel.
* Aluminium is also resistant to rust, though can be slightly more susceptible to fatigue than steel. However, aluminium frames and components are still likely to last for many years.
Carbon
While carbon is an unusual choice for frame material, forks made of carbon are more widely used.
* Carbon is one of the lightest materials available, and is also very strong.
* This material is highly resistant to corrosion.
* Carbon components are also designed to bend over time, as the material is prone to cracking over long periods of use.
* Forks made of carbon are designed to reduce the vibrations felt from the riding surface.
* Carbon bicycle components are among the most expensive available, making them more commonly used for higher end bicycles.
Titanium
Titanium is a highly prized material for use in bicycle parts, but its expense means it can be difficult to obtain.
* Titanium is the lightest metal used for bicycle construction, and is also much stronger than other alternatives.
* The metal is also highly resistant to corrosion and wear, lasting for a great length of time.
* Due to the difficulties involved in working with titanium, and its limited availability, titanium bicycle components are the most expensive available. This puts them outside of the price range of many cyclists, and titanium only tends to be used on very high end racing bikes.
Second Hand Forks
Buying a fork second-hand can be a good way of getting a good quality bicycle fork for a lower price than a brand new part. However, there are some key elements to pay close attention to when purchasing a second-hand fork.
* It is important to pay close attention to any pictures and details offered by the seller, and not any details about wear and imperfections.
* Look closely for signs of wear. Look out for rust on steel forks, for example, or signs of fatigue on aluminium parts. Also, pay attention to any signs of cracking if the fork is made of carbon.
* The fork blades should be in perfect alignment to ensure successful steering.
* It is also important to ensure that the fork blades and the neck are aligned. If they are not, this can badly affect steering and could result in injury.
How to Buy a Bicycle Fork on eBay
eBay offers a wide selection of different bicycle parts, which includes forks, frames and handlebars. To view the full listing of available bike parts, navigate to the Sporting Goods portal. The Bike Parts category can be found in the Cycling section, and Bicycle forks can be found in Forks. Items can be filtered by categories including price, condition, used or new, brand and material. The Auction and Buy It Now buying options are also available, offering flexibility in how a bicycle fork can be purchased.
Important information about a fork, such as its type or if it features suspension, will usually be prominently displayed in the item listing. Further information about an item can be accessed on the item page, along with information about the seller such as feedback ratings and item reviews, helping to ensure that a purchase can be made with confidence. If any further information is required, it is also possible here to ask the seller a question about the item.
If a specific fork is required, it may be easier and more effective to make use of the search function at the top of every page. Searches can be made to return results from within specified categories, or to cover the entire site.
Conclusion
The bicycle fork is an integral part of a bike, and it can be important to match a fork to the type of bicycle, and the type of riding a cyclist intends. An enormous variety of different forks are available for all kinds of bikes, from simple town bike forks to durable suspension forks for mountain bikes.
A wide range of bicycle forks and other bike parts are available by searching through eBay, and further information regarding ways of getting the most out of the search function can be found on the Search Tips page