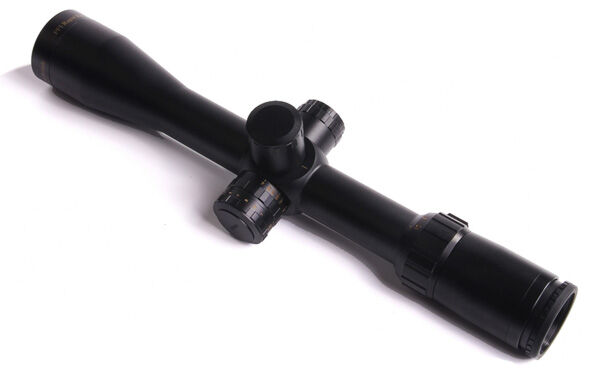 eBay is a great place to buy hunting
rifle sights and scopes
. Whether the buyer is looking to purchase
brand new
or
second-hand
; eBay stocks an extensive range of sights and scopes to suit everyone.
The purpose of this guide is to inform the reader and potential buyer about used and new sights and scopes. The guide will also explain the best manner in which to purchase these hunting products from renowned shopping website eBay.
As such an authoritative figure in the world of internet shopping, eBay offers all of its customers a choice regarding purchasing items: to buy the item immediately (by clicking 'Buy It Now') or to bid for the item in an auction-like format (by clicking 'Bid Now') attempting to seek out the best price available.
Rifle Sights and Scopes
Rifle sights and scopes are both components that increase accuracy whilst aiming at a target- though they are very different in the way they do so. Often the best way to differentiate between the two is that rifle scopes offer magnification of a target whilst rifle sights do not.
Rifle Sights
A rifle sight is usually made from metal and comes in two forms: a 'U' or 'V' shaped notch at the rear and a post at the front or a peep sight (a small hole in a metal disc) at the rear and a post at the front of the rifle.
Rifle Scopes
Rifle scopes on the other hand are more specialised and a lot more precise than a rifle's conventional sights. A scope is short for telescope and is mounted on to the top of the rifle to use instead of the traditional rifle sights. Scopes have a set of cross hairs that can be adjusted up and down and left and right.
As rifle scopes are magnified, they make the target appear closer than when just using traditional rifle sights.
Types of Rifle Scopes
There is a wide range of rifle scope types to suit the requirements and the desires of the owner and the activity that they will be using the rifle for. A deer hunter for example will need a specific scope to suit big game hunting whilst a target shooter will of course require a different scope as they will be in a completely different environment at a shooting range.
Open Iron Sights
Open sights are the most common for rifles and require shooters to line up two sights on a rifle to aim a shot. The rear sight is usually 'U' or 'V' shaped and the front sight is a standard vertical projection or post.
Aperture Sights
Similar to open iron sights, aperture sights use a ring for the rear sight and a post at the front sight. The shooter must align the front sight within the ring when aiming at the target.
Laser Sights
Laser sights project a non-harmful laser beam towards the target. Unlike red dot sights, laser sights do present a visible dot on the target.
Red Dot Sights
These specialised sights project a red dot (or a similarly illuminated targeting reticle) on top of the image of the target. The red dot however is not projected outside the sight so it does not appear on the target being aimed at.
Rifle Sights and Scope Features
There are many different features on scopes which can become confusing for anyone new to hunting, with this in mind here are the main scope features explained:
Magnification
One of the most important features of a scope is its magnification capability. Before you think about purchasing a scope, it is recommended to take some time and think about how the scope will be used. The key thing to consider here is the distance you will be shooting from.
The table below lists shooting distances and the recommended scope magnification settings to have a successful hunt:
Distance from Target

Recommended Scope Magnification

(x = times)

100 yards or less

2-6x

100-200 yards

7-9x

200 yards or more

9-12x
Fog & Waterproof
Should any moisture (even the smallest amount) enter the scope, it will 'fog up' the lens making it incredibly difficult to aim (and to clear it). Because of this it is strongly advisable that you opt for a fog proof and waterproof scope as they are well sealed and will not let moisture in.
To protect the scope further, it is recommended that lens covers are also purchased at the same time as the scope.
Coated Lenses
Another good piece of advice for anyone new to hunting is to buy a scope with coated lenses. Coated lenses have a thin layer of synthetic material placed on top to reduce glare meaning that it reflects less light and allows more light to pass through the scope to your eye- this improves the view and therefore the aiming of a shot.
Considerations When Buying Used Rifle Sights & Scopes
Used rifle sights and scopes are easy on the pocket which is why they are so popular with novice hunters. On renowned shopping website eBay, new rifle sights and scopes can be as expensive as £2000 for the top of the range models so it's understandable why people may be put off buying brand new. Good specification used rifle scopes on the other hand can be found for sale on eBay at affordable prices as low as a couple of pounds.
However; it is worth stating that a novice with a mediocre rifle and a good scope can hit a target first time, whereas; a novice that spent a lot on a good rifle but spent very little on a below-average scope may struggle to hit the target at all.
Of course the amount spent on a scope will be what is affordable but if you have sufficient funds; it is always recommendable to spend a fair amount on a good scope before you spend a small fortune on a good rifle.
How to Purchase Used & New Rifle Sights & Scopes on eBay
eBay is great place to purchase used and new rifle sights and scopes for hunting. Regardless of the shoppers hunting experience or skill level, there is an extensive range of rifle sights and scopes to suit everyone.
Finding the desired item on eBay has never been simpler thanks to its search functions. Using the search toolbar, eBay shoppers merely have to enter the name, type or manufacturer of the rifle sight or scope to be met with pages of suitable search results.
After the shopper has sifted through the search results and found their desired item, they can simply click onto it to be taken to that products individual listings page. Each product for sale on eBay has its own listings page consisting of all information relating to it including: a detailed specification, a product analysis and comments about the items condition as well as photographs to compliment the text.
As an industry leader in the ecommerce world, eBay also provides all of its customer's information about each products seller. This often includes the sellers: eBay rating and selling history as well as their location.
By disclosing the location of the seller, the buyer can establish whether it's better to have the product delivered to their door or to pick up the item themselves should the seller be local to them.
Even though each product listings page provides a wealth of information about the product, some buyers may still feel that they require more information about the item or would like to ask a question. On eBay, this can be done quickly and easily with the contact the seller function.
Once the shopper has found their desired new or used rifle sight or scope, they can begin the purchasing process. On eBay, this can be done in two different ways: shoppers can purchase their item immediately ('Buy It Now') or they can bid for the item in an auction-like format ('Bid Now') attempting to seek out the best price available for that item.
All transactions made on eBay are completely safe and secure thanks to third party payment authority PayPal.
Conclusion
There are many issues and factors to take into consideration when purchasing used and new sights and scopes for hunting rifles. However with the important information and careful considerations outlined in this guide, coupled with eBay's highly detailed and easy to use website, buying used and new rifle sights and scopes is easy.
The perfect sights or scope, matched to the buyers hunting desires and requirements will not only improve their shooting accuracy; it will improve their hunting skills and overall hunting experience.
This guide has provided many useful hints, tips, pieces of information and advice about purchasing used and new rifles sights and scopes and what to look out for when buying these hunting products.
With flexible payment options, the most competitive pricing on the internet and excellent customer service, eBay is the perfect place to purchase used and new rifle sights and scopes.