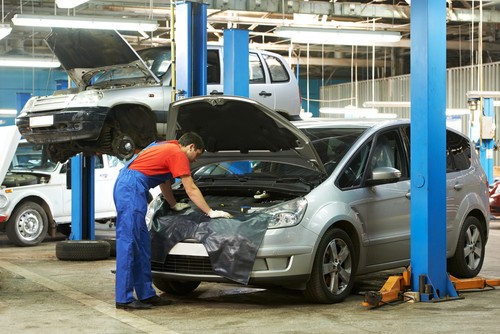 Hard-working vans and trucks do not receive quite the tender loving care that cars receive, by and large, but self-interest dictates that they should be kept in good working order. Some parts are more vehicle specific than others. Aside from generic items such as tyres and batteries, there are some elements of van design that are to a limited degree, interchangeable. Some parts, for instance, that fit a small Ford Transit also fit a larger model in the same line, though others do not. When in doubt, there are two principal sources of advice: one is the appropriate workshop manual;; the other is online enthusiasts' forums.
Learning about the mechanical and running parts, as well as body parts, electronics, and storage capabilities can help most buyers and consumers become wise shoppers. A car grill allows for air to flow into the engine compartment, while an air intake feeds air directly into the carburetor or throttle body. On most stock vehicles, the air intake takes the form of a stock air box, though vehicle owners can modify both the grill and air intake with aftermarket parts. When buying a car grill, vehicle owners should know which material, finish, and pattern they need. When shopping for an air intake, car owners must choose between the various types available. Shoppers can find a multitude of car grills and air intakes at auto part shops, online through the specific part manufacturer's websites, or online through the eBay marketplace.
Mechanical and Running Parts
The major elements on the mechanical side are the engine, the transmission, the steering, as well as the brakes. Considerations like air and fuel delivery, ignition, and exhaust are part of the suspension, wheels, and tyres of the van or pickup truck.
Engines and Components
Studying engines and components can start with an oil filter and end with rebuilding a complete engine from scratch. Most buyers would rather buy parts rather than rebuild a whole engine. Parts such as gearboxes,, cylinder heads,, and so on, are most often replaced.
Intake and Exhaust
A range of parts can be bought for air and fuel delivery. Fuel and air filters,, fuel pumps and injectors,, fuel tanks,, air intakes and intake manifolds are common parts kept in stock for most sellers. Silencers are often available as generic parts, but exhaust manifolds probably need to be specific to the models and engines. The same goes for catalytic converters.. Consumers should look for security features while browsing cars and silencers.
Transmission and Drivetrain
There is some degree of crossover between engines and transmission, and gearboxes are part of both categories. Universal joints,, driveshafts, and axles are more often listed separately rather than together in a single unit, so it can be difficult to get a complete drivetrain.
Steering and Suspension
Steering and suspension includes major parts like steering racks,, steering columns,, and steering pumps for power-assisted steering, and also the most pragmatic pieces of equipment: the steering wheels.. Suspension includes complete suspension units,, shock absorbers,, coil and leaf springs,, anti-roll bars,, among other components.
Braking
Brake components similarly come in a variety of shapes and sizes, with calipers,, discs,, drums,, shoes,, ABS technology,, master cylinders,, and hoses.. Although hoses and shoes are easy to replace, consumers should be aware of the make and model of the van or pickup truck before purchasing the items.
Tyres, Rims, and Hubs
Tyres are a part of the vehicle that owners usually prefer to buy brand new to ensure the integrity of the tread. Since they are fairly generic items, one type fits a range of vehicles. However, used tyres are available, and can prove to be an economical way of replacing a wheel rim and hub, even if the tyre itself is not roadworthy. Tyre walls are marked with a series of codes, which should be matched to the replacement item. A typical light commercial vehicle uses code C tyres, as in the following example:
| Tyre Specifications | Typical Value |
| --- | --- |
| | C |
| Tyre Width (millimetres) | 195 |
| Aspect Ratio | 70 |
| Tyre Construction | R |
| Rim Size (inches) | 11 |
| Load Index | 104/102 |
| Speed Symbol | R |
The two figures for load index apply first to single and second to twin formations. Larger vans often have twin tyres at the rear.
Body Parts
With the mechanics taken care of, the next major category of van and pickup truck parts is body parts. Although these have less bearing on the roadworthiness of the vehicle, they can nevertheless be crucial.
Van and Pickup Truck Doors
Although a door is attached, it is still replaceable. Pickup truck tailgates are harder to find, partly because the term has broadened from being just applicable to flatbed trucks to now mean any rear door that is not the boot, so consumers should study the terminology of a specific make, model, and year of manufacturing. Replacement rear steps to climb into the cab, though not plentiful, are available too.
Van and Pickup Truck Door Handles and Locks
While fitting a replacement door, it might be worthwhile to look through the available door fitting parts, which include hinges, inside and outside handles, locks, and miscellaneous fixtures and fittings. If the door has been damaged in some way, there is a good chance that its fittings need attention as well.
Van and Pickup Truck Bonnets
Being a broad surface that can be at the receiving end when difficulties occur in heavy traffic, the bonnet is a body part that often comes into the most harm and damage. As well as replacement bonnet covers, there are protective covers, marketed as 'bonnet bras&', which helps cut down the wear and tear caused by flying chippings and road detritus. Consumers should be aware that there are replacement bonnet release cables too.
Grilles or Grills
Both 'grill' and 'grille' are correct spellings for the barred apparatus that is normally located in front of the radiator, although the latter is more commonly seen in manufacturers' literature within the UK. As a vulnerable part, spare grilles are available for all the popular vehicle models, both new and used.
Bumpers and Trim
Bumpers are another vulnerable spot at both ends of the vehicle. As well as replacing the item itself, it might be necessary to change the grille housing which sits behind it in some models, and to replace lost or damaged trim items such as reflectors. Other trim items include fastenings, wheel trim,, badges, and signage.
Windows and Wipers
Complete windscreens and side windows can be replaced within a few minutes, so long as the correct blade is purchased. Also, to be sure the window of the pickup or van is properly cleaned, consumers should purchase cleaning solvents.
Electrics
Although batteries are generic items, alternators and generators are specific to the engine and vehicle model. Similarly, a variety of computer chip control devices, notably engine control units, or ECUs,, are vehicle specific. When it comes to dials and gauges, some are mechanical and suit older vehicles, while newer models sometimes have all-electronic displays. Finally, as well as standard headlights and indicator assemblies, products for various automotive lights often include emergency hazard warning lights that can be placed at distance from the vehicle.
Storage Accessories
One type of product that is specific to vans and pickup trucks, but often generic within this group, is the equipment required to secure the cargo that is to be transported. Although it is not difficult to find products for roof racks and roof fittings,, it is important the truck or van is measured appropriately. Also, consumers are wise to purchase matching racking and lining kits, as well as smaller fixtures and fittings.
Covers
Usually, consumers looking for a cover for a van and truck are looking for a load cover, or hard top cover and tonneau, specifically for use with a pickup truck. Alternatively, buyers can purchase seat covers for their van or pickup truck.
Buying Van and Pickup Truck Parts on eBay
Although there is a seemingly endless array of elements to sort through when looking for parts for your van or pickup truck, there are a few well-worn paths to finding the right parts. Shopping on eBay can prove to be a painless process if you know what you are looking for. Typing in a serial number or type of part into the search bar on any eBay web page is the first step. From there you receive several listings depending on how general or specific your initial search is. If too many items are returned, simply filter the results according to price, geography of the seller, or condition of the part. When purchasing used items, be sure the seller discloses the kind of wear and tear the items have prior to you purchasing the products.
Seller Feedback
After each transaction buyers are encouraged to leave feedback for sellers. If the seller answered questions promptly, provided the product listed, or went above the call of duty, providing positive feedback lets the seller know he or she did the job well. Also, this positive feedback lets future potential buyers purchase items with confidence.
Conclusion
When it comes to keeping hard-working commercial vehicles on the road, eBay is one of the first places that many mechanics and engineers turn when they need to lay hands on parts for specific vehicles. Whether they are relatively recent models, or older classics, eBay's listings can be relied on for plenty of options.
There are several paths to finding those specific parts. One starts with workshop manuals, and equips the buyers with detailed information about part numbers and names. These can be used in keyword searches and often lead to the right parts with minimum fuss. That depends on the sellers using the correct codes in their listings, and sometimes trial-and-error approaches are needed when the part codes fail to yield useful sets of results. Bear in mind that although the listings are well organised, categories are not mutually exclusive; certain items might appear in one of several different places. Buyers can create a watch list on eBay to help keep track of items so that comparisons can be made, and the correct items are bought.