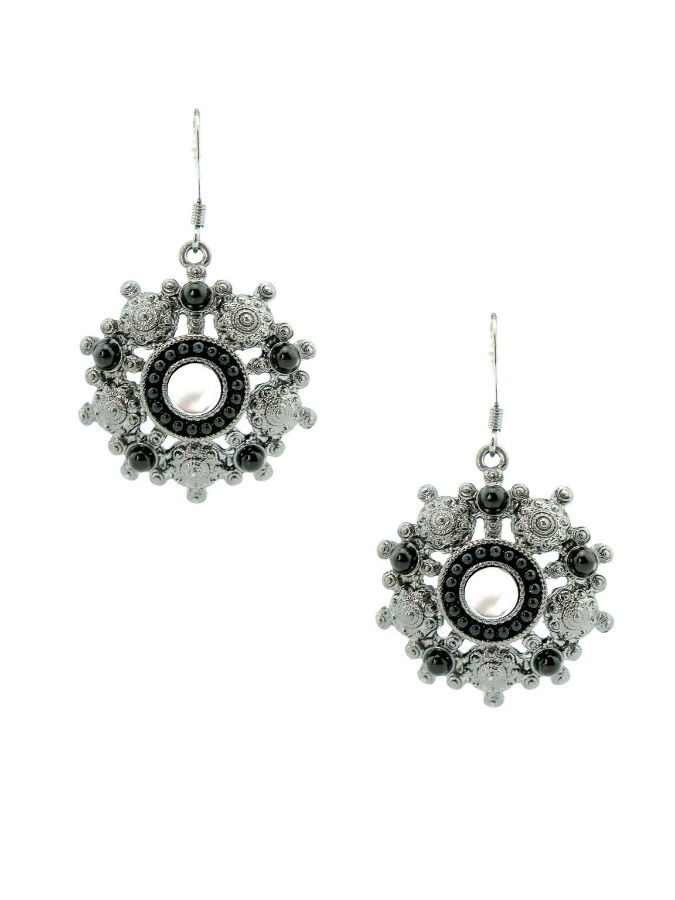 Purchasing Victorian earrings is not as difficult as it may seem at first. Many antique and reproduction Victorian earrings are on the market today. They can be found in places such as eBay, antique shops, and jewellery shops. These earrings were extremely popular in the Victorian era and remain so today. Most of the antique Victorian earrings can be easily found by looking for the classic Victorian chandelier style.
There are several different styles of Victorian earrings. Most of them have a metal backing with a gemstone, enamel, or are made of precious metal. Victorian earrings have a classic look to them, and each pair has a slightly different look. In order to purchase true Victorian earrings, there are a few things to know. There are reproduction earrings and antique Victorian earrings available for purchase. The antique earrings are, of course, more valuable and increase in value as time goes on. There are several ways to go about purchasing them. Before purchasing Victorian earrings, consumers must first learn to recognise a true Victorian pair of earrings, then decide on the type of Victorian earrings to purchase, and finally, make the purchase.
Recognising Victorian Earrings
Victorian earrings are not that difficult to recognise. A true Victorian earring is usually made from cut crystal. Although it is not a true gemstone, it should have the sparkle and glass-like shine of a gemstone. Other materials that they are made from are ivory, different noble metals, and true gemstones. The gemstones do not have to be present for the earrings to be considered Victorian. The earrings, themselves, should have almost a worn look to them.
The Victorian era was one of excess. The Victorian-style earrings are generally a bit excessive. The many styles of these earrings can cause some confusion over which is real and which is a reproduction. The easiest way to tell a Victorian earring from a reproduction is to look at the metal. Most Victorian earrings contain a noble or precious metal backing. The front side of the earring can be anything from mother of pearl to ivory or enamel. Many of these earrings are the dangle-type earrings that hang down from the earlobe.
Many of these earrings have a hallmark, maker's mark, or a code and date imprinted on them. Reproductions do not usually contain this information, unless they are an exact replica of an original pair. Reproduced earrings often also miss small details, like the locks included on the findings. Since there are many different styles and materials that Victorian earrings are made from, these marks may be the only way to differentiate between the real earrings and the reproductions. Many of the hallmarks or trademarks are registered and are relatively easy to research if a person is unsure of the age, maker, location, and date of production.
Another good way to recognise true Victorian craftsmanship is to compare the earrings that are being purchased with a pair that are verified as Victorian. By comparing them, a person can see subtle differences between the work that goes into the true earring and an assembly line reproduction.
Learning to recognise the differences between true Victorian earrings and reproductions can save a person some cash in the long run. True antique or vintage earrings increase in value while false ones do not. The resale value of reproductions is very low while originals, particularly numbered originals, only tend to increase in value. If purchasing Victorian earrings as both a piece to wear and a collectible, the difference between these two becomes very important.
Finding the Right Type of Victorian Earrings
Another important aspect of purchasing a Victorian pair of earrings is finding the right style. Since the selection of true Victorian earrings is vast, a person must decide which type they want and which type fit better with their hairstyle and features. Many people who have short hair look better with a longer earring, while people with longer hair tend to look better with a shorter earring. This style rule also keeps earrings from becoming tangled in hair. Despite the Victorian era being one of excess, the earrings from this time period can be quite conservative. Many people enjoy the vibrancy of true Victorian earrings, while others just want them for their collectible value.
Traditional Teardrop Victorian Earrings
A lot of the more traditional-style earrings have a dangling gemstone teardrop. These are normally a precious metal base with a gemstone teardrop on the end. These earrings fit well on people with shorter hair who wish to show off their neckline. The teardrop earring is a dangle-style of earring.
Cluster Victorian Earrings
The cluster Victorian earrings are made up of clusters of the same, or different, coloured bright stones. These are one of the shorter pairs of Victorian earrings. They normally have a round shape and the stones or beads are clustered on a cord or precious metal. These earrings, although bigger than most studs and short earrings, work well with longer hairstyles.
Chandelier Victorian Earrings
A chandelier Victorian pair of earrings is shaped similar to the way that it sounds. It is made up of a long piece with a chandelier-type of termination. They often contain several small gems or teardrops falling from the end of a wider flat piece. These are good for short or long hair that is pulled back from the face. These type of Victorian earrings tend to be relatively thin and lightweight.
Stud-Type Victorian Earrings
Not known for excluding men, the men in Queen Victoria's court also sometimes wore an earring. This single stud was worn as a sign of both respect and fashion. Queen Victoria was known to have one of the more fashionable courts in Europe. The men's stud was generally a small understated piece of jewellery with a precious metal back and ball, or a small gemstone.
Women also wore stud earrings in the Victorian era. Their earrings were flashier than the traditional stud. Sometimes, there was a slight bar included so that the stud portion of the earring would hang down almost to the end of the earlobe. These earrings were also good for short or long hair, as long as the hair was swept up into a fashionable style.
Cameo Victorian Earrings
Either worn on the earlobe or as a dangle earring, the cameo was a large part of Victorian era jewellery. There are many different styles of cameo earring. These earrings were often made from enamel and ivory before the ivory ban was put into place due to inhumane practices. The cameos were almost always a white face with a merlot or maroon background. Some of these cameo earrings opened to reveal a locket. Many of these cameos feature a likeness of Queen Victoria, herself. The cameo is probably the most recognised piece of Victorian era jewellery. It has become a classic that has lasted throughout the ages.
Buying Victorian Earrings on eBay
A good place to find reasonably priced Victorian era earrings is on the popular auction website, eBay. All you need to do is input search terms into the search bar, and click search. Search terms can range from a broad search, such as "Victorian earrings" to a more narrow search, such as "Victorian cameo earrings". Once the search terms are decided upon, clicking search brings up a list of items matching those search terms. If you click on a listing, it shows a detailed listing of that particular product.
This detailed listing often contains a description of the item. The seller's name and policies, such as the various ways to ship and return earrings that are not quite right, and seller's feedback are all found on the product listing page. The feedback is left by buyers who purchased items from a particular seller in the past. Usually, the feedback is generally positive, but on occasion, someone may have experienced a problem. When this happens, the feedback also states how the problem was resolved. You should read the feedback and base your decision to purchase from a seller on your own experience and the experience of other buyers.
Conclusion
Many of the different Victorian era pairs of earrings can be purchased from car boot sales, jewellery shops, and auction websites, like eBay. Choosing the right type of Victorian earrings is the hardest part of the purchasing process. As a result of the many styles and varieties of Victorian earrings, the choice can be difficult. This difficulty can be overcome by considering what you, as the buyer, wants or what would make a good gift for someone who either collects or enjoys Victorian era jewellery.
By combining some of the best aspects of many different styles of jewellery, the Victorian era earrings make a vibrant, and most often, colourful gift for almost any special occasion These earrings have aesthetic, historic, and sentimental value for many people. It is important to be able to tell which type of earring is a true Victorian and which is not. Purchasing a reproduction can cost more money than they are worth in the long run. Most people who purchase these earrings use them as fashion accessories or keep them as collectibles.