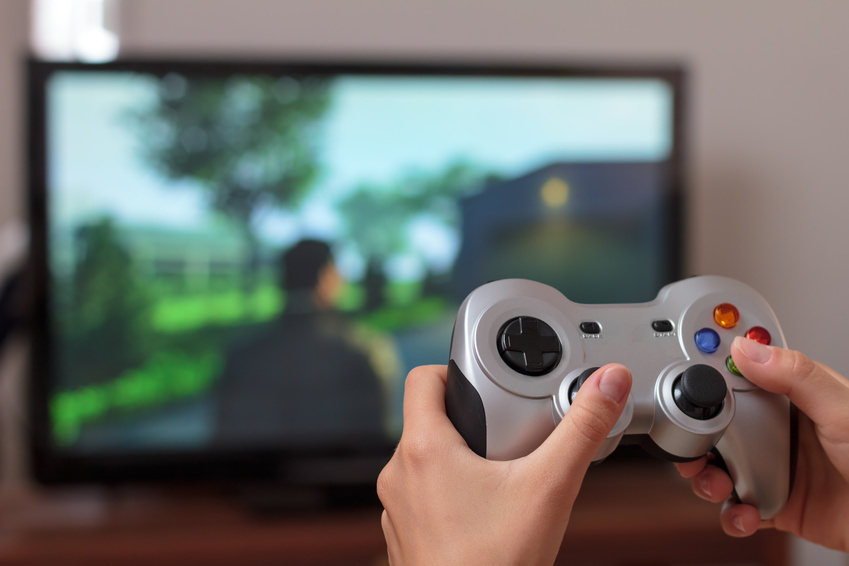 Since their inception in the 1970s, video games have made a great impact on the way people spend their time relaxing, by providing mental stimulation and yet allowing folks to unwind. Video games, although a subject of much controversy, offer benefits. Studies indicate how video games help improve eye-hand coordination, enhance problem solving skills, and sharpen the mind's ability to process information.
Graphics on video games have come a long way, from the simple geometrical shapes of the first generation of video games to being slick and almost realistic. Thousands of video games are created with various skill ratings for different age groups. eBay usually has a vast collection of video games for sale, from first generation games to the current versions. Before making purchases on the website, it is important to be aware of the different types of video games available, including the video game consoles and accessories that can make gaming easy. Shoppers can then choose from the array of video games on this website, as they are listed by genre, publisher, and release year.
Buying Video Games on eBay Made Easy
One requires gaming consoles, controllers, headsets, games software, and other accessories in order to play interactive video games. Initially, video games used to be played on arcade machines, then came the handheld consoles, followed by the home consoles, before they could be played using personal computers. Several generations of gaming consoles numbering a few hundreds have been in existence since the 1960s, and the hardware on the consoles keep evolving on a continuous basis.
Within a couple of months after the release of a new video game, the prices drop as newer games keep flooding the market. It therefore makes good financial sense to buy used games, as they are cheaper. Used video games are easy to find on eBay as well.
| Type of Machine | Names of Consoles | Description | Popular Games |
| --- | --- | --- | --- |
| | | Coin-operated gaming machine found in bars, clubs, and such other business establishments | Periscope, Pac Man, Space Invaders, Mortal Kombat, Mahjong MJ series, Star Wars, Mario, Centipede, Galaga |
| | Game Boy Advance, PlayStation, Playstation Vita, Nintendo DS, and 3DS, Game Gear, Atari Lynx | Battery-operated, portable console comprises screen, controls, and speakers in one unit | Super Mario, Dr. Mario, Pokemon, Advance Wars, Avatar, Buffy the Vampire Slayer, Disney Aladdin, Tetris, NASCAR Unleashed |
| | Xbox 360, Playstation 3, Wii U, Sega Master System, Nintendo Wii, Sega Megadrive | This is a specialised console for computer gaming which is either hooked up with a PC or the home TV | Lego Star Wars, LittleBigPlanet 2, Rock Band 3, Plants vs. Zombies, Super Mario Galaxy 2, Rayman Raving Rabbids, Super Smash Bros. Brawl |
While several older versions of video games are obsolete, manufacturers such as Atari, Sega, Nintendo, Sony, and others have introduced newer technology and incorporated better, enhanced features on their gaming consoles. With thousands of games available in versions suitable for the various consoles, gamers can find the consoles as well as the video games on eBay.
Buying a Video Gaming System on eBay
Everyone loves to spend some time playing video games, as they are fun-filled and exciting and can be a welcome break from work, studies, or any kind of routine. Several types of gaming consoles are available in the marketplace, and selecting one can be confusing. One way of picking a gaming console is to base the selection on an age group. Another option is to consider if the console is for avid, serious gamers or for casual gamers. While a serious gamer may want all the great features the console can offer, it need not be so for those who watch movies or read books in addition to spending time playing video games.
Seventh and Eighth Generation Gaming Consoles on eBay
There is little doubt that the seventh generation video game consoles were among the more exciting and innovative consoles, providing interactive fun and thrills galore in the handheld and home consoles categories. New features and technology, such as support of new disc formats, gyroscopic and IR motion tracking, wireless controllers, touch screens, and addition of cameras to the gaming consoles were available on these consoles.
Sony's PlayStation 3, also available as Slim and Super Slim, Wii and the home console Wii U, Nintendo 3DS and Xbox 360, the first high-definition game console introduced, have ruled supreme for many years. The more advanced gaming console is the portable PlayStation Vita or PS Vita, a handheld console with 3G and Wi-Fi. A 5-inch OLED touch screen, rear touch pad, front and rear cameras, microphone, dual analogue sticks, GPS and cross-platform play are some features on this gaming console. eBay sells all of these popular consoles and many more, available from the website's Top-rated sellers at affordable prices.
Genres of Video Games on eBay
Video games are of several genres, and all video games are categorised in this fashion. A genre customarily describes the gameplay and the types of challenges within the game that players are expected to overcome. Video games may be categorised in two or even more genres, called hybrids, as the game offers different types of interaction for players to participate in, according to their choice. Different genres of video games are available on eBay as follows.
Action and Adventure
Action video games are based around fast thinking and quick reflexes, ever ready for combat working out the right strategies. The adventure part of the game allows for exploring the virtual world in the game as well as skilfully interacting with the game environment. Lego Star Wars, The Call of Duty - Modern Warfare, Resident Evil, Tomb Raider are some famous game titles from this action-adventure genre.
Role Playing Games
As the title suggests, this genre of games, also called RPGs, involves the player as the main protagonist, who evolves as the storyline develops. A specific quest may be the goal in RPGs, and the player works through the developing character to tackle and eliminate deadly foes to emerge stronger. Right through the quest, the character acquires and manages inventory such as weaponry, tools, armour, foods, and magical items that enhance skill and strength to see the player through the numerous pitfalls to victory.
Shooter Video Games
These are fast-paced action games involving numerous projectiles such as arrows, guns, and other weapons. The player navigates the gaming environment either as a First Person Shooter or Third Person Shooters in multiplayer modes.
Platform Games
Platform genre games have environments that are characterised by jumping, floating, and precisely timed actions to demolish foes to reach the destination. Nintendo 64 and the game titled Super Mario 64 in 3D is one the outstanding games in this genre.
Simulation
Simulation games attempt to recreate reality. Real-life situations in gaming settings, such as vehicle simulations in Flight Simulator, business games, and city-building games as seen in the famous Sims, are the highlights of this genre.
Sports
Games in this genre simulate the various types of sports played across the globe. Novel features incorporated in these games have been hugely popular, as in the Madden series where players customise and create world famous football teams. Gameplays involve matches that span an entire season.
Racing
This is a genre of video game that introduces the player to the world of speed and car racing. Racing simulation and arcade racing are the two sub-genres under this genre.
Music and Dance
Games in the music and dance genre are intended are pure party fun. However, this genre has been modified to include fitness videos as well.
Puzzles
This genre is similar to traditional puzzles, but the games are set in unique environments such as outer space and large water bodies.
Popular Video Games on eBay
Thousands of video games in every genre have been created for various platforms, but some games have remained at the top for sheer popularity, having withstood the test of time. These games continue to be sought out by gamers. Some of these games include Super Mario, Legend of Zelda, Tetris, Grand Auto Theft, and Resident Evil 4. Games such as Golden Eye 007, Half Life 2, Halo 4, BioShock Infinite, Tomb Raider, Mass Effect, Portal, Final Fantasy VII, and PlanetSide 2 are but a few that have been topping popularity charts and ratings time and again. Shoppers can find these titles and thousands more listed on eBay. These games can be purchased new or at reduced prices when categorised as 'Like New,' 'Very Good,' 'Good,' or 'Acceptable.'
Buying Video Games and Console Listings on eBay
eBay has a whole category dedicated to video gaming, titled 'Video Games & Consoles' with several subcategories as well. Subcategories list gaming merchandise, game controllers, replacement parts and tools, accessories, gaming and time cards, and other paraphernalia related to video gaming and consoles. Shoppers looking for video games and consoles can find hundreds of listings under the 'Games' and 'Consoles' sub categories. You can narrow down the listings by using filters such as platform, model, console type, brand, capacity, and the condition of the consoles.
Once the listings appear, you can peruse each listing to find the price, pictures, and other relevant details about the selected product. Some products display a Top-rated seller badge; this means the seller has a reputation for timely delivery, quality products, fair pricing, and excellent service. You can even find several products that qualify for free shipping, which translates as savings. eBay encourages shoppers to correspond with the sellers if they have questions before making final purchases.
Conclusion
Video games provide hours of entertainment, and they are available on several interfaces such as computers, mobile phones, and gaming consoles. The early gaming consoles were the arcade machines found in public places, and people had to put in coins to play them. Soon, these games became available in handheld consoles. The games became a rage, as these small battery operated units provided much fun as people could play anywhere they wished.
The handheld systems such as the Game Boy Advance, Atari 2600, Intellivision, ColecoVision, and Sega Master System were the forerunners, and these consoles evolved over several decades. The newer consoles had advanced features, better graphics, and larger storage areas to accommodate more games. PlayStation, Nintendo 64, GameCube, and Sega Mega Drive were soon replaced by the sleek seventh generation consoles such as PlayStation 3, Nintendo Wii, and Microsoft Xbox 360. Both handheld and home consoles offered highly interactive gaming techniques in every genre, from action and adventure to music, dance, and educational video games. eBay sells these consoles and video games, much to the delight of even those who are looking for the earlier generations of video games.