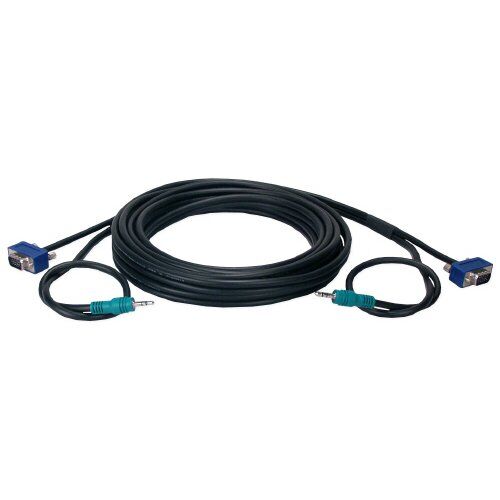 Buying video and audio cables on eBay is easy when the basics of the cables are understood. First, buyers need to decide if they need a digital or analogue connection for their devices. For video connections, HDMI is preferred as this delivers the ultimate image quality for newer devices that use high-definition, such as televisions, games consoles, and DVD and Blu-ray players. There are alternative cables available for older devices that are not compatible with high-definition, such as composite and S-video. However, they lack the quality and clarity of component or HDMI cables.
A range of audio cables are available in both digital and analogue options, delivering different levels of sound quality. It is best to use digital cables where possible, such as on newer audio devices, because they are less likely to suffer from interference. When buying video and audio cables, buyers should understand the different cable types and which devices they are best suited for. eBay offers a range of both audio and video cables across all formats.
Types of Video Cable
There are a number of different types of video cable available. The type that a buyer needs depends on their television and video equipment, and the ports at the back of the devices. Different cables provide different picture quality and performance.
HDMI Video Cables
An HDMI, or high-definition multimedia interface video cable is able to transfer a very high quality high-definition image. An HDMI cable carries data from an output device, such as a Blu-ray player, to an input device, such as a television. Unlike most other cables, the HDMI cable allows data to be transferred while still remaining in digital form. This greatly enhances the final image quality. As it is entirely digital, an HDMI cable is not as sensitive to noise and atmospheric disturbance as most analogue video cables. So, HDMI cables offer the best image quality if buyers need to connect a high-definition device, such as a Blu-ray player, a games console, or a DVD player, to a high-definition television or monitor.
Low quality HDMI cables cause noise, distortion, and pixelation, resulting in poor quality, snowy, and patchy images. This is even more apparent when the cable is more than one or two metres long. eBay offer a range of excellent HDMI cables, including the best quality models that have silver plated connectors, providing better conductivity and shielding.
Component Video Cables
Component video cables carry an analogue signal from an output device to a screen. These cables are high-definition compatible and the picture quality is still very good. The enhanced quality is a result of the signal being carried in three distinct cable groupings: there are three connectors at the input end of the cable that deliver the signal. This means that the cable can carry more detailed data packets, delivering a higher quality image. Component cables are less sensitive to noise and interference than other analogue cables. To get the best possible image quality, buyers can purchase component video cables that have gold plated connectors, a copper core, and triple shielding. The gold plated connectors and copper cores enhance data transfer. The increased shielding helps to preserve video signals without losing image quality.
Composite Cables
Composite video cables deliver the poorest image quality, but they are also the least expensive. Composite connections are rarely found on newer televisions or other devices, as they can only transfer images at a low resolution. For those who use a VHS player, an older television, or a vintage games console, composite cables are the standard option. To deliver the best image, use double shielded cables with copper plated connectors.
S-Video Cables
S-video cables are analogue cables that cannot deliver a high-definition image. S-video cables provide the best possible image quality for older devices, such as DVD players, VHS players, and televisions that do not have HDMI or component ports. They provide higher detail and image quality than composite cables, but nowhere near the same image quality as component or HDMI cables. The best possible image quality can be achieved by purchasing S-video cables with copper connectors and a double layer of shielding to enhance data transfer without loss or interruption.
Types of Audio Cable
For those who want a good quality of sound from their speakers, buying the right kind of audio cable is vital. eBay offers a range of audio cables to suit the requirements and budget of every buyer.
Digital Optical Audio Cables
Digital optical audio cables convert digital audio signals to pulses of light for transmission. They are able to transmit high quality surround sound. However, digital optical audio cables cannot transmit high resolution audio, such as Blu-ray. When shopping on eBay, buyers should purchase a digital optical audio cable made with a durable, high quality fibre optic core, as this produces unimpeded sound. One of the major benefits of digital optical audio cables is that they are very unlikely to suffer from distortion or interference.
Digital Coaxial Audio Cables
Digital coaxial audio cables transfer audio signals in a digital format, which maintains the quality of sound. When an HDMI cable or port is not available, digital coaxial audio cables are an excellent choice. Like digital optical audio cables, coaxial cables are able to deliver high quality surround sound across 5.1 channels. For the best possible audio performance, buyers should purchase digital coaxial cables with copper braiding, which conducts the signal more effectively.
XLR Analogue Audio Cables
XLR analogue audio cables have three separate pins. They are designed for use with high quality and professional audio equipment. The three pin cable ensures the least possible interference and the highest quality output. Gold or silver plated connectors provide the best performance and conductivity. The cables should be well insulated, with a double layer of insulation.
Multi-Channel Analogue Audio Cables
Multi-channel analogue audio cables have either six or eight cables with standard RCA connectors. They are ideal for devices that do not have HDMI audio ports, as they produce high quality sound and are able to support high-definition audio, for example, from a Blu-ray player. Gold plated connectors with triple shielded cables are the best choice, offering the maximum performance.
Buying Video and Audio Cables on eBay
eBay has a wide range of both video and audio cables available. Buyers can search from the eBay homepage by using keywords such as "video cables" or "audio cables", and then search for the most appropriate category. Buyers can choose from the filters that eBay offers to narrow down their search results. This can save buyers time, as they do not have to browse through all of the results to find the right cable.
Buyers should always look carefully at the listing before purchasing an item on eBay. This enables them to make sure that they have the correct cable for their device. If they have any questions about the item they are able to contact the seller directly using the "Ask a question" link.
Feedback
When choosing video and audio cables on eBay, buyers should look at the seller's feedback that has been provided by previous buyers after transactions have been completed. It gives the buyer a good indication of whether their transaction will be straightforward. Feedback can be positive, negative, or neutral and it is based on criteria including communication, packaging, and postage times.
Returns Policy
Buyers should look at the seller's returns policy before completing the purchase. This should be found on the item description page. Most sellers may accept returns if the item is in the same condition as when it was sold, there may be a time limit on when the item can be returned, or the seller may not offer a cash refund, but may allow the buyer to exchange their item for a similar product. Buyers should be aware that the seller may require the buyer to pay for any postage that is required to return the item.
Conclusion
Good quality video and audio cables are important equipment for buyers who want to achieve good image and audio performance from their devices. Both video and audio cables are available in digital and analogue format. In general, only digital cables are able to handle high-definition video and audio. Digital cables are also subject to significantly less interference and noise than analogue cables. Not all devices, particularly older ones, have ports to support digital cables, so buyers should check this thoroughly before making a purchase. Buyers should also consider how many layers of shielding they require. Shielding acts as a defence against interference, and also helps to maintain the quality of the audio and video signals being transported to the display device. The construction material used for the connectors at the end of the cables is also important. Gold and silver plated connectors are usually preferred as they offer a secure fit and high conductivity. eBay has an easy to use website offering video and audio cables of all types for a range of devices.