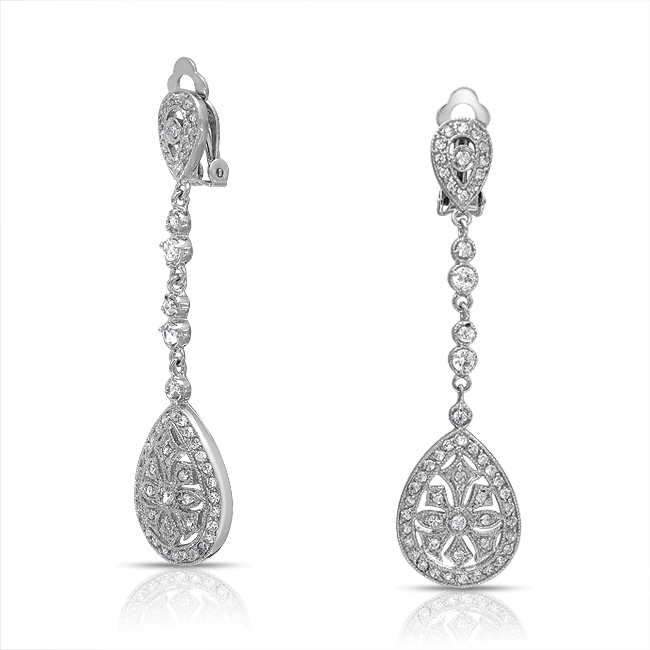 The right set of earrings can help coordinate the ultimate outfit, whether in the office or out in the town. Undoubtedly, women dominate the earring market although some men have piercings too. Women have a variety of options to choose from when it comes to picking out earrings. With an infinite array of colour, style, and size options, in studs, hoops, dangling and drops, finding a pair of earrings is all about defining each of these parameters.
Drop earrings are the less dramatic alternative to dangling earrings, but even if smaller, they still make quite the fashion statement. Drop earrings can be worn every day in the workplace or with casual wear; diamonds, pearls, and other gemstones are often work for special and formal occasions. When searching for a pair of vintage drop earrings, buyers should know if they are for a special occasion or everyday use, what colour or metal they want, and set a budget before shopping.
About Vintage Drop Earrings
Drop earrings are any type of earring that hangs right below the earlobe; dangling earrings are similar in shape, but they hang much lower than drops. Therefore, drops have a more dainty appearance than dangling styles, making them perfect for every day or for any occasion. The most basic drops are made from metal. Gold, silver, and platinum are premium metals. Many elegant drop earrings have precious gemstones, such as diamonds, pearls, and emeralds in the design.
Vintage drop earrings refer to a wide variety of styles. Buyers may be in the market for vintage drop earrings from the 1980s, or they could be looking for an antique set. The term vintage typically refers to any item from the 1980s and before. If shoppers want an authentic pair of vintage drop earrings, they should buy from sellers with some sort of certification. If buyers just want the vintage look, there are plenty of newer options available at a more affordable price.
Searching for Vintage Drop Earrings
Many women search for vintage drop earrings with a certain event or use in mind. Some women are in the market for a pair of drop earrings for a special occasion like a wedding or formal event. Others are looking specifically to match a particular outfit. Many women prefer to have at least one pair of drop earrings that are suitable for everyday wear. Drop earrings are also popular with women who have heart-shaped or rectangular jaw lines.
Special Occasion
Many brides find the vintage drop earrings the perfect accessory on their wedding accessory. They can choose from subtle diamonds to clusters of pearls. These styles of drop earrings are also popular for formal events. Some women can choose vintage drop earrings with bright gemstones to coordinate an entire outfit.
Matching an Outfit
Those who want a pair of vintage drop earrings to match with a certain outfit are often looking for an inexpensive pair to be worn only on occasion. While shoppers are discouraged from sacrificing quality over cost, if the earrings are only worn sporadically and not for special events, then finding a set to match an outfit should be cost effective.
Everyday Wear
Some women prefer to have an old faithful pair of earrings they wear day in and day out. Vintage drop earrings are both subtle and complementary. Women looking for that everyday pair should choose a metal that compliments their other jewellery and can be matched nearly any outfit. Solid gold or silver drops are always a safe bet, but diamonds are easy to accessorise with.
Accommodating Different Face Shapes
Women with heart-shaped, narrow, or rectangular faces can add volume to their jawline with a pair of drop earrings. The small dangling piece softens their natural bone structure; however, ladies should make a conscious effort not to buy earrings that hang past the jaw as they can make the elongate the chin and make it look pointed.
Selecting the Right Vintage Drop Earrings
When searching for a pair of vintage drop earrings, women had better come prepared with a few ideas of what they are looking for. Before even starting to look for earrings, they should set a budget to stay within an affordable price range. Moreover, they must consider both the materials used and size of earrings to determine an acceptable amount.
Price
When buying any piece of jewellery, the number one factor all buyers should account for is the price tag. Vintage drop earrings come in an assortment of styles, so naturally, the price take also varies. The least expensive vintage drop earrings are made from rhinestones and inexpensive metals, and shoppers can pick up vintage style drops for a fair price. However, customers in the market for vintage drop earrings made from precious metals and gemstones should be prepared to shell out some money.
Materials
With jewellery purchases, customers get what they pay for; vintage drop earrings are no exception. Women looking for some inexpensive vintage drop earrings can opt for rhinestones or alloy metals; they can save a small fortune if the sole purpose for it to appear vintage. However, some women have allergies to certain cheap metals and should therefore only buy inexpensive earrings if they are safe.
For fine jewellery and authentic vintage drop earrings, women should seek out gold, silver, and platinum options. Many of these options are well worth the money since they can be worn year after year. High-end gemstones, such as diamonds, can significantly raise the price of a pair of drop earrings.
Size
Vintage drop earrings are designed to dangle at the earlobe or slightly below, but even with that sort of specification, there are many different sizes on the market. The smallest drops hang at approximately a centimetre, but drops can be much longer. When searching for a pair of drop earrings, women should ask for the total length before making a decision.
Choosing the Earring Backs on Vintage Drop Earrings
In addition to having an idea of how the vintage drop earrings should look from the front. Buyers should also have an idea of how they are secured. There are seven types of earring backs customers can choose from, and some are more reliable than others.
Push Back
Push backs, also called butterfly backs, are the most basic type of earring back; they are comprised of a post that fits through the ear and then slides into a separate metal piece at the back of the ear. These types of backs are popular with studs, drops, and dangles.
Screw Back
Screw back earrings are similar in style to push backs, but they offer a bit more security. Instead of the post sliding through a metal piece, the back of the post is grooved, and a special metal piece screws onto the post, ensuring the earring does not come loose.
Hook
Hooks are the simplest and least secure earring back to use. A small curved piece of metal is slid through the pierced hole and hangs.
Clip-On
Clip-ons are not true earrings since they do not go through the ear; rather, they are the only option for women who do not have pierced ears. There is a hinged lever at the back of the earring that clips onto the earlobe and holds it in place.
French Back
The French back, also called a hinge or omega back, is similar to the clip-on, but it has a post that slides through the ear. Instead of a metal piece securing the back of an earring, a hinge holds the earring in place. The French back is comfortable, but it is less secure than many other options.
Latch Back
The latch back for earrings resembles a fish hook, and a thin piece of metal slides through and snaps into place behind the earlobe. This style of earring back is typically used with hoop earrings.
Lever Back
Lever backs are a step above latch backs; while they have the same fish hook design with the metal pushed through the hole, a hinged lever can be adjusted to secure the earring in place. The lever back is popular with expensive drops and dangles. The chart below is designed to help users differentiate between the various types of earring backs and whether or not they are suitable for vintage drop earrings.
| Type | Description | Good for Drop Earrings? |
| --- | --- | --- |
| Push Back | Metal post with a metal piece to secure back | Yes, with lightweight drops |
| Screw Back | Similar to push back but with screw piece in back | Yes, more secure than push backs |
| Clip-On | No metal post and only hinge clip | Yes, with lightweight drops |
| French Back | Metal post with hinge clip | Acceptable, but other options are preferred |
| Hook | Curved fish hook with no backing | Acceptable for inexpensive drops |
| Latch Back | Fish hook design that snaps into place | No |
| Lever Back | Fish hook design with latch and hinge back | Yes; most secure backing |
If wearing an expensive pair of vintage drop earrings, women can never be too careful when choosing a back. Screw backs are more secure than push backs, and levers back are preferred over latch backs. Hooks are common with drops and dangles, but anyone with earrings of value should avoid these backs.
Buying Vintage Drop Earrings on eBay
Finding a pair of "vintage drop earrings" on eBay is a breeze so long as you have a few parameters outlined. If you have specific criteria in mind, enter in a few keywords to enhance your search. For example, if you know you want "diamond vintage drop earrings" or "sterling silver drop earrings", keywords can help narrow down your results. If you find you are getting back too few results, remove a keyword and try your search again.
The other search method involves performing a basic search for vintage drop earrings and then refining your search using filters to focus your results. Once you have received your results, you then can use the filters to determine which metal they are made of, the main colour, earring back, and more. Vintage drop earrings can be filtered by new or used condition. eBay even has it set up so customers can designate a minimum and maximum price; this way, everyone can stay within budget.
Conclusion
Selecting a pair of vintage drop earrings involves knowing how and when the earrings are worn. If buying a high-end pair of vintage drop earrings for a wedding or formal event, diamonds and pearls are always an appropriate choice. Shoppers can scale down the cost of these earrings by opting for rhinestones or cubic zirconia instead of precious gemstones. Similarly, gold-plated earrings are more cost effective, but there is no substitute for solid gold earrings.
Another choice to make is the size and colour of the earrings, and a woman's selection is based solely on personal preference and her wardrobe. Women must also decide if they want true vintage drop earrings, or if vintage-looking is good enough. There are many jewellery companies that make classic style jewellery, but it is brand new. The best places to find authentic vintage drop earrings are antique stores, estate auctions, and online marketplaces such as eBay.