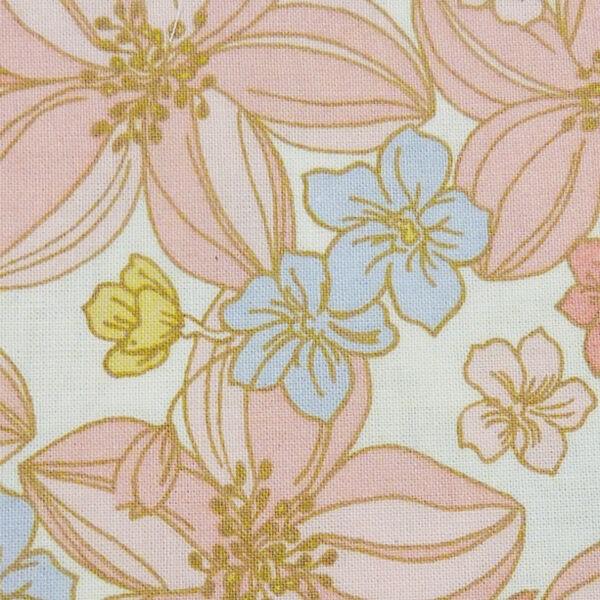 Creating unique projects with vintage fabric is a cinch when shopping on eBay. Vintage fabric lovers can find thousands of different types of vintage fabric through eBay's many sellers. This fabric comes in a number of different forms, so eBay has made it possible to search for just the right pattern and size of fabric using their search tools. It is also feasible for buyers to create very specific searches for that perfect piece of fabric.
The "Refinements" menu is a big part of the search process for any product on eBay. Buyers can use it to search for items by a number of characteristics. In the case of vintage fabric, buyers can search by colour, pattern, material, and even size. It is important to be aware of the difference between fabric materials and types of fabric when completing these searches, since eBay makes it practical to search for both under the same menu refinement.
Materials
Vintage fabric on eBay is available in a number of varying materials. Keep in mind that the material is often different from the type of fabric, even though the terms used in both overlap. For instance, there are a number of different fabrics made from cotton, even though it is just one material.
Cotton
Vintage cotton fabric is sometimes difficult to find in a good condition on eBay. This is because cotton is an organic material that naturally decays over time. Very old cotton fabric is delicate, and may be thin, fragile, and easily torn. Look for vintage cotton that is less than 20 years old if it is intended for use in a sewing project. As a matter of fact, sellers on eBay offer a number of different cotton fabrics for buyers, hence, it is a good idea to become familiar with them.
Fabric

Use

Other materials

(occasionally incorporated)

Jeans, jackets, jean skirts, overalls, bags

Lycra

Corduroy

Trousers, jackets, furniture, household furnishings

Polyester

Terrycloth

Towels, bathrobes, mats, nappies, headbands, hats

Polyester, lycra

Seersucker

Suits, shirts, ribbon

None

Twill

Suits, jackets, skirts, bags

Polyester, nylon, lycra

Cambric

Work shirts, linens, handkerchiefs, and needlework

Linen
These are just a few of the many kinds of fabric made from cotton. These fabrics may also incorporate or mix other materials in conjunction with cotton.
Polyester
Those looking for vintage fabric on eBay for their sewing projects can rely on a good polyester or polyester blend to do the job. This material is a synthetic product made from plastic and does not decay like cotton. Depending on the dyes used in the patterns, however, it may fade over time. Look for the term "polyester" or "polycotton" on eBay.
Silk
Another natural fabric, silk can also decay over time. However, if well-cared for, it can remain strong and lustrous for many years. Silk is made from the cocoons of silkworms and can be shiny or matte, depending on how it is woven. Silk can be listed under silk, chiffon, satin, jacquard, or brocade.
Wool
Also a natural fabric, wool comes from sheep fur. Bear in mind this material can become stiff, scratchy, and develop an odour if not properly maintained. Wool is used in a number of fabrics from twill to flannel.
Linen
Linen is a natural material taken from flax fibres. It can wear thin over time and fade in the sun. Those looking for linen fabrics should check under linen, linen blend, oilcloth, and damask.
Other Materials
Additional synthetic materials available in vintage fabrics on eBay may include lycra, nylon, PVC, acetate, and even sequins. Alternative naturally found materials buyers can find include leather, barkcloth, and other animal hair, such as mohair, and angora.
Shopping by Size
When shopping for fabric on eBay, buyers need to consider the size of the piece of fabric they want to purchase. This is especially important when ordering over the Internet and when ordering vintage pieces that are limited in supply. Sellers on eBay may have entire bolts of fabric, cut pieces of fabric, or just scraps of fabric available.
Width
Fabric width on eBay usually runs between 115 cm and 153 cm because that is the width of the bolt the pieces were cut from. Scraps and smaller pieces of fabric are listed by sellers at less than 115 cm. Outside widths are listed as more than 153 cm wide.
Buyers can narrow down their search results using the "Width" refinement in the menu. Just click on the refinement, then click on the width of fabric needed. The website automatically updates the listings to show only those with the right widths listed in the product descriptions.
Length and Amount
Another refinement allowing buyers to narrow listings by fabric size is "Length/ Amount". This refinement includes a number of different sizes commonly listed by eBay sellers. These options come in a variety of measurements familiar to those who sew. One of which is the "yard", a customary unit of measure in the United States. For easy reference when shopping for fabric by length and amount, here is a chart listing eBay's refinement options and their sizes in metric and imperial conversions.
Length and Amount

Metric

(centimetres and metres)

Imperial

(inches and yards)

45.72 by 55.88 cm

18 by 22 inches

Pre-cut yards

.91 to 3.6 m long

3 to 12 feet long

By the yard

Buyer specifies desired metre length

Buyer specifies desired yardage length

Whole roll

Whole roll of fabric,

36.5 or 91.44 m

An entire bolt of fabric;

40 or 100 yards

Jelly roll/ strips

6.35 by 111.76 cm

2.5 by 44 inches
Be careful in choosing options on this refinement as it can also dictate the general shape of the fabric. Additionally, those listing fabric under "less than one yard/metre" generally sell scraps of fabric. For example a term known as "fat quarters" are thin pieces of fabric used in quilting.
Other Considerations
Selecting vintage fabric on eBay is a fun experience because there are so many options. Two other main considerations in selecting the right vintage fabric are colour and pattern. There are refinements for both in the refinements menu.
Colour
The colour refinement allows buyers to narrow down the search results by the predominant colour or colours in the fabric. This is an excellent tool when searching for matching colours to use in sewing projects. Some of the options listed under this refinement include beige, black, blue, brown, cream, green, grey, and other solid colours. Metallic tones, and multi-coloured fabrics are further options. Some of the most popular colours on eBay are pink, blue, white, green and red.
As with other options under the refinements menu, buyers can select the option by checking the box next to it. The website instantly updates the search results to show only those with products containing the matching colour.
Pattern
The pattern refinement works in the same way, allowing buyers to select only those product listings with fabrics of the preferred pattern. Buyers have many pattern options to choose from when selecting their vintage fabrics. Some of the most commonly seen patterns include abstract, children's, floral, geometric, striped, spotted, paisley, and gingham.
Be aware that it is possible to select several different pattern options, just as buyers can select multiple colours, fabric lengths, and widths.
Buying Vintage Fabric on eBay
You can find a lot of vintage fabric on eBay at a great price. However, searching through all the categories to find the exact products you want can be time-consuming and a little frustrating. Consider using the eBay search engine to save yourself time and effort. The search engine is available on every eBay page and takes only seconds to use. You need to select a search term to enter into the search engine bar, such as "dress tulle". The search term can also be anything related to vintage fabric or sewing with fabric, such as "pinking shears".
Local Sellers
When purchasing large quantities of vintage fabric online, you may want to consider purchasing from a local seller. Buying local products means that your waiting time on shipping and handling is shorter and also less expensive. You may also be able to convince the seller to meet in person to complete the sale. Setting your search results to show only those from local sellers can be done through the "Distance" refinement in the refinements menu. Simple select the search radius you want eBay to use and enter your postcode.
Conclusion
Vintage fabric can be an interesting option to work with in sewing projects. Using vintage fabric is a great way to create unique items and recycle old materials. Thousands of sellers of this type of fabric can be found on eBay. These sellers provide vintage fabrics in a wide range of materials, colours, patterns, and sizes. Locating the type of fabric that is needed for a project requires sifting through eBay's thousands of listings in a relatively short period of time. Luckily, eBay has created a number of options for sorting through their listings.
Buyers can start with the "Refinements" menu on every search results page. This menu includes refinements that allow the buyer to sort through search results according to particular characteristics. For instance, buyers can search according to fabric size, width, and colour. If the buyer prefers, he or she can sort by more than one refinement, and more than one option under each of these refinements. This allows a great deal of specificity in sorting product listings.