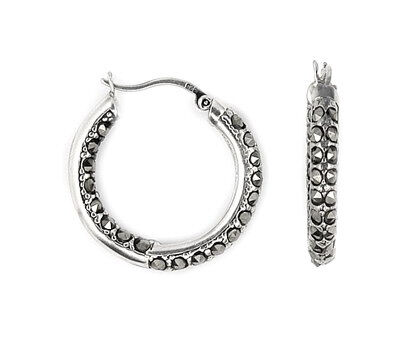 Wearing vintage jewellery, including hoop earrings is incredibly stylish. Vintage hoop earrings can be worn to make an expressive statement, whether bold or elegantly understated. Most vintage hoop earrings have some kind of wear and tear, as they will have been worn many times over the years, so buyers should ensure that the fittings are tight and secure, and that there are no overt signs of repair. Buyers have a choice of materials, including gold, silver, gold or silver plate, or bakelite. Vintage hoop earrings can also be encrusted with beautiful, sparkling stones.
When buying vintage hoop earring, shoppers should understand the materials used to make the earrings and the factors to consider before making a purchase. Vintage hoop earrings can be found from second hand sources, such as antiques dealers, charity shops, and car boot sales. Alternatively, for a simple, comfortable buying experience that offers a large choice, buyers can purchase their vintage hoop earrings on eBay.
Materials for Vintage Hoops Earrings
There are a number of styles of vintage hoop earrings available. They can be made from a variety of materials, and some are set with precious or semi-precious stones.
Precious Metal Vintage Hoop Earrings
Precious metal vintage hoop earrings are beautiful and durable. The vast majority are made from gold or silver. Both solid gold and solid silver vintage hoop earrings should be hallmarked. A hallmark is a small series of engravings, hidden on the inside of the earrings that represent the quality of the metal and the year in which the earrings were made. Hallmarks are not always clear and may require a magnifying glass to be identified properly.
Gold is generally quite a soft metal, and along with silver, can be scratched easily. Scratches are straightforward to repair, so are of no great concern when buying vintage hoop earrings. However, holes and bubbling in the metal cannot be repaired, so buyers should avoid vintage hoop earrings that are severely damaged in this manner.
Plated Vintage Hoop Earrings
Plated vintage hoop earrings are made of base metals and plated with gold or silver. These tend to be less expensive than solid gold or silver pieces. Gold and silver plated vintage hoop earrings can look just as exquisite as their solid precious metal counterparts, if they have been well made, properly cared for, and are free from corrosion.
Stone Set Vintage Hoop Earrings
Stone set vintage hoop earrings range from diamonds and emeralds to rhinestones. These earrings are often opulent and graceful, adding elegant sparkle to any ensemble. The stones should be secure in their settings. Diamonds should be clear and of a good quality clarity and cut. When purchasing vintage hoop earrings with rhinestones, buyers must check that the stones are clear and not brown, dull, or otherwise discoloured.
Bakelite Vintage Hoop Earrings
Bakelite vintage hoop earrings are sought after by many collectors. Bakelite was invented in 1907 and is an early form of resinous plastic. It was put to a large range of uses, including jewellery such as earrings. Bakelite vintage hoop earrings can be found in an array of colours and styles. Buyers should make sure that the bakelite is not cracked, irreparably damaged, or discoloured. To ensure that the bakelite is authentic, the easiest method is to rub it vigorously with a finger and then sniff. There should be a camphor-like scent, which is a strong indication of genuine bakelite.
Factors to Consider When Buying Vintage Hoop Earrings
Vintage hoop earrings can be stunningly beautiful if they are in good condition. Before purchasing vintage hoop earrings, buyers are strongly advised to check for certain signs and characteristics to make sure that they purchase genuine, good quality pieces. While it may be very tempting to simply buy the first attractive vintage hoop earrings a buyer comes across on impulse, knowing what to look for, and carefully examining the earrings ensures that buyers make a confident, considered purchase.
Signs of Wear on Vintage Hoop Earrings
While it is occasionally possible to find vintage hoop earrings in immaculate condition, without any repairs or restoration, it is very uncommon. The earrings have most likely been worn, and so some wear and tear is to be expected. The earring fitting is likely to have marks. Some light scratches or scuffs on the metal body of the hoops from the earrings rubbing against clothing is acceptable. The vintage hoop earrings may also have have received small surface scratches when they were taken off and placed on a table.
Signs of Repair on Vintage Hoops Earrings
Vintage hoop earrings with cleverly concealed, careful repairs and restoration are acceptable, and are likely to be less expensive than those in a better condition. Tell tale signs of repair or restoration occur around the joins between the body of the hoop and the fitting. Buyers should avoid vintage hoop earrings with clearly visible repairs, such as those with evidence of badly soldered joins, joins that are out of alignment, or with excessive glue evident.
Signs of Reproduction Hoop Earrings
Buyers who are seeking authentic vintage hoop earrings should make sure that they avoid reproductions. Many buyers prefer vintage-style reproductions as they are often less expensive than the real thing. However, the majority of buyers want genuine vintage hoop earrings. One of the signs that the earrings are a reproduction and not vintage is a lack of wear and tear. This indicates that the earrings have never been worn, and so it is unlikely that they really are vintage unless they were kept for a collection or display. Another indication of reproduction hoop earrings is the weight. Reproductions tend to weigh noticeably less than authentic vintage pieces. This is due to the fact that genuine vintage hoop earrings tend to be made from better quality, heavier materials.
The construction also gives buyers a clue as to the authenticity of the earrings. Reproduction hoop earrings tend to have a poorer construction than genuine pieces. Buyers should examine the soldering and the connections between the different elements. The finish and attention to detail are also good indicators of authentic vintage hoop earrings.
Fittings on Vintage Hoops Earrings
Buyers should make sure that the fittings are clean and not corroded. If corroded fittings are placed into ears, they can cause considerable discomfort. Vintage hoop earrings should have securely fitting backs that do not come loose too easily. Ideally, vintage hoop earrings with a butterfly clasp should have the original clasps. However, tight fitting butterfly clasps of the same metal are acceptable. If necessary, rubber butterfly backs can be chosen for comfort. Vintage hoop earrings with rubber or plastic backs are less expensive than those with the original backs.
Stone Settings for Vintage Hoops Earrings
If the vintage hoop earrings are set with stones of any kind, buyers should look closely at the settings. Ensure that all of the stones are secure. If the stones have been replaced, they should have been set properly, and there should be no signs of glue. The stones should be bright, clear, and free of scratches and chips.
Summary of Factors to Consider When Buying Vintage Hoop Earrings
The table below provides a summary of the different factors to consider when purchasing vintage hoop earrings. It is an easy to use reminder of all the elements to be aware of to ensure that buyers purchase the best possible vintage hoop earrings.
Factor to Consider

What to Look For

Signs of wear

Light scuffs and scratches

Wear to the clasp

No corrosion

Signs of repair

Check joins

Repair should not be obvious

No visible soldering

No traces of glue

Signs of a reproduction

Immaculate, with no wear

Lightweight

Poor construction

Fittings

Clean

Secure

Stone settings

Secure

No traces of glue

No discolouration
The table above provides a clear, simple breakdown of everything a buyer should look for when buying vintage hoop earrings. This information ensures that buyers purchase an authentic, good quality pair of vintage hoop earrings.
Buying Vintage Hoop Earrings on eBay
When buying vintage hoop earrings on eBay, buyers can enter a search phrase such as "vintage hoop earrings" into the box that appears on every page. This produces a multitude of results that the buyer can narrow down by using detailed search terms, including the type of metal, the size, or the era. Buyers are also able to refine their search by using the eBay filters, such as price range and condition. Shoppers can also find vintage hoop earrings from eBay stores in addition to private sellers. Many eBay stores specialise in one area, such as vintage jewellery, so may be able to offer advice and guidance, if required.
Buyers should always check the feedback score of the seller, looking for high percentages of positive feedback. This ensures that buyers receive the best quality earrings and the best service. If a buyer has any questions after reading the item description and examining the photos thoroughly, or requires more detailed photos, they can contact the seller directly via eBay.
Conclusion
Vintage hoop earrings have lost none of their appeal over the years. They can be made from precious metals, base metal overlaid with gold or silver plating, or bakelite. Some are plain, while others are elaborate and set with stones. When purchasing vintage hoop earrings, buyers need some knowledge of how to check for good quality items. This includes looking for signs of wear, tear, and repair. The earrings should not be cracked, and regardless of the construction material, the surface should not have holes or be bubbled. There should be no corrosion and stones should be fit securely in their settings. The buyer should look for signs of the earrings being in a pristine condition, which may indicate that they are reproductions and not authentic vintage pieces. The fittings should also be secure. Vintage hoop earrings are available on eBay in a range of styles to suit every taste.