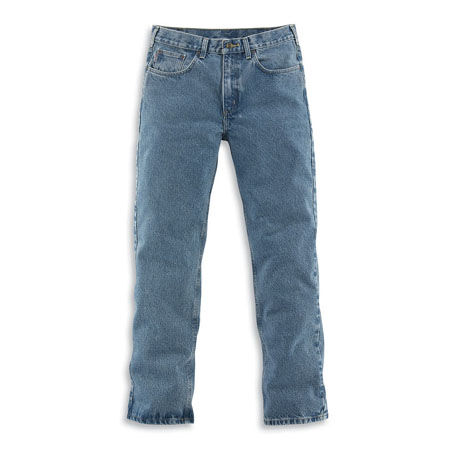 The modern craze for vintage jeans can either refer to jeans which were made during the middle part of the 20th century, or it can refer to to 'retro' jeans, which are modern reproductions of old styles. Both types are an expression of the nostalgia for the styles worn in decades past.
Vintage jeans have become increasingly popular in recent years, and for buyers wishing to take part in this growing trend, it is prudent to learn a little about the types of vintage jeans available before making a purchase. It may also be sensible to understand a little about the market itself, including the different types of outlets from which vintage jeans may be purchased.
Because of the comparative rareness of good examples of vintage jeans, online retailers such as eBay are an excellent way to track them down. eBay has a wide selection of men's vintage jeans covering all the main types available in the market.
Types of Vintage Jeans
Vintage jeans can be divided into two main categories. They can either be original, authentic pieces, manufactured during the middle six decades or so of the last century, starting roughly in the 1920s and carrying through to the 1970s, or they can be 'vintage inspired' jeans, which are modern copies, or modern interpretations, of the original designs. There are significant differences between the two categories, and a prospective buyer needs to be sure which category a particular piece falls into before making a purchase. This is important given the large price difference between a pair of genuine vintage jeans and a modern interpretation.
Original Vintage Jeans
The attraction of vintage jeans for most people is either the sense of history, or else the classic styling which is difficult to find today. For many people it may be both combined. For these reasons, rather than in the hope of making a tidy profit, original vintage jeans can be fascinating and satisfying to buy and wear. True vintage jeans can be very expensive, with prices running into several hundreds of pounds for a well known brand such as Levi's, especially if they are in very good condition. This does not mean to say that they need to be in mint condition, since any pair of jeans that has been around for half a century or more one would expect to have a few frayed edges. But to command the best prices, original vintage jeans need to be in good shape.
Vintage Jeans Suitable for Collecting
The most sought-after vintage jeans are authentic Levi's or Wranglers that have made it through maybe 50 years of history and survived in good condition. Proof of their authenticity is vital to securing the best price. A potential buyer is unlikely to pay £400 to £500 for a pair of vintage jeans without a written provenance showing where the jeans have come from, as a guarantee of their authenticity.
Many collectors would argue that the quality, finish and materials of the earlier jeans are superior to anything available today. There is no doubt that a pair of vintage jeans from a recognised brand represents a piece of history, and one for which many enthusiasts will pay good money. However, as with all collectible items, it is important to know exactly how the market works before trying to buy vintage jeans as an investment.
Everyday Vintage Jeans
For most ordinary buyers, getting into the vintage jeans market is better achieved by purchasing more moderately priced pairs. These everyday, practical choices can be worn without fear of damaging an expensive and irreplaceable piece of history. Obviously, the moderately priced items are unlikely to be in mint condition, unless they are less famous brand names. However they can still represent good value for money, and sometimes bargains can be had as people clear out old wardrobes at knockdown prices, without too much concern for the possible value of what they are selling.
Reproduction Vintage Jeans
Many items available today are not original vintage jeans, but modern copies. These can sometimes be good quality jeans which successfully capture the look and flavour of yesteryear, making them well worth buying. At other times, they can be cheap items which lack the refinements and quality of the original jeans. Even so that can still be good buys, which represent the fun and retro appeal of old jeans, as long as they are being bought at a sensible price.
How to Identify Vintage Levi's
One of the original and most famous brands of jeans is Levi's. This iconic brand dates back to the 1800s. Because of this pedigree, vintage Levi's jeans are in great demand today. Given that a good pair of authentic vintage Levi's can be a costly item to buy, it is wise for a buyer to be able to tell whether a pair is authentic or not.
One clue is the numbering on the buttons. Pre-1971 Levi's only had a single digit stamped on them, being either the letter 'W' or the number 2, 5, or 6. And if the number stamped on them is 501 or 555, they are certainly modern Levi's.
Another clue to the jeans' age is the small, red fabric Levi's tag. If it has the 'e' in lower case, then again it is certainly post 1971. This could still be described as vintage, as long as it matches the date as described by the seller.
A third clue to age is found by examining the care tag on the jeans. Post-1985 care tags feature the Levi's logo against a white background, and use red writing. If this describes the care tag on the pair being considered, it is not really vintage.
A final pointer to authenticity comes from the leather patch at the back of the jeans. This should be on the far right of the trousers, should not have any misspelled words, and should be made of hard, tan brown leather. If the leather is soft, or another colour, the jeans are not likely to be vintage.
Shopping for Vintage Men's Jeans on eBay
With the growth of Internet shopping over recent years, vintage jeans have become much easier to find and buy online. Sites such as eBay are good, because they are easy to shop at and require no travelling to see a wide range of items.
Search Using Keywords
Searching for vintage men's jeans on eBay is simple. To start your search, go to the eBay home page. Every page on the eBay site has a search bar. Simply type in to the search bar the sort of jeans you are after. For example, if you are thinking of buying a pair of vintage men's jeans you would enter 'vintage men's jeans' into the search bar. This will bring up a results page full of listings for vintage men's jeans. If you are looking for a particular colour or size of vintage men's jeans, you can refine the listings to only show those jeans in your chosen colour or size.
If you are in the market for the much sought-after Levi's vintage jeans, you search query will need to be more specific. Remember that the more specific your search query, the fewer the listings. Use a generic search phrase if you in the mood to simply browse all the listings.
Should you not find the ideal pair of vintage jeans on the eBay UK site, it is worth widening your search to include other sites. It is easy to choose to see results from Europe, the United States, or anywhere else in the world.
Examine Photos Carefully
When you do find a pair that you like the look of, look carefully at the photographs to be sure that the jeans are what you are looking for. If in doubt, you can contact the seller and ask questions, including asking to see more photographs. For example, to check that the leather patch on the back of a pair of Levi's is the right colour and looks authentic, ask to see a photo of it in close up. Similarly, ask to see a close up photo of the red fabric Levi's tag.
Research the Seller
You will want to do business with a reputable seller. eBay makes it easy to research sellers. With every transaction, a seller is rated by the buyer. Previous buyers rate sellers and leave written feedback. This feedback is represented as feedback score. Those sellers with the highest numbers are referred to as top-sellers. If you would rather only do business with a top-seller, you can sort the listings to only show those listings for vintage jeans posted by top sellers.
Conclusion
Vintage jeans can be genuine 20th century jeans or they can be modern copies of these much sought-after designs. Original mid-20th century items in good condition, particularly if they are famous brands, can be very expensive. Often they will be collector's items rather than everyday wear, but it is possible to find old vintage jeans at the sort of prices which make them affordable as practical clothing. Modern retro vintage jeans are much cheaper. They can represent a fun way to recapture the nostalgic looks of the mid-20th century. It is important to distinguish between original and retro when buying vintage jeans.
The few specialist shops which sell vintage jeans tend to be expensive, as well as being thin on the ground. Online shopping has made finding vintage jeans much simpler, as online retailers can gather a good range of items together on their website. eBay has a very wide choice of vintage jeans of all types, from collector's items to fun but practical everyday wear.