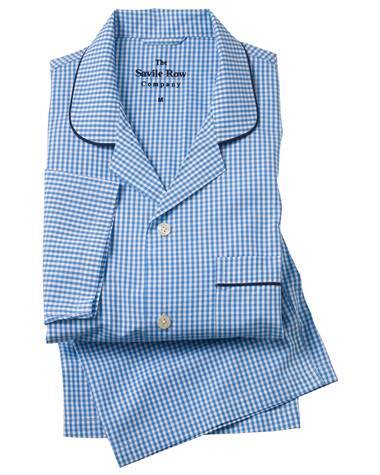 Vintage clothing typically dates from the 1920s to the 1960s. In the early 1990s, the demand for vintage clothing began to grow, setting a long lasting trend that continues today. The popularity of vintage clothing stemmed from both increased public awareness of the benefits of recycling, reusing, and repairing as opposed to throwing items away and vintage wear endorsed by celebrities.
Vintage men's pyjamas typically consist of two-piece sets. These sets feature long sleeve button-up tops and long bottoms with a drawstring tie or elasticated waistband. Designs range from popular patterns of previous eras, such as paisley, to retro styles. The majority of vintage men's pyjamas have been worn, although some can be found in their original condition. Because of their limited quantity, vintage pyjamas are often difficult to find and, therefore, may sell for a high price. Their collectibility, along with their unique personality, makes them much sought after items.
Vintage wear, including men's pyjamas, is typically found in secondhand clothing stores, such as vintage shops, charity shops, and through online auction-based websites, such as eBay. In order to assist consumers in buying vintage pyjamas, this guide will discuss their features, provide an insight on the things to consider when purchasing them, inform the buyer on how to properly care for them, and instruct individuals on how to search for and purchase vintage men's pyjamas at retailers such as eBay.
Features of Vintage Men's Pyjamas
Men's pyjamas contain a number of features that set them apart from modern sleepwear. When searching for and purchasing vintage men's pyjamas, buyers should consider factors such as seam work, pyjama labels, and other features.
Seam Work
Before the 1960s, it was uncommon for seams to be overlooked. In the 1950s, seams were often pinked, which means that they were cut using a non-straight cutting blade. This method was used to prevent the edge of the garment from unravelling. Another indication of vintage wear is a diamond-shaped gusset at the underarm.
Labels
When purchasing vintage men's pyjamas, buyers should ask about the items' measurements. Many vintage clothing items do not contain labels and the few that do are often not sized according to today's standards. Understanding the labelling in other countries allows a buyer to purchase items made worldwide. Italy, France, and Hong Kong were among the few that did include labels during previous eras. Union labels are indigenous to the US and date the item to before the mid 1960s when the labels were printed in all blue text. After this period, manufacturers switched to red and blue text labels. Union labels are typically square and measure about one and a half centimetres. The label should state the name of the union, which may or may not be in an abbreviated form.
Clothing unions existed in the US before outsourcing of the manufacturing of clothing in the 1980s. The advent of classification codes in the UK means that modern clothing must contain a fabric care and content label. So, a label that says, "Made in China", is a sure indication that the pyjamas are in fact not vintage, but more modern in design.
Button and Zip Fastenings
Before the mid 1960s, pyjamas were manufactured with metal zips with cotton twill tape and side seam snap fastenings. Plastic zips were temporarily introduced in the 1920s and 1930s, but were quickly removed due to their lack of durability. Zips located at the back of the pyjama top were rarely used before the 1950s.
Things to Consider when Purchasing Vintage Men's Pyjamas
When purchasing vintage men's pyjamas, buyers should take into consideration the condition and size of the pyjamas.
Condition
Before buying vintage men's pyjamas, buyers should make sure that they inspect the item's condition. Vintage wear is known for containing rich adornments, so buyers should be sure that the embellishments are properly attached. Buyers should check the hems and seams of the pyjamas for pulled threads and absent stitching. The garment should be free from lingering odours, such as mouldy smells and cigarette smoke. It is also important to consider the condition of the fabric. The fabric should be free from stains, discolouration, holes, rips, and other damage.
Sizing
As mentioned earlier, sizing has changed over the years. Some vintage sizing labels are indicated by their "one size fits all" tag. When searching for vintage men's pyjamas, it is important to ask about the pyjamas measurements with respect to the chest, waist, neckline, and shoulders. It may also be beneficial to measure leg and arm length and width, along with the distance between the crotch and waistband to ensure adequate room in the crotch area.
Properly Caring for Vintage Men's Pyjamas
Vintage men's pyjamas should never be machine washed, even if they appear to be in pristine condition. Vintage clothing dating up to the mid 1960s was not intended to be washed in a machine and should be dry cleaned or hand washed. Vintage seams are fragile and washing can cause the fabric or stitching to stretch. Men should opt to have their vintage pyjamas dry cleaned to ensure the best possible outcome. It is also acceptable to hand wash vintage pyjamas provided the fabric is washable. Use liquid detergent rather than powder, and cool or warm water. This will help to prevent fading and running of fabric dyes.
Certain materials such as silk, rayon, wool, velvet, satin, and chiffon, should not be hand washed. However, it is acceptable to place vintage men's pyjamas in the dryer provided the fabric is durable enough to withstand the heat; the better option is to lay the pyjamas to dry flat. To free the pyjamas of wrinkles, a steamer should be used rather than an iron to lessen the risk of burning the garment. Pyjamas should be washed as soon as possible after wear to prevent stains, such as those caused by perspiration, from persisting.
When storing vintage men's pyjamas, buyers should avoid placing them on wire hangers, which can ruin the fabric around the shoulders. The gravitational pull, especially on heavily embellished garments, may stretch the fabric and can lead to rips and tears over time. Instead of wire hangers, use padded or wooden hangers, which the pyjamas can be draped over instead of hung. All vintage men's pyjamas should be kept in a cool, dry area in order to prevent fading, deterioration, and discolouration.
Where to Find Vintage Men's Pyjamas
Most vintage men's pyjamas are sold in secondhand stores, such as charity shops and vintage shops. Some shops focus on just vintage clothing, while others offer clothing covering a wide range of decades. Buyers looking for vintage men's pyjamas can also browse items available at car boot sales, and they may want to search online retailers for an even wider selection. The most desired vintage wear is often sold at auction to the highest bidder. Sometimes, items become available when an individual decides to sell his personal collection. Vintage men's pyjamas can be found through eBay's online auction listings.
How to Buy Vintage Men's Pyjamas on eBay
When browsing for vintage men's pyjamas on eBay, you'll want to pay close attention to the description of an item you are interested in purchasing. By reading the full listing carefully and looking at the pictures, you'll have a better idea of the condition and authenticity of an item, and by getting to know the seller, you can feel more confident about purchasing from him or her.
Understand the Item's Condition
You'll often be drawn to a listing by pictures of the item, but always read the detailed item information before making a purchase. Sellers must use standard terminology to describe the condition of their items. This helps to avoid misunderstandings between the buyer and the seller, resulting in a more positive transaction.
Research the Seller
By analysing detailed seller ratings and reading reviews from past customers, you can decide if you are comfortable in buying from a particular seller. For a quick way to find the best sellers on eBay, look for those who have been awarded top-rated status.
Conclusion
Although it may seem difficult to distinguish between vintage and modern men's pyjamas, it is more than possible to find the perfect vintage garment with some research. Buying vintage men's pyjamas is a growing trend; however buyers should familiarise themselves with the features of vintage wear to ensure that they are buying a genuine vintage item. Vintage men's pyjamas are retro in style and often depict paisley-like designs. Individuals should conduct background research on vintage clothing and learn how to properly identify vintage wear with respect to the appropriate time period. Common indications often include metal zips, the absence of a label, and pinked seams.
Vintage men's pyjamas should be in good condition, without visible signs of damage, stains, and discolouration. It is important that vintage wear is cared for properly in order to maintain and preserve its quality. With so many pairs of vintage men's pyjamas to choose from, eBay can help any buyer to decide which pair will provide comfort and a good night's rest.