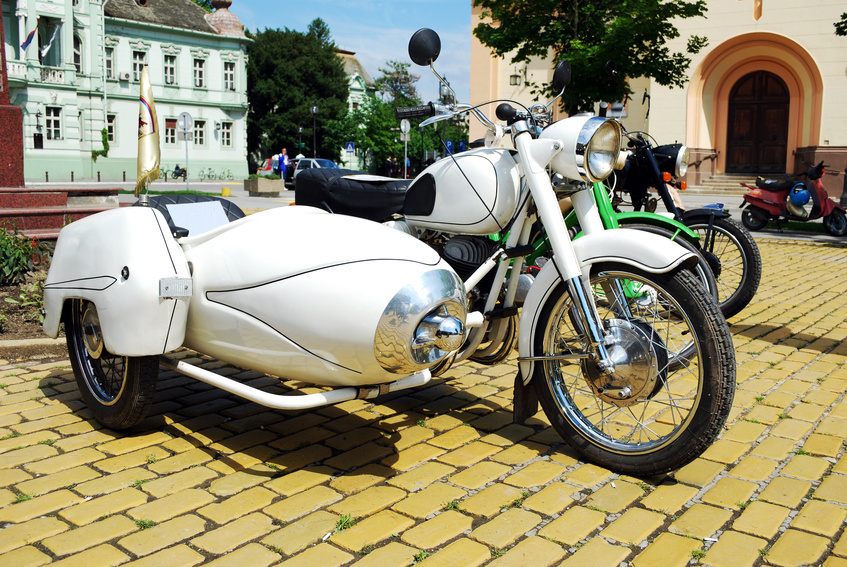 While many people use cars or public transport for their daily commuting, there are many motorcycle fans, even if some of them only ride a motorcycle during their leisure time. Those who have vintage motorcycles sitting in their garage and want to restore them to their former glory need to know how to buy the right vintage motorcycle parts. Looking for vintage motorcycle parts can be difficult, especially for one who does not have much experience dealing with motorcycles.
Depending on the brand, model, and year of the motorcycle, it can be relatively easy to find parts for it or it can be close to impossible. Buyers who want to find parts for their vintage motorcycles should first know as much as they can about their motorcycles including the parts they have and their functions. eBay is a great place for finding vintage motorcycle parts since the sellers include individuals and professional motorcycle parts suppliers. Some tips on how to look for, find, and buy vintage motorcycle parts on eBay may help.
A Brief Introduction to Vintage Motorcycles
The first petroleum fuelled, internal combustion motorcycle was introduced in the late 1800's, but this type of engine was only mass-produced in the early 1900's. Among the early motorcycle manufacturers were Triumph, Harley Davidson, Norton, and Indian. Later, in the mid 1900's, more motorcycle manufacturers started operation including Honda, Kawasaki, Suzuki, and Yamaha. Many of these companies still operate today and continue to produce motorcycles for users around the world. Usually, vintage motorcycles are those over 25 years old and it can be very difficult to find parts for them since many manufacturers do not produce parts for vintage motorcycles any more. However, buyers can still find new vintage parts from aftermarket manufacturers or 'new old stock' parts (NOS), which were made in the motorcycle's era but are still unused.
Buying Vintage Motorcycle Parts
Before buying the parts for their vintage motorcycles, it is important for owners to do some research about their motorcycles and the parts they need. For a start, they can read their original motorcycle owner's manual, if they still have it, or just do their research on the Internet. They can also join motorcycle clubs to gain more information about vintage parts. The table below lists the main parts of a vintage motorcycle.
| Parts | Include | Description |
| --- | --- | --- |
| Engine and Transmission | cylinders, pistons, gears, exhaust systems, and other parts | May need some rebuilding depending on the condition; important components to preserve motorcycle's performance and sound |
| Electrical System | ignitions, wiring harnesses, and more | Much simpler than on modern motorcycles |
| Frame | frames and forks | Badly rusted frames must be cleaned and painted or polished; usually only forks need replacing |
| | brake lines, brake pads, drums, and callipers | Vintage brakes are quite easily available; new brakes are usable but often require changing the original wheels to newer ones |
| Wheels | | Many original wheels are still usable; should be opened and examined for dents and rusts |
| Other Parts | screws, nuts, bolts, belts, light bulbs, seats, and other parts | All parts should be examined and replaced if necessary; original parts like fenders, mirrors, gauges, and seats can be restored |
Vintage motorcycle owners may find that they have many parts to replace. However, if their motorcycle is in good condition, owners may not have a hard time finding the replacement parts they need. Some components that are easy to find include light bulbs, brake lines, screws, and other connecting parts. Parts like mirrors, fuel tanks, and engine parts on the other hand, can be difficult to come by.
Finding the Right Vintage Motorcycle Parts on eBay
Besides finding out all they can about their vintage motorcycles and the parts they need, buyers also need to be systematic when they look for parts for their motorcycles. There are a few things buyers should consider when looking for vintage parts including their budget, the condition of the parts, and the parts' compatibility. By planning their repairs and knowing what parts are needed, owners should not encounter much trouble in repairing their vintage motorcycles.
Planning and Documenting the Repair Process
Some owners have a perfectly functioning vintage motorcycle that only need a few parts replaced now and then. Other owners, however, may want to fully restore their motorcycles to their former glory. Buyers who want to repair all the parts of their motorcycles should first plan their repairs and consider their budget. Depending on the type of motorcycle, the budget may differ greatly, so it is important to know what to expect when buying vintage motorcycle parts. Since vintage parts can be difficult to come by, owners should also be ready to spend quite a bit on them. When restoring a motorcycle part by part, owners should also document their progress and write down everything they have replaced. This way, they can keep their spending within the budget.
Finding the Vintage Motorcycle Parts from Different Suppliers
Sometimes, buyers may find that many sellers on eBay do not have the parts they want. Therefore, buyers should always ask a few eBay sellers instead of just one. Usually, a simple search for vintage motorcycle parts on eBay returns many results, which the user can then refine according to preferences. Sometimes buyers can even use reproduction parts for their vintage motorcycles if the parts they want no longer exist. However, they must be certain that the parts can fit their motorcycle or can be manipulated to fit.
Looking for Vintage Motorcycle Parts on eBay
Finding vintage motorcycle parts on eBay is a simple process. To search for the parts they want, buyers can just use eBay's search feature to look up the parts they want. They can also specify the motorcycle model and make to narrow down the search results. To look for parts on eBay, motorcycle owners should be knowledgeable about the parts they want. To know more about the parts they need, buyers can join motorcycle clubs or online forums. Many of the club and forum members like to work on their motorcycles and can offer valuable advice to motorcycle owners looking for vintage parts.
Asking the Seller
When buying on eBay, it is difficult to examine the condition of the product, so buyers should remember to inspect the photographs provided by the sellers when they shop. Also, they can correspond with the seller to know more about the vintage part. Some details they should get from the seller about the product are its age, condition, model, and its compatibility with the vintage motorcycle.
Checking the Condition of the Part
When buying a used part, buyers should make sure that it is still in good condition and is functioning. If possible, buyers should also purchase their parts from a local eBay seller since this can reduce the shipping fee. Buying vintage motorcycle parts can be tricky since the part might not always fit a certain motorcycle brand or model. In this case, it is a good idea to buy from a seller with good return and exchange policies.
The eBay Buying Process
An easy way to search for vintage motorcycle parts on eBay is to type in the name of the parts that you want into the search bar on the eBay home page. You can just search for 'vintage motorcycle parts', 'vintage Triumph parts', or any other suitable parts that you have in mind. There are vintage parts for many motorcycle manufacturers including 'BSA', 'Honda', and more. Therefore, be sure of the brand of your motorcycle if you want the parts that best fit your bike.
When looking at the list of motorcycle parts, read the description of the items properly and only select the part you need and are sure can fit on your motorcycle. Also, look at the price and shipping fee of the part. After choosing the item that you like, read all the available information on the part and make sure that it is in good condition. Also, check all other details including the price, return policy, payment methods, and other details. If you have any doubts about the part, just send the seller a quick message about it. Otherwise, you can proceed to make your purchase.
Conclusion
Vintage motorcycles are very popular among collectors as well as other motorcycle owners. Compared to current motorcycles, vintage ones have their own distinct style, which is rarely replicated in new motorcycle designs. People who want to continue riding their vintage motorcycles should buy the right parts if they want to properly repair or restore their motorcycles. An important thing to do before buying vintage parts is for owners to know as much as they can about their motorcycles and the parts that need replacement.
Finding vintage parts for motorcycles on eBay is quite a simple process, but before that, buyers should plan and make a list of what to buy. They should also remember to not only look for parts from one supplier, and instead, ask various eBay sellers about the parts they want. Since it is difficult to examine a part when buying on eBay, it is important for buyers to correspond with the seller to determine the condition of the vintage motorcycle part.