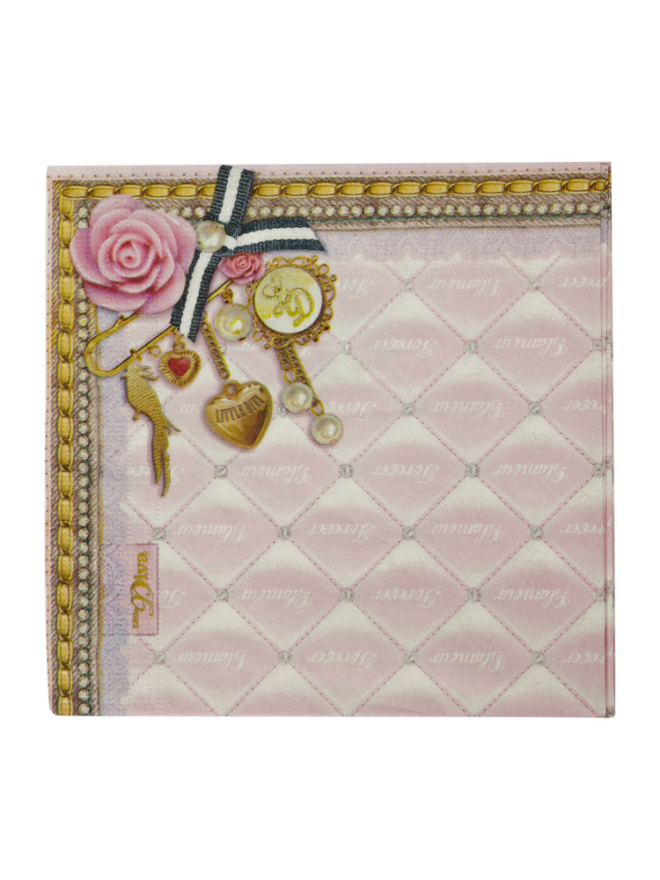 Vintage napkins can add more than a touch of taste and refinement to a special-occasion dining table. They make a bold statement of extraordinary efforts to please particular dinner guests. The effort will not go unnoticed and this alone can create a warm and exclusive ambience which welcomes diners into a home as beloved guests or as valued business acquaintances. If the latter are seeking some insight into an individual's personal sense of style or discernment, then the table setting is sure to make a statement. The artistry with which vintage napkins were embroidered, appliqued, or painted is certain to create, in all instances, that all-important, highly favourable, first impression.
The Origins of the Table Napkin
The concept of a table napkin is thought to originate with the ancient Greeks and Romans who practised using the soft insides of a loaf of bread to wipe their hands or wipe their mouths at the dinner table. The first recorded instance of the use of cloth napkins in England dates back to approximately 1384. Detailed below are some of the finest examples of table napkins as they have evolved over the centuries into highly desirable items of discernment. The table below lists some of the finer attributes of vintage napkins from various of the world.
| | |
| --- | --- |
| Madeira Vintage Napkins | Before purchasing Madeira vintage napkins, it is important to establish whether the article is a genuine Marghab piece. Identification of Marghab linens lies in the unique embroidery patterns which have often been copied and mass-produced for the hungry US market by the Chinese. It is crucial that the item purchased also carries either the original Madeira label, or one that states that it was made in Portugal. Embroidery from Madeira has, since the 1850s, been touted as the most superb in the world. It is renowned for the use of colour and meticulous stitching on the finest fabrics, such as organdie or batiste. The more ornate of the household linens are a study in the art of drawing pictures with needles and cottons and then framing them in lace. The art of producing perfect Richelieu cutwork or padded satin stitching has been passed down from mother to daughter for centuries, and it has certainly been perfected. Hand embroidery and applique on household linens was a means of showing off the skills of the female members of a family, which would have added to the family's status, and the Madeira range of vintage table linens will have spoken volumes. The Chinese knock-offs were often done on inferior linens which could not withstand too many washes. Vintage Madeira lace is another art form practised by the deft fingers of these exceptionally talented women and it is used generously in the creation of table linens. Vintage napkins from Madeira combine the best of all talents to make them works of art to be bequeathed and treasured by many future generations. Authenticated Madeira vintage linens will become an enviable and valuable collection. |
| French Vintage Napkins | The intricate weaving of French damasks causes highlights to appear on the fabric that vary in relation to the position of the viewer. French vintage napkins often featured lacework and embroidery and perhaps even a little ladder work. Intricate cut work is another characteristic that distinguishes these vintage napkins. It is a method of cutting a pattern into cloth and then stitching the cut edges in thick, padded, satin embroidery or finer stitches. The results were a truly beautiful and durable pattern that would please any aristocracy. As these vintage napkins were probably only intended for the more wealthy members of society, they were also often monogrammed. This added a personal touch which also denoted a family's status and wealth. As with most French household linens, the more elaborate the embroidery and lacework the wealthier the family. Yet, even the simplest of these vintage napkins can be extremely elegant, and will add a touch of olde world class to a dinner table. |
| Irish Vintage Napkins | Irish linen and Irish lace have long been sought after components for an extensive range of home wares from table linens to bed linens, and they have earned the right to be held up as examples of excellence. It is, therefore, important to ensure that Irish vintage napkins are indeed made in Ireland. The Irish Linen Guild has, since 1928, protected the Irish linen market by adding its label to genuine Irish linens. Damask and Double Damask linens which have patterns woven into the fabric often feature the Irish shamrock and other national symbols among a diverse range of themes in the making of table cloths and matching napkins. Irish woven linens have a proud tradition of weaving skills as in the art of Jacquard weaving, which creates complex patterns in fabrics. Buying Irish vintage napkins will ensure that the strength of their weave makes them items that will endure to be enjoyed by many generations. Mountmellick embroidery is characteristic of much of the Irish embroidery. It involves the heavy, padded embroidering of predominantly floral motifs onto white cloth with white thread. The result is both elegant and stunning. Irish lace is also world renowned, and Limerick Lace is a wonderful example of why this is. Two types of lace fall under the Limerick category; Tambour lace is produced with a hook and Needlerun lace with a needle. Both of these methods are sometimes used to provide the perfect edging for table linens. |
| Italian Vintage Napkins | Italian vintage napkins are among the most exquisitely beautiful table linens in the world and are certain to initiate many enthusiastic conversations and enquiries at a dinner table. Lacework such as Filet Lace, which is a type of netting on which knotting or embroidery is done to create patterns, can be found on many vintage tableware linens. Needle Lace is done purely with a needle and thread and involves the stitching up of hundreds of small stitches to make the lace. Reticella Lace is another needle lace which characteristically produces geometric designs of circles, squares, and scalloped edges. This lace is often used to create a mosaic-type effect where embroidered squares are interspaced with lace to create a truly stunning effect. A characteristic of some Italian embroidery, known as Assisi, is the stitching of a background while the main motif is left unstitched. Much of the earlier work involved images of mythical creatures such as dragons. A collection of vintage Italian table linen will become a cherished heirloom. |
Caring for Vintage Napkins
Vintage fabrics should be treated with care at all times, but especially when they need washing. It must be remembered that the fabrics have endured many years of wear and may have weakened, so it would be best to get some expert advice before attempting to wash these fine linens. They can provide solutions for those storage spots and advise on methods of washing and drying; suggestions can also be made on how to recapture those original shades.
Finding Vintage Napkins on eBay
Once on the eBay home page, the All Categories tab should be opened. Select Collectables and enter Vintage Napkins in the search tab. Searches can be refined by entering specific types of vintage napkins in the search tab such as 'Italian', 'Madeira'.
Conclusion
Vintage napkins are purchased as pre-cherished items and this adds to their sense of history and mystique. It is what makes vintage table linens such talked about topics at dinner parties where they are proudly displayed. Formal dinner settings seem the perfect backdrop against which to show off the magnificent needlework and intricate lacework to be seen on many vintage napkins and table cloths. Owners of these gems must at some time consider the other families whose tables the napkins had graced and dinner guests will certainly enquire. They are truly enviable heirlooms that have touched the refined mouths of many and will touch many more to come. The fact that vintage napkins have endured many decades of use is testimony of the fact that they were treasured and cared for possessions. Vintage table cloths and napkins make perfect wedding gifts as they carry the message of endurance, beauty, and love and the imbedded wish for this to continue for many more generations.