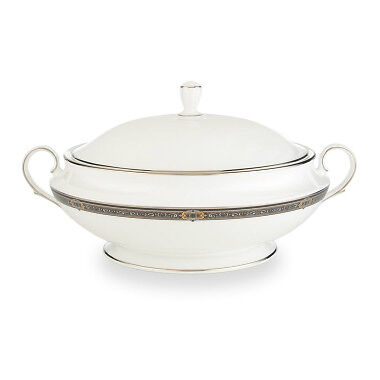 Serving dishes are used during meals to bring food from the kitchen to the table. They keep the food warm, allow it to be easily served, and add flair and elegance to the table. Vintage serving dishes are those manufactured in a previous era, typically from the 1920s to the 1980s. These decades had their own styles and trends and the tableware of the time reflects these.
Choosing Vintage Serving Dishes
Bearing in mind the following points will ensure that the most suitable vintage serving dishes are found.
Type
There are various types of serving dish designed to hold different dishes. Serving dishes range from small dishes and plates for dips and condiments to large pots for stews and casseroles and large platters for meat joints. Some dishes are shallow, like platters, while others are deep. Serving dishes generally have a single compartment, but many have two or more compartments to hold different items.
| | |
| --- | --- |
| | A long and shallow dish for serving fish. Sometimes in the shape of a fish. Often with a wide dome shaped lid to keep fish warm. |
| Meat platter | A wide and shallow dish for serving meat joints. Sometimes with elaborately designs. Often with a wide dome shaped lid to keep meat warm. |
| Ramekin | A small pot used for serving dishes such as soups, mousse, crème brulee, soufflé or potted seafood. Ramekins might also be used as dishes for dips or condiments. Should be able to withstand hot temperatures as they may be used to cook with. Usually circular with a fluted edge. Usually ceramic or glass. |
| Tagine pot | A heavy earthenware pot for serving tagines. Tagines are meat and vegetable stews slow cooked at low temperatures with aromatic herbs and spices. Tagine pots have a shallow circular base and a large dome shaped lid. They may be painted or glazed. Modern European tagines sometimes have a cast iron base so they can be used on the hob to brown meat before stewing. |
| Tapas dish | A small dish designed for serving tapas, small portions of different dishes. They may come in sets. Typically plain glazed terracotta pots, they might also be made of other ceramic materials. |
| Trifle bowl | A large glass serving dish, typically with a stem, for serving trifle and other desserts. |
| Salad bowl | A large, deep bowl for serving salad. Typically circular but may also be square shaped or other shapes. Often wooden or ceramic, they might also be made of plastic, bamboo or other materials. They might come with matching salad spoons to toss and serve the salad. |
| Vegetable dish | Usually fairly shallow dishes. Vegetable dishes come in various shapes and sizes. They might have multiple compartments to hold different vegetables. Often ceramic, but may also be made of stainless steel or other materials. |
| Casserole dish | A large, deep pot with a lid used for cooking and serving casseroles. Casserole dishes range in size from those used to prepare casseroles for two people to very large dishes for groups. Typically heavy earthenware and cast iron, they may also have an enamelled interior. Casserole dishes are often suitable for use on hobs as well as in ovens. |
| Tureen | A wide, deep dish, typically oval shaped, with handles and a dome shaped handled lid, and usually with a tray or feet underneath. Used for soups and stews and often have integrated spoons. Some tureens are other shapes, such as circular or rectangular, or even shaped like birds or animals. Typically glazed earthenware or silver. Specific types of earthenware used for tureens include porcelain and faience. Tureens often have elaborate designs. |
| Dip dishes/sets | Dishes/sets for serving dips. Sets usually have a base and dishes on top. May also come with serving spoons. Typically ceramic or wooden, sometimes glass or other materials. |
| Lazy Susan | A type of serving dish for dips and crudités. Has a revolving circular base, generally wooden, with a central dish and other dishes around the outside, which are often ceramic. The dip is usually put in the middle and crudités in the outer dishes. |
| Thali dish | A dish for serving various Indian dishes, including rice, dal, curry, roti, curd and chutney. Consists of either a tray and small bowls or a steel tray with multiple compartments. Plastic is sometimes used for more modern thalis. |
Material
Serving dishes are made from various materials, including ceramic, glass, metal, wood, bamboo and plastic.
| | |
| --- | --- |
| Ceramics | |
| Delftware | A type of tin glazed pottery or eartherware, typically blue and white, made in or near Delft in the Netherlands. Made with various clays including marl, a calcium rich clay that enabled the manufacture of finer items. |
| Earthernware | A ceramic material, earthenware is also an umbrella term for various specific materials. |
| Faience | A tin glazed ceramic or earthenware, faience is traditionally made in a region in northern Italy. Typically white glazed with painted decoration in bright colours. |
| Porcelain | A type of ceramic valued for its hardness and white lustre. Relatively expensive. |
| Terracotta | A type of porous earthenware with a characteristic brownish orange colour. May be glazed or unglazed. Relatively inexpensive. |
| Metals | |
| Aluminium | A lightweight and malleable metal that doesn't corrode. Can be easily formed into various shapes and is relatively inexpensive. |
| Cast iron | A heavy metal that can withstand and retain high temperatures. Serving dishes may be bare cast iron, which can be seasoned to prevent rust and sticking to some extent, or they might have enamelled interiors, which can be easily cleaned. |
| Chrome | A lightweight metal which can be easily cleaned and has an attractive polished surface. |
| Copper | A lightweight and inexpensive metal with an attractive light golden colour. Often used for traditional Indian serving dishes. |
| Stainless steel | A lightweight and easy to clean metal frequently used for serving dishes. Often used for curries, vegetable dishes with several compartments, or other dishes with multiple compartments such as Indian thalis. |
| Silver plate | Used to give the appearance of sterling silver at a far lower cost. Silver plate is a very fine layer of silver coated over another metal such as copper. It is not as durable as sterling silver and will eventually wear away. |
| Sterling silver | A beautiful and expensive metal used for formal serving dishes and special occasions. Contains 92.5% silver and 7.5% other metal such as copper, which gives strength and toughness. Look for hallmarks such as the 925 mark to show the items are genuine sterling silver. Sterling silver is far more durable than silver plate. |
| Other materials | |
| Glass | Glass dishes might be clear, frosted, coloured, fluted and/or etched in beautiful patterns. They are typically used for desserts and condiments. Pyrex or other tempered glass is suitable for heated dishes, and are more durable and impact resistant. |
| Plastic including acrylic, melamine | Plastics are easily shaped and manufactured, making them economical. They are generally strong and difficult to break. |
| Bamboo | Very lightweight and inexpensive. Often used for salad bowls. |
| Wood | Lightweight and relatively inexpensive. Often used for salad bowls and dip bowls, as well as for bases and trays for lazy susans and other dishes. |
Style
Vintage serving dishes cover a range of periods and styles. Typical everyday serving dishes from the 1950s and 1960s were made of melamine, often in colours such as bright yellow and baby blue, and sometimes two tone with a white interior. Other plastic tableware from the 1950s and 1960s had modernistic geometric designs and stylised floral motifs, often in colours such as bright blue, olive green, and brown. A white background was typical. Geometric shapes evolved into swirling designs reminiscent of art nouveau, a trend from decades earlier. Other typical 1950s and 1960s dishes are ceramic with a white background and pictures of flowers. Oriental and North African influences became more apparent in the 1960s and serving dishes from this period might have strong earthy colours such as dark greens and browns. Different types of serving dishes, such as tagines, became more readily available. Wooden and glass dishes were popular in the 1960s, 1970s and beyond. Wooden dishes are made of teak, acacia, or other woods. Wooden leaf shape dishes are a popular design, while other wooden dishes may have different organic shapes and/or multiple compartments. Glass dishes are sometimes in unusual shapes, such as shells or fishes. Ceramics went through a revival around the 1970s and many beautiful pieces date from around this time. Unusual designs include different shapes such as shells.
Buying Vintage Serving Dishes
Always read the product description carefully to assess the item's condition. The seller should state if there is any damage, for example, any surface scratches, chips or other signs of wear and tear. Vintage pieces may not always be in perfect condition as would be expected from a new item. Materials such as sterling silver will last longer than silver plate, which may have signs of wearing away.
Find Vintage Serving Dishes on eBay
From the eBay homepage, navigate to the Home & Garden page and then the Cookware, Dining & Bar page. Click on Tableware, Serving & Linen and then Serving Dishes. To find vintage serving dishes, either click on Used under Condition or type "vintage" into the search bar at the top of the page. The search bar can also be used directly from the eBay homepage, using keywords such as "vintage serving dish" or "vintage porcelain serving dish".
Conclusion
Vintage serving dishes can make for unusual and interesting additions to the table. They cover a range of styles, from plastic melamine dishes to beautiful ceramic tureens. The type of material will affect its suitability for different dishes as well as its durability, which is an important consideration when buying vintage items. Some materials wear better than others. Read the product description carefully to evaluate the condition of the item. Consider how the item will match with other pieces of tableware. The right piece(s) should complement and enhance the dining table.