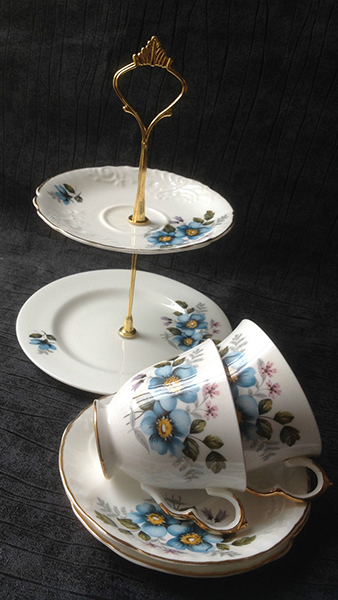 Although the tradition of taking afternoon tea has long been associated with British culture, the first tea sets can be traced back to the Han Dynasty in China, as early as 260 BC. In Eastern culture, tea was consumed for medicinal purposes. It was not until the 17th Century that Dutch and Portuguese sailors introduced tea to England, where it quickly became a popular social ritual at Court.
The expense of the tea itself, along with the high cost of traditional tea sets from China, meant tea was a luxury item only the wealthiest Europeans could afford. As tea grew in popularity, the common classes found ways to take part in this fashionable tradition, by reusing tea leaves that had already been boiled, and serving their tea in inexpensive pewter or Dutch Delftware.
Shoppers looking for vintage tea sets can head to eBay to find a number of services in a wide range of patterns and styles. Before deciding on tea sets, buyers should know what components comprise a standard tea service and the various types of sets available. Knowing a bit about tea services before heading to eBay helps shoppers quickly locate the set they want at a price they can afford.
The Evolution of the Tea Set
Tea drinking has been an integral part of British culture for 400 years. Tea is universally affordable and available today, and many people still enjoy practising the tradition of afternoon tea. Due to the long history of tea drinking in the U.K., tea sets, both new and old, can be found all over the country. When participating in the traditional customs of taking tea, many consumers prefer vintage tea sets over modern one for the charm and authenticity they bring to the table.
The early Eastern vessels used to prepare tea were bowls rather than pots, and had no handles. These sets were crafted by potters in either white or blue porcelain depending on the region in which they were made. It was during the Ming Dynasty that the style changed to something remarkably similar in both appearance and function to what is still used today.
As the custom of drinking tea made its way to Europe, small tea cups began to show up in tea sets. During the reign of George II, small silver cups with no handles were the norm. It was not until later that handles were added. Modern tea sets are made from a variety of different materials. Sets made in China and Japan still use clay and porcelain Western cultures use tea sets crafted from silver, pewter, china, or stoneware. Most maintain the bowl-shaped cup which may or may not have handles. Though the most traditional shape for the teapot is still a bowl, urn styles and pear-shaped pots are also popular.
Learn About the Materials Used in Vintage Tea Sets
Before purchasing a vintage tea set on eBay, buyers should be familiar with the different materials used to craft tea sets. Silver tea sets are not only beautiful, but they are also less likely to break than porcelain or china. Less expensive tea sets are made from stainless steel, ceramic, and even glass. Shoppers should decide which type of tea set best suits their needs when shopping for tea sets on eBay.
Silver Tea Sets
Silver tea sets have been popular in Europe for centuries. A silver tea set, also known as a tea service, has the advantage of coordinating with any style or pattern of china. These sets generally include the teapot along with a sugar bowl and creamer. More elaborate sets include a hot water pot, waste bowl, tea caddy, and tray. Due to their longstanding and widespread popularity, shoppers can find a host of vintage silver tea sets on eBay.
Porcelain and China Tea Sets
Porcelain, by definition, is a hard, fine-grained, non-porous, white ceramic ware. It is fire at a high temperature, and is usually translucent. Porcelain tea sets are typically much larger than silver sets. They often include cups, saucers, plates, and serving dishes along with the teapot and accessories. There are several types of porcelain and china which shoppers may encounter on eBay.
Taste Porcelain and Export Porcelain
Chinese porcelain designed for the Asian market is known as taste porcelain. The porcelain used in sets intended for export to Europe and other parts of the world is slightly different and is referred to as export porcelain. There are marks on the bases of the china which identify the type. Shoppers should study these marks and ask the seller if they have any questions regarding the type of china or how it is marked.
Bone China and Fine China
During the Victorian era, tea sets made from bone china became fashionable, and it is still a material of choice for many tea set manufacturers. Bone china, an English invention, is a type of porcelain made by mixing china clay with Cornish stone and bone ash to create a more durable type of porcelain. Fine china is more translucent than bone china.
Stainless Steel, Glass, and Ceramic
Consumers on a budget may want to shop for less expensive tea sets on eBay. Vintage tea services made from stainless steel, glass, and ceramic are typically more affordable than porcelain or silver sets, but are just as charming to many buyers. Glass teapots are not designed for stovetop use and tend to be more fragile than porcelain or ceramic. Ceramic sets are available in a host of colours and designs. Stainless steel and other metalware tea sets are durable and affordable, though these sets often lack the intricate details that make silver sets so desirable.
Know What Components Are Included in a Tea Set
Many tea services are simple three or four-piece sets. Others are expansive dining sets that include serving pieces and individual place settings. Buyers can find a number of tea sets, both small and large, on eBay. The size of the set is a matter of taste preference, but shoppers may also want to consider the amount of storage in their homes if considering a large set.
The table below outlines some of the most common components found in vintage tea sets. These pieces vary according to the type of service and period in which it was made.
| | |
| --- | --- |
| Component | Purpose |
| Teapot | The vessel used to brew the tea before it is poured. |
| Hot Water Pot | Holds hot water until it is ready to be poured into the teapot; these pots often have some type of burner or heating element incorporated. |
| Tray | Used to store and carry the tea set and catch any drips during pouring. |
| Milk Jug/Creamer | Holds cream or milk and allows easy pouring. |
| Sugar Bowl | Used to hold and serve the sugar. |
| Tea Caddy | Stores dry tea leaves until ready to be brewed. |
| Waste Bowl | Used tea leaves are deposited in the waste bowl before a new pot is brewed. |
| Tool Kit | Included in many Chinese Yixing sets; tools include a digger, a brush, a shuffle, a funnel, a needle, tongs, and a vase. |
| Sieve | Catches any tea leaves that may escape during pouring. |
Shoppers should keep in mind that some sets include cups and saucers, while many do not. Also, traditional English tea sets do not have as many components as Chinese Yixing sets, as Eastern tea rituals are more elaborate than English.
Buying Vintage Tea Sets on eBay
There are thousands of vintage tea sets for sale on eBay. Shoppers have their choice of silver, porcelain, pottery, glass, or stoneware. There are even a number of vintage pewter, copper, and stainless steel tea sets available. Once buyers know which type of tea set they desire, eBay makes it simple to search for and find the right item.
To begin a search for a vintage tea set, consumers need only enter their search terms in the search box, found on any eBay page. Simply type the words " vintage silver tea set" into the box to return all the current listings on eBay that match that query. Results can be narrowed using a number of provided filters. Shoppers can sort items by product, maker, or composition. Additionally, listings can be filtered according condition, price, or item location.
Consumers can shop with peace of mind knowing eBay has several helpful features designed to take the guesswork out of making a purchase. The Seller Feedback feature gives buyers who have worked with a seller the chance to leave ratings and comments based on their experiences. Ask a Question lets buyers contact a seller with questions about product before purchasing it.
Conclusion
Drinking tea is a time-honoured tradition spanning many cultures and countless generations. Originally credited to the Chinese Han Dynasty, the ritual of afternoon tea was introduced to Europe in the 1600's and was quickly adopted by the wealthy as part of their daily routine. Over time, the designs and materials of tea sets have changed somewhat, but overall the basic pieces remain quite similar to ones from centuries ago.
Consumers looking for vintage tea sets can navigate to eBay to find an extensive inventory of items. Tea sets made from porcelain, fine china, silver, or stainless steel are available in a host of styles and sizes. Shoppers need to select not only the type and style of vintage tea set they want, but should consider the number of pieces in the set as well as the age and condition.
Buyers also need to consider budget when shopping for vintage tea sets, as there is a huge range in prices. Inexpensive stainless steel or ceramic vintage tea sets often have a charm and appeal not found in modern sets. And although tea sets made from fine china or silver tend to be quite costly, these items are beautiful and lasting, and can be passed down to future generations.