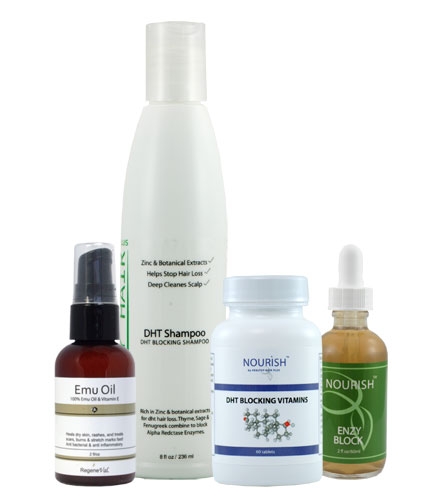 The constant worry around hair loss for some people has led to the emergence of many products and methods to prevent or slow down this process. Although some women experience a loss of hair, it is predominantly men who grow up with this potential problem. Because of this, companies looking to take advantage of people's hair concerns have produced many items.
Taking vitamins and supplements is one method commonly used by many people to treat the symptoms of hair loss. A whole host of natural remedies have found their way onto the market, all claiming to be the most effective in what they do. This guide will look at how to go about searching out some of these vitamins and supplements and give assistance in how to buy them, specifically looking at auction website eBay.
Vitamins and Supplements
Vitamins are defined as organic substances, which are essential for the human body to grow and remain active. Supplements on the other hand are additional subsidies of nutritional goods that can be added to the body, for example, such things as minerals and amino acids as well as vitamins.
The various kinds of vitamins and supplements used to support hair growth can have technical medicinal names that are complicated for some consumers to get their head around. Further research is needed to evaluate them all.
Vitamins
The table below looks at the main groups of vitamins and how they can be associated with hair loss. They can be obtained from natural sources and by eating simple, organic foods as well.
| Vitamin Group | Description |
| --- | --- |
| A | Vitamin A produces sebum,, a gland that lubricates the hair and prevents it from becoming dry and oily. A lack of moisture during the hair's growth process makes it an undesirable environment to thrive in and can cause a serious decline in hairs generating. |
| B | For a constant supply of oxygen to the hair, which maintains growth, Vitamin B and Vitamin B12 in particular are important. It contains haemoglobin, which helps carry oxygen around the blood. |
| C | Vitamin C can help prevent hair loss because it helps develop collagen – the main component of connective tissues in the human body. It also acts as an anti-oxidant, which helps hair follicles to produce. |
| E | Vitamin E helps with the blood circulation to the scalp, keeping it healthy and providing a desirable environment for hair follicles to grow. It also assists with the immune system, giving the body a fresher feel and thus adding that shine to hair, which is associated with a healthy look. |
Supplements
Some people like to take supplements as part of their daily routine as a way of making sure they are receiving the correct vitamins and minerals in their diet. In terms of hair loss, the table below highlights some of the main supplements that people take who are concerned about the issue.
| Supplement Type | Description |
| --- | --- |
| Sileca | Sileca is one of the most important and widely used supplements that supports hair growth, amongst having other positive benefits for the body. If used in the right amounts, it is reported to increase the thickness of hair and its elasticity. |
| Zinc | Another common vitamin supplement associated with hair loss prevention is zinc.. It assists the relevant tissues associated with hair growth to flourish and also helps keep the scalp free from dandruff. |
| Biotin | Biotin is needed for cell growth and a lack of it in the body can lead to hair loss. It is a vitamin B supplement and helps to convert calories into energy, leading to a healthier scalp and retention of hairs. |
| Iron | Some doctors have linked a loss of hair with an iron deficiency in the body. Although this isn't the singular deciding factor in hair loss, it is a common factor for those suffering from it. There are plenty of iron supplements available to buy on the market. |
Brands
Although individual types of vitamins and supplements can be purchased to assist with hair replenishment, there are leading brands that produce all-in-one products to make life easier for consumers. Manufacturers such as Viviscal,, Regaine and Nanogen have all released hair loss products which many people choose to take on a regular basis.
Do They Work?
There are conflicting views when it comes to hair loss, with various opinions applied to the benefits of vitamins and supplements. Some experts believe that they don't work at all and that either hereditary genes or sheer bad luck plays its part more than anything.
It is true however that an unhealthy lifestyle and a lack of the correct foods can contribute to hair loss and taking the correct vitamins or supplements can help with this. Think of what you eat on a daily basis and if any of the major food types or vitamin groups that are missing from your diet can be replaced by the relevant supplements.
Because many people across the world worry about hair loss, scaremongering tactics are often used by rogue companies to influence people to buy their products. Do as much research as possible online, preferably from other customers who have had first-hand experience of using the particular product.
Safety Concerns
One worry about the instant availability of certain vitamins and supplements either online or in store is that some people do not understand the correct dosages to take, or if they are needed at all in the first place. Taking too many products in the hope it will cure your hair loss in the short term is a risky and sometimes dangerous tactic.
Before any vitamins or supplements for hair loss are taken, it is advisable to contact your doctor or do as much research online as possible. If a decision has been made to try out some of these products to help maintain a healthy lifestyle, then buying initially in small doses is advisable.
Although the benefits of vitamins and supplements are contested and unclear, leading a healthy lifestyle with the right diet can contribute to hair loss prevention. The next section will look at how to go about finding out some of the most relevant substances in relation to searching and shopping on eBay.
Using eBay to Buy Vitamins and Supplements for Hair Loss
Due to the constant and universal fear of hair loss, there are many products available on the market to meet the demand. eBay is one website which has plenty of vitamins and supplements listed to cater the UK market, many of which can be found for knockdown prices.
Searching on eBay is quickest when using the keyword search bar located towards the top of any eBay page. Typing in a term such as 'vitamins hair loss' or 'supplements hair loss' will bring up many listings on the results page. Knowing the exact type or brand of hair loss vitamins to buy, such as 'Nanogen hair loss' products, will also help greatly during the search process.
When a general search has been performed then it may be desirable to narrow down the listings by using the menu on the left-hand side of the page. Selecting the 'Vitamins and Supplements' category will produce many relevant results, as will narrowing it down to the 'Hair Care and Styling Tools' subcategory. Entering a word or term into the search bar will also bring up a more refined list.
Other refinements that can be made are found on the 'advanced' search page. Such aspects to choose between include the condition of the item (although buying vitamins and supplements should really all be brand new) and the price.
If looking to buy individual packs of vitamins or supplement tablets it shouldn't really break the bank and most can be found for under £10. Long-term users of these pills should look at ways to purchase a decent supply to save money and hassle in the future. For example, look at buying in bulk from the same seller to save postage costs.
Many pharmaceutical outlets will use eBay to sell their hair loss products. Because of this, a more professional description should be portrayed in the item's description, detailing all of the minerals and ingredients included in vitamin or supplement supply. Review this description carefully before committing to the purchase.
eBay allows users to ask questions about anything to the seller. If unsure about any part of the transaction, in particular the benefits and potential effects of the tablets, then feel free to contact the relevant seller about any query.
To avoid fraudulent or unreliable sellers, particularly appropriate when dealing with buying medicinal substances online, then check out their history using eBay. Look out for their feedback rating and any positive/negative comments that other members have left about them. If any concerns arise then look for alternative sellers that may be selling the same product, even if they are slightly more expensive.
Conclusion
The most important thing to do when considering whether to buy hair loss vitamins and supplement is to do as much research from as many sources as possible, in regards their potential benefits or negative consequences. Look at the range of supplements available in relation to your diet and consider which ones will have a positive effect on your lifestyle, and thus the health of your hair.
Many outlets will stock these sorts of hair products, but one of the most efficient places to shop is eBay, a site that offers many different vitamins and supplements to assist with hair growth.