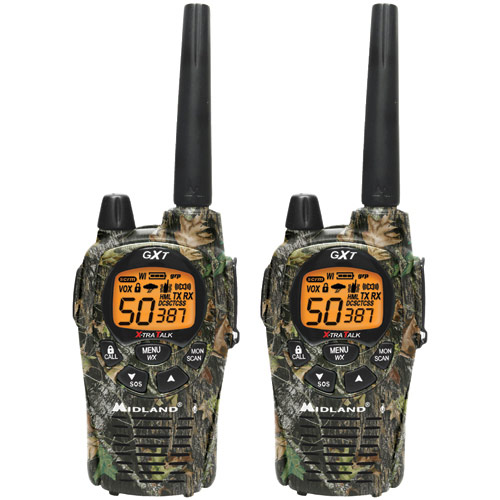 A walkie talkie is a portable radio transceiver that is small enough to be handheld. First developed for military use during wartime, walkie talkies can be found in a range of quality and functions as simple as children's toys or as complex as commercial quality units for police officers. Consumer walkie talkies are generally made to be small and lightweight, making them useful for situations where a cell phone use may not be possible. Waterproof walkie talkies are more robust than regular walkie talkies and are made for use on boats or other outdoor environments.
Waterproof walkie talkies come in a range of features and options. Before purchasing waterproof walkie talkies on eBay, consumers need to understand the types of features that are useful for the walkie talkies' intended use, such as buoyancy or colour, but also the difference between waterproof and water resistant devices. These features, combined with the others available, can help a consumer make the right decision for their needs.
Understand Licensing Requirements
Before considering the features of waterproof walkie talkies,, consumers should understand licensing requirements in the UK. Walkie talkies that are low powered, usually called PMR446 radios, do not need to be licensed. PMR446 walkie talkies have a maximum range of just over three kilometres, depending on the terrain and weather conditions. They are powerful enough for line-of-sight outdoor activities and communications within the same building or a small site. However, walkie talkies with a greater power output require a licence from the Office of Communications in the UK. The seller of higher powered walkie talkies should be able to give some guidance as to license requirements; however, consumers need to check with local authorities as well before heading to eBay for a purchase.
Choose the Right Features
Features included in waterproof walkie talkies can vary according to brand and model. General features include channels, range, and type of batteries. In addition, consumers should pay attention to the waterproof or water resistant claims as well as the weather channels available, particularly when purchasing waterproof walkie talkies for sailing or other marine activities. Finally, some waterproof walkie talkies available on eBay have very specific features such as GPS location or distress signals for use in an accident. If these features are not listed in product's description on eBay, one should contact the seller to find out if they are available because they are not standard for all walkie talkies.
Waterproof or Water Resistant Walkie Talkies
Consumers looking for waterproof walkie talkies on eBay should ensure that the product they are considering is actually waterproof rather than water resistant. Water resistant walkie talkies repel water, but may not survive being submerged. Waterproof walkie talkies should withstand a submersion. Some waterproof walkie talkies also list a length of time they can be submerged, for example up to 30 minutes. Consumers may also find on eBay walkie talkies listed as weatherproof. They should know that weatherproof walkie talkies are water resistant, not waterproof.
Buoyancy
The buoyancy of a waterproof walkie talkie is a useful feature to understand when using the device for sailing or other marine activities. If the waterproof walkie talkie can float in the water, it is more readily retrievable in case of an accident. When buying walkie talkies on eBay,, consumers should read the full item description to find out about the buoyancy of the device or contact the seller if the description of the product does not include 'the device is buoyant' or simply 'floats on water'.
Colour
While the colour of a waterproof walkie talkie may not make much difference to some consumers, those interested in using the device whilst sailing or otherwise around water may wish to consider something bright and easily spotted. Waterproof walkie talkies can come in black, blue, or bright yellow as well as other colours. A device that is brightly coloured is more readily spotted when dropped in the water, so anyone interested in this feature should look for coloured waterproof walkie talkies on eBay.
Number of Channels
Channels are the radio frequencies that are available for communication. All waterproof walkie talkies have a certain number of channels available; it is up to the users to agree on a channel for communications. Analogue PMR446 radios have eight channels available for communication. On the other hand, digital PMR446 radios have 16 channels. Another type of short range radios available in the UK are LPD433 radios, which have up to 69 channels.
Range
The range of a waterproof walkie talkie depends heavily on the conditions under which it is used. The weather, landscape, and type of buildings or other obstructions can affect the distance at which communications are possible. In addition, the quality of the radio antenna and the power of the transmissions and reception impact the range of the devices. While the power of the transmissions is generally set to comply with the PMR446 or the LPD433 regulations, consumers should take note of this information when shopping on eBay. Generally, devices that are stronger than the licence-free short range walkie talkies are available.
Squelch
Squelch is a feature of most two-way radios, including walkie talkies. This feature monitors the signal strength. When the signal drops below a certain level, the sound is automatically muted. Many waterproof walkie talkies sold on eBay come with auto squelch features. This feature reduces the possibility of static or white noise being heard when no communications are being made.
Batteries
Although many waterproof walkie talkies available on eBay come with rechargeable battery packs, some may also take standard size batteries. Consumers should verify the type of battery needed as well as the expected life of the batteries or battery pack between charges to ensure a walkie talkie meets their needs before making a purchase on eBay. These details are generally included in the product description on eBay.
Display Options
Some waterproof walkie talkies on eBay can come with backlit displays. Backlit displays allow the user to see the information on the display more readily in low light conditions. Another display option is related to the size of the numbers. Users should inspect photos of the display carefully to ensure the information can be easily read.
Weather Alerts
If a waterproof walkie talkie is intended to be used for sailing or another weather-dependent activity, access to channels with weather alerts can be useful. Consumers should verify that the walkie talkie can access local weather alert channels. This feature is not always listed in the product specifications on eBay, but buyers can contact the seller to ask for more information.
Emergency Features
Some waterproof walkie talkies come with GPS-enabled locators and even distress signals. These features may not be helpful for mundane uses such as docking a boat. However, some consumers may find these features of interest if looking for a waterproof walkie talkie for skiing or other outdoor adventure activity. These features are not common on all waterproof walkie talkies, so consumers need to inspect item descriptions carefully for details. Generally, more expensive walkie talkies sold on eBay have this feature, but even some budget walkie talkies from reputable brands include it.
Buying Waterproof Walkie Talkies on eBay
Waterproof walkie talkies are readily available on eBay and consumers can choose from a broad selection of models and styles. In order to find waterproof walkie talkies on eBay, you can start by searching for the term 'waterproof walkie talkie' from the search box at the top of any page. Alternatively, you can search for 'two-way radios' and then browse the result list to find waterproof devices. If you already know the brand you want or other details, you can narrow your search accordingly.
Once you have a list of all waterproof walkie talkies sold on eBay,, you can review the products for price and functions. The item description in each listing should have all of the information you require to make a decision on the product, including features such as range, if the walkie talkie withstands submersion in water, and the type of batteries required. If the description is missing any information, you can always contact the seller. Some devices may be sold by local eBay sellers, but others may only be available from international sellers. If you choose to buy from international sellers, check the shipping fees and any custom taxes that you may be liable for before making a purchase.
Conclusion
Waterproof walkie talkies are useful for many different activities and environments. A waterproof walkie talkie can be useful in many outdoor activities, whether sailing or skiing or simply needing to communicate whilst hiking in rainy weather. In order to make the best purchasing decision, buyers need to consider several things when shopping for waterproof walkie talkies on eBay.
First, buyers need to understand the difference between the term waterproof and water resistant. A water resistant walkie talkie may be less expensive than a waterproof one, but it may not survive a submersion in a lake, for example. A waterproof walkie talkie should also be a brightly coloured device. Since waterproof walkie talkies are generally used for outdoors activities, a bright colour helps keep track of the device and aid in retrieval if it is dropped. Finally, if a waterproof walkie talkie is intended for use around large bodies of water, finding one that is buoyant is a key consideration for users. Regardless of the type of waterproof walkie talkie best suits the needs of the buyer, there is a wide range of devices and prices to choose from on eBay..