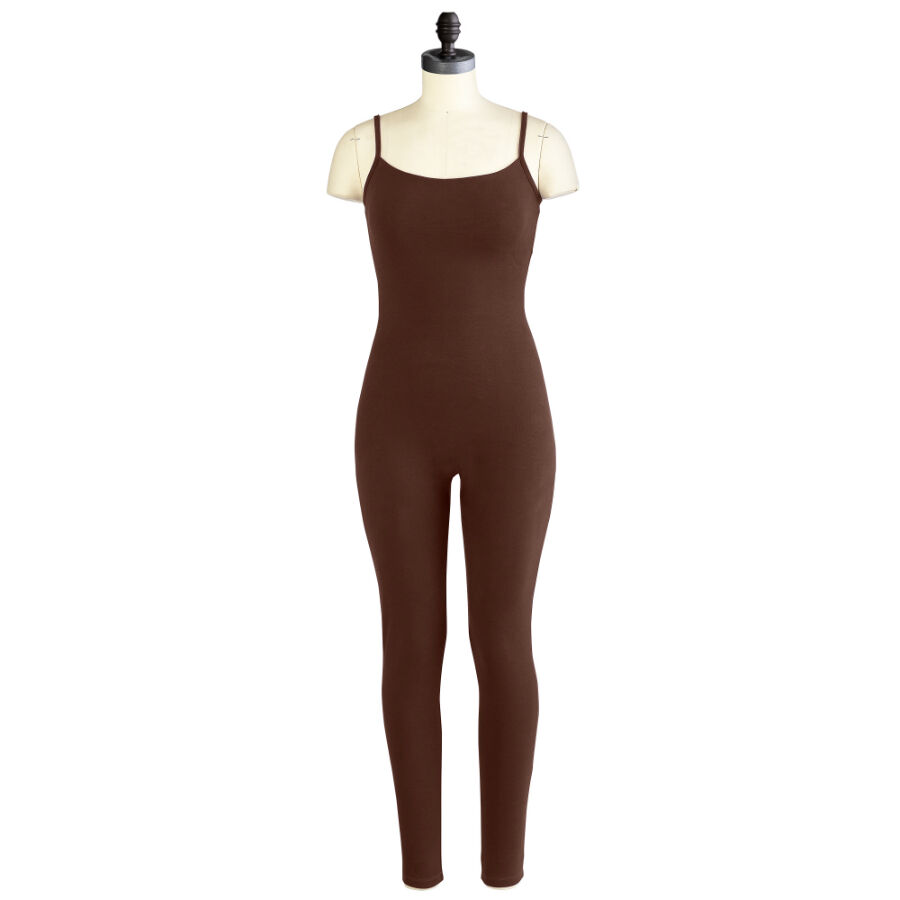 A unitard is a one-piece, skin-tight garment that covers the torso and legs. These garments are used by male and female athletes and performers of all ages. Their simple design allows for complete movement of the body without having excessive frills and decorations. Unitard wearers can tumble, jump, and stretch while having ample support and nothing to inhibit their movements. This type of support and freedom allows wearers to focus completely on their movements and performance.
To get the most out of a unitard, it is important for shoppers to choose one that fits properly and is comfortable. Women who have never worn or used a unitard should be sure that they understand what a unitard is used for and what its benefits are. After deciding that this is the right garment to meet their needs, shoppers can determine which type of unitard will work best and then shop for one that offers the right quality, style, and fit. eBay is a large online marketplace that offers a wide selection of unitards to meet any woman's fitness and athletic needs.
Unitards vs. Leotards
Unitards and leotards are very similar, which is why many people confuse the two. There are some slight differences in their appearance and uses though. Both garments are one-piece stretchy suits that are used for fitness, athletic, or dance purposes. Both unitards and leotards can have long sleeves, three-quarter sleeves, short sleeves, or no sleeves. The difference lies primarily in the legs. Leotards can have short leg coverings at the top of the thighs or they might be high cut like a swimsuit. Unitards completely cover the legs. Sometimes a unitard only covers the thighs, but these are more commonly referred to as biketards because they are a combination of bike shorts and a leotard.
Unitard Uses
Unitards are used by athletes and performers who need clothing that provides complete body coverage, but does not impede movements. Dancers, gymnasts, acrobats, and figure skaters all wear unitards when working out, practising and competing. Flesh-coloured or nude unitards are used to create the illusion of a nude figure or to hide a unitard under another costume. This is commonly seen in female figure skaters who wear flesh-coloured unitards under their costumes to keep their legs and bodies warm. In dance, a unitard creates a simple silhouette of the figure so that the costume does not distract the audience from the performance.
How to Choose a Unitard
Choosing the right unitard is important to ensure that the shopper gets the most for her money. Unitards are form-fitting outfits that have to withstand rigorous movements. This means that they not only have to be attractive and flattering, but they also must be durable enough to withstand heavy use. When choosing a unitard, shoppers must examine the quality, appearance, and fit of all unitards prior to purchase.
Quality Materials
Quality is the most important characteristic when shopping for a women's unitard. The garment needs to use high-quality materials that can withstand all of the wear and tear placed on them from athletic movements. Shoppers should look for unitards that are composed of Lycra and cotton blends. These fabrics offer the greatest support and stretchability, but they are also very easy to maintain. Some unitards are made from velour or microfibre fabrics that are extremely lightweight and soft to the touch. While they have an attractive appearance and comfortable feel, they must usually be hand washed to prevent shrinkage and fading.
The Unitard's Appearance
The appearance of the unitard is another important factor. A simple design is ideal for regular workouts and exercises. A more decorative unitard can be used for performances and competitions. When shopping for a unitard, a woman should be sure that she has chosen one that fits within the dress code of the competition or when performing in a group, the unitard should go along with the rest of the outfits being worn by other members. A shopper should be sure to check with the instructor, coach, or event coordinator for any dress code restrictions for unitards prior to a purchase.
When shopping for a unitard in the store, it should not be judged based on its appearance while hanging on a hanger. Even though it may not look like a flattering design hanging up, when stretched around the curves of the figure, it can take on a whole new look. It is important for shoppers to try on the unitard prior to purchase to get a better look at its design.
The Fit of the Unitard
Unless the shopper has worn several unitards and is sure of the proper size, it is likely that she'll need to try on the unitard to make sure that it is the correct fit. Unitards should fit perfectly and not be uncomfortable in any way. They should not be too loose or too tight and should hug the figure closely. Some unitards may have adjustable straps to adjust the fit as needed. If the unitard fits but the straps are too loose, then tying the straps together in the back with a ribbon or rubber band works to provide a more secure fit.
Sizes
Unitards are usually sized from extra small to extra large with custom sizes available as needed. Because unitards are made from stretchy fabric, they are able to accommodate a wide range of body shapes within just a few sizes. If the shopper seems to be between sizes, she should opt for the unitard that is slightly larger. It is more likely that the unitard will shrink slightly to accommodate her size than it is for a unitard that is too small to stretch to the appropriate size. Additionally, a unitard that is too small will rub and irritate the skin or inhibit movement.
Types of Unitards
When shopping for a unitard, it is important to evaluate the different types to determine which one would be the best choice. While all unitards cover the torso and the legs, different designs offer more or less foot coverage than others. While the designs of the sleeves and the neck are chosen based on appearance, unitards with feet, stirrups, or no feet have specific purposes. While all of them are chosen based on personal preference, some might work better to provide extra comfort and security than others.
No Feet
Unitards with no feet leave the feet completely uncovered so that the woman can comfortably wear any shoes or foot coverings. These types of unitards are also more comfortable for women who perform in bare feet. Leaving the feet uncovered also allows them to breathe.
Stirrups
Unitards with stirrups have a strap at the bottom of the leg. The strap loops around the bottom of the foot for added security. It keeps the legs of the unitard from sliding up when the wearer is moving around. Socks and shoes can be worn over the stirrup to conceal the strap. Stirrup unitards provide security but still allows the feet to breathe.
Covered Feet
Unitards with covered feet have sock-like extensions at the end of each leg. These provide uniform coverage over the entire body from torso to toes. When wearing a solid-coloured unitard, having one that covers the feet distributes the colour evenly over the whole body. The downside to this type of unitard is that it can be hard to get a good grip on a surface.
How to Find Unitards on eBay
Performing a keyword search is the quickest way to find a specific item. If you know the brand, size, colour, or type of unitard that you would like to purchase, then you can use keywords to describe the item and search for it directly. If you are looking for a black unitard that has stirrups, then type "black stirrup unitard" into the search box to find any listings that match this description. A smaller list is easier to sort through to find what you're looking for. To hone your search, you can select and deselect particular search filters. You can sort the results page by type and what activity the unitard is suitable for. Click on each listing to view pictures and read a description to see if it meets your needs. If you need more information to help you make a purchasing decision, you can contact the seller by going into their member profile and clicking on the contact link.
Conclusion
Unitards are a popular garment worn by performers and athletes who need comfortable clothing that provides support and allows for free range of motion. Unitards are commonly made from a stretchy fabric that hugs closely to all of the curves of the body. While they may differ in design when it comes to sleeves and foot coverings, all unitards cover the torso and the legs of the wearer. Women who have never worn a unitard might have trouble deciding if this is the right garment for them. Prior to shopping they'll need to learn about the uses of a unitard as well as the benefits of wearing one. When shopping for a unitard they'll need to evaluate the various types and then choose one that provides the right quality, appearance, and fit for their needs. Whether looking for a plain unitard to wear for workouts or a decorative and stylish unitard for a performance, shoppers will find huge selection of unitards on eBay.