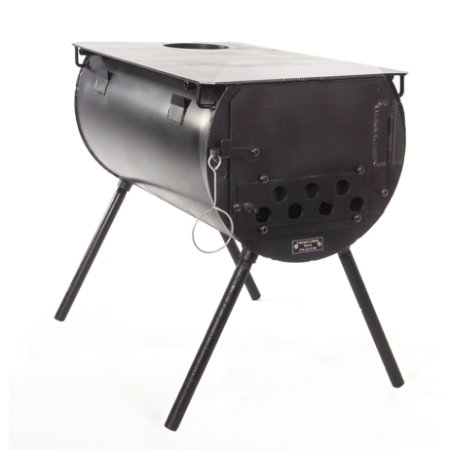 Usually a cylinder shape, camping stoves are portable stoves designed to be lightweight and easily transportable. Great for camping, picnicking, backpacking and the like, camping stoves are ideal both for cooking and keeping warm. They can be used for cooking food whilst on a camping trip, for catering needs at a party, used as a barbeque,, or simply to keep a patio warm of an evening.
Camping Stoves usually come with a temperature control to help cook food quickly. There are advantages to both wood and gas camping stoves, but one of these types may be more suitable for you than the other. This guide will explain the easiest ways to search for and purchase a wood or gas camping stove that suits you.
Types of Camping Stoves
When looking to buy a wood or gas camping stove, it is important to consider the advantage of each one; it is likely that one of the types will be more suitable.
Type of Stove


Advantages

Wood Camping Stove

Adding a natural feel to a camping experience, the wood camping stove is fuelled by firewood or forest debris. This is particularly ideal for back packing or camping trips because the fuel is readily available on site with no need to carry anything extra.
This is the cheaper of the stove types because the natural wood and forest debris is free. This material is available anywhere in the world meaning there are no concerns about ordering or carrying enough. There is also no risk of any toxic spillages or leaks.

Gas Camping Stove

Gas camping stoves take different types of fuel. Readily available white gas is popular due to its large output of heat. If spilled anywhere, colourless white gas is quick to evaporate. Propane is also used in gas camping stoves. More expensive than other fuels, it is known for working well in very cold temperatures and is available in large refillable cartons. A gas camping stove means the flexibility of settling anywhere, as the fuel is with you. Whether or not wood or forest debris is near is not a concern.
Characteristics of a Camping Stove
Shape and Material
The shape of a camping stove varies according to its type and size. Most stoves are a cylindrical shape with some holes in the sides to allow for air ventilation. Camping stoves are normally made from simple metal..
Size
Stoves are usually conveniently small, light and portable which is ideal for camping or back packing trips. Stoves that take up a lot of storage room will be less convenient when carrying around other large items, such as tent poles and rucksacks. If the camping stove is required primarily for catering or standstill barbeques, larger stoves are also available on eBay.
Colour
Camping stoves are most commonly black or silver, but are also available online in a range of different colours to suit personal taste.
Maintenance
Properly maintaining the camping stove is extremely important. Not only is it a safety issue, it will also mean that the stove stays in a good condition and lasts for longer. The cleaning method varies according to the type of stove. Generally the stove needs to be gently taken apart, cleaned and laid out to dry on a clean cloth. Always consult the manual before taking the product apart to avoid damage or loss.
What to Consider When Buying a Camping Stove
Before purchasing a camping stove, it is important to consider a few factors, such as:
What type of camping stove would be the most suitable? If travelling with a large family and lots of luggage, perhaps a wood camping stove would be appropriate since there would be no need to carry any fuel. Alternatively, a gas camping stove would be suitable if you are unsure that there will be wood or forest debris available at the camping location.
If a gas camping stove is preferable, which type of gas should be used? There are a few different types available, however. the most common gases used are white gas and propane. White gas generates more heat than propane, but propane works better in cold temperatures. Consider what the stove is needed for and where it will be used.
How often will the camping stove be used? If it will be used regularly it will need to be frequently cleaned to ensure that it remains safe to use and works to the best of its ability. It might be useful to take a suitable cleaning agent with you for the stove if it will be used often and the trip is long.
What size should the camping stove be? Most stoves are small and portable to suit back packing and camping trips. Some larger sizes are also available on eBay to suit the needs of barbeques and other catering activities.
When using the Internet to search for the ideal camping stove, get a price range in mind. Consider the how much money you would be happy to pay for the right stove. There is a price preference option on the left hand side of the page, which allows the customer to choose the desired price range, and in doing so filters the search list accordingly.
What colour should the camping stove be? Black and silver are the most common colours. However, there is a range of other interesting colours available online.
What condition should the wood or gas camping stove be in? Remember that providing the stove works properly, is not damaged and can be cleaned, there is no reason not to buy it second-hand at a more affordable price.
Buying Wood or Gas Camping Stoves on eBay
The easiest way to search for and purchase a wood or gas camping stove is by going online. Browse the Internet to discover the brands and products available. The next stage is to narrow down the findings and the quickest way to do this is eBay.
Simply visit the eBay homepage and type the desired product in to the search bar at the top of the page. Preference options are available on the left hand side of the page; using these allows eBay to bring forward the right products. For example, if only used products are required, simply tick the 'Used' box to filter the search accordingly.
| Preference Option | Explanation |
| --- | --- |
| Price Range | Use the price range bar to choose the desired price range. For example, if a camping stove between ten to thirty pounds is required, move the bars to indicate this. |
| Condition | Choose whether the item should be new or used. Remember that providing it works properly, is not damaged and can be cleaned, buying a used stove is a more affordable option. |
| Category of the Item | Wood or gas camping stoves are in the category of Sporting Goods and the Subcategory of Camping.. |
| Item's Location | This is for the purpose of delivery. Choose the desired location by selecting 'European Union' or 'UK only&', for example. |
| Delivery | Choose from convenient delivery services such as free postage and packaging or the quicker express delivery.. |
| Sale Format | The camping stove can be bought either as a bidding item, an auctioned item or in a 'Buy It Now &' sale. |
Further information on particular wood or gas stoves can be found on the item's product page. Simply click on the desired product to be directed. The wide range of wood and gas camping stoves available on eBay is advantageous because it allows for customers to browse the Internet to get an idea of the type required before using eBay to filter the search according to personal preferences. It is a quick and easy way to find the perfect camping stove.
eBay Safety Considerations
There are a few safety considerations to take in to account when buying a camping stove from eBay. Be sure to check that the seller has positive feedback from previous customers who confirm the seller's good service. If there does happen to be any negative feedback, find out why and how the problem was solved. Never hesitate to ask the seller any questions regarding the product.
This can be done simply by visiting the item's product page; scroll to the bottom of the page and enter the question in to the box provided. Before doing so, have a look at the previous questions and answers which have been posted about this seller and product. This ensures that your question has not already been answered and is also a source of other useful information. Remember that there is also a Customer Support service if you have any further queries.
Conclusion
Wood and gas camping stoves both have their advantages, but it is likely that one will be more suitable for you than the other. Both stoves are vital pieces of camping and back packing equipment, especially for long trips. Alternatively, wood and gas stoves are also available on eBay in larger sizes to account for catering and barbeque needs. When buying a camping stove,, consider whether you will have enough room to carry some light fuel, or as a cheaper option, whether the camping location will have plenty of wood and forest debris to use instead.
Remember that you could always visit other websites to get an idea of types and price ranges before returning to eBay to filter the options and make a decision. When it is time to make a purchase, take a moment to look at the terms and conditions before making a secure payment with PayPal.