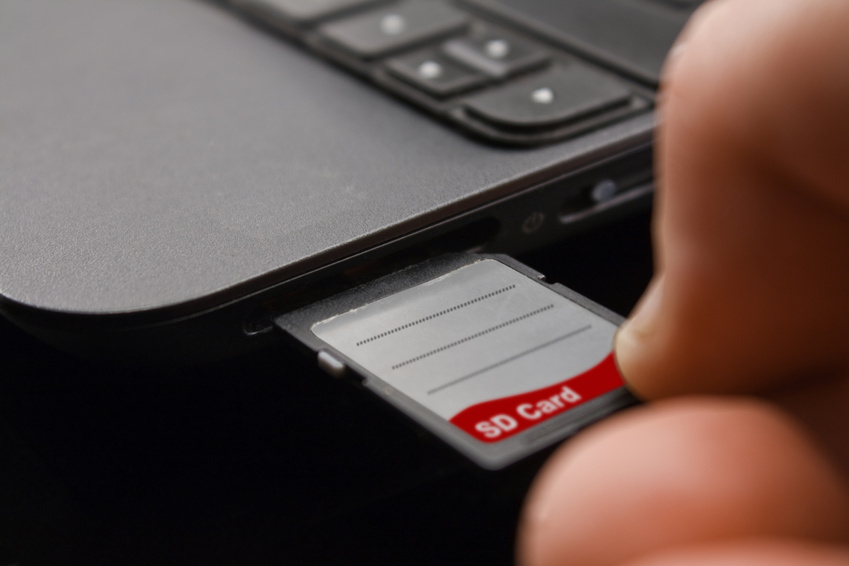 No longer in production, the 2 GB SD Card is still essential for many devices people own. Many new devices are also backwards compatible, so this little workhorse is still a valuable data storage tool. These memory cards come in three physical sizes and run at six rated speeds to best operate in different devices.
Physical Size

SD cards are available in three sizes. The original 32mm by 24mm size is common for digital cameras and video cameras. A 21.5mm by 20mm mini SD card developed for mobile phones also works in some cameras, handheld computers, and other small devices. An 11mm by 15mm micro card is for cell phones, some cameras, portable audio and video players, and portable GPS devices. Available micro SD adapters make it possible to use smaller cards in larger slots, but full-size cards usually run faster. The primary use of these adapters is transferring data from a device that uses a 2 GB micro SD card to a printer or other device that only has an SD card slot.
SD Card Speed Ratings

Speed ratings are most important for capturing video and multi-burst still images. The SD Card Association's speed ratings for SD cards list the speed class using a C or a U. This designates the minimum speed at which the card is able to continuously write video data.
C2: at least 2MBps
C4: at least 4MBps
C6: at least 6MBps
C8: at least 8MBps
C10: at least 10MBps
U1: at least 10MBps
Practically speaking, U1 technology may not work in devices not designed for U1 because some pins are new or reassigned.
Using Older Cards in Newer Cameras
A good feature of SD technology is that it is backwards compatible, so a new camera designed for new SDXC U1 cards also works with SD or SDHC cards of any class. Likewise, a device designed for SDHC cards also takes SD cards. The reverse is not true, however, and an older device reformats an SDXC card. When using an SD card with newer technology, the device may place heavy demands on the card. Shooting still photos with no rush to write them is different than attempting to record video. For that, an SD card with the appropriate write speed is necessary.
Specific SD Cards
Many SD cards work in multiple brands of equipment. Panasonic 2 GB SD cards are widely compatible, as are cards from Transcend and Fuji. However, a 2 GB SD Card for the Wii is for Wii games specifically, and the PSP 2 GB memory card also uses proprietary technology. Other than the existing exceptions, most cards that match the speed and other requirements of a device work fine.