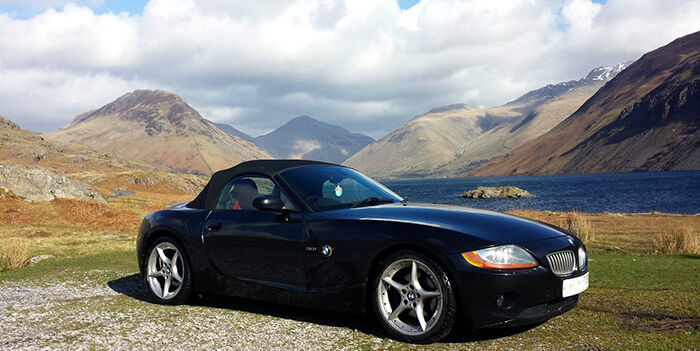 The sports car of choice for many lovers of European elegance is the BMW Z4. Heavy German styling often gives the BMW a bulky appearance, but their sports range is considerably more slick. Although a very modern car in terms of what it provides driver and passenger, it also evokes a strong 1960s sense of style reminiscent of the old sports Jaguar. Whilst famous for their plush interiors and many accessories, BMWs are most noted for their high manufacturing and performance standards. The BMW Z4 combines all these elements into its package of comfort mixed with its thrilling sports ride. The nifty power of the 3.0 litre 265 brake horsepower Z4, for example, provides truly memorable driving.
Replacement parts for the BMW Z4 are quite expensive, regardless of how the parts are sought. When choosing a second hand BMW Z4 on eBay, there are several points a customer should consider to avoid later disappointment, including a thorough check to ensure the car has a well maintained service history.
BMW Z4 Engine Types
There are quite a few models within the BMW Z4 series. Reflected in the Z4 scope are the three main formats comprising the coupe,roadster and sports/convertibles. Each Z4 model is well represented on eBay, with many listings of each of the more popular models. BMW Z4 coupes and roadsters are available in the following engine types: 2.0 litre 150 bhp, 2.2 litre 170 bhp, 2.5 litre 177 bhp, 2.5 litre 192 bhp, 2.5 litre 218 bhp, 3.0 litre 231 bhp, 3.0 litre 265 bhp, and the 3.2 litre 338 bhp.
Whilst the Z3 series was a little slow off the mark for a sports car, the Z4 displays none of its predecessor's characteristics when it comes to power. BMW planted an inline six cylinder into virtually every one of their Z4 models, which was instantly approved by sports enthusiasts. An exception was a 150 bhp four cylinder introduced in 2005, and a high performing four cylinder released in 2012. Below are listed some of the more notable features of the BMW Z4 in coupé, roadster and sports/convertible formats.
Style
The Z4 series is the main culprit behind the classic retro styling. Although the later models have retained the long bonnet design, they have let go of former roundedness in favour of a more angular shape. Exact style features vary somewhat between the different models within the Z4 series, the pre 2009 models displaying a classic rather than modern appearance. On the other hand, some models have a distinctly modern touch, such as the 2012 Z4 20i sDrive M Sport . Roomier interiors and more control options are just a couple of the additional benefits in all Z4 models, although especially apparent in the sports editions. Roof types vary within the Z4 range, and depending on whether a sports edition, convertible, coupé or roadster, the roof may be entirely or partly retractable, or solid state. Typically, Z4 models from 2004 to 2006 are often soft tops, with hard tops coming into favour with later models.
Accessories
The BMW Z4 is well appointed with accessories inside the car and particularly on the dashboard. Although some of the models in the series sport a minimalist design, there are many functions known only to luxury models, such as a built-in satellite navigation system, trip computer and automatic, rain-sensing windscreen wipers. The Z4 also displays great comfort features with electric sports seats made from high-grade leather with built-in heaters.
Mechanical Features
The BMW Z4 series represents a great leap forward from their Z3 predecessor in nearly every respect. Although BMW has always been strong on safety, the Z3 was lacklustre for a sports car. The BMW Z4 is somewhat heavier than its predecessor, but has the added advantage of 50-50 weight distribution which gives it tremendous traction on the road. With the additional engine power throughout the entire range, this is a great asset.
Powerful four-wheel disc brakes with independent suspension makes for some incredible handling. The various electronic aids to increase driving performance include dynamic drive control which alters engine calibration to enhance throttle and steering response, plus dynamic stability and traction control.
Choosing the Right Type
To make the right choice in a BMW Z4, a customer should select type according to their personality and lifestyle, as well as their everyday practical requirements. Being a two seater, all models in the Z4 series are perfect for singles and couples, but obviously of no use to families. A customer should think of the car's ability to provide for what they need it to do. The following chart helps summaries some of the differences between the three Z4 formats.
| | | |
| --- | --- | --- |
| Z4 Format | Roof type | Performance |
| Roadster | Hard or soft roof, sometimes removable | Designed for distance travel with sports handling |
| Coupe | Hard roof | Perfect for city or country driving, sports handling |
| Sports/Convertible | Retractable soft or removable hard roof | Designed for sports handling |
The above chart provides only scant information on the three categories of Z4. A customer should enquire as to the exact particulars of each type according to their needs.
What to Look Out For When Selecting a BMW Z4
A second hand car is never perfect. Everyday use sees to that within a matter of months, if not sooner, after leaving the showroom floor. Being able to detect a fault before purchase, however, can at least give the buyer an indication of what they may be up for in the near future.
BMW motors are usually reliable, and a second hand BMW Z4 does not normally present any mechanical risk. However, because BMW parts are expensive to replace, the potential buyer must ensure the car is in sound working condition both mechanically and bodily. To avoid a costly servicing bill, a potential customer should ideally arrange for a mechanic or other qualified person to perform a thorough check of the engine, body, plus the inside and underside of the car. This generally puts to rest any qualms about making the purchase, and equips the buyer with adequate knowledge of the car's condition before parting with their money.
Service History
A customer should not buy a car without a comprehensive service history. This record is the key to placing any confidence in the vehicle's history, and demonstrates that the car has been well maintained.
Car Engine
An engine that runs as though in need of a tune-up with the addition of a rattling noise should be cause for concern. This could point to a problem with the Double Vanos variable valve timing unit. Although not too difficult to replace, it comes with a very hefty price tag.
Car Body
A professional inspection of the body should be carried out by an expert for the possibility of previous unreported trauma. Although high quality body restoration work following an accident can present a car as new from a visual perspective, structural damage is not so easy to hide from the trained eye.
Car Undercarriage
Problems under the car are not always immediately apparent. Before purchase, the same designated professional should inspect the undercarriage of the car for any potential problems with parts such as CV joints, exhaust and mufflers, wheel axles, suspension, differential and gearbox/transmission, and drive shaft. Although not necessarily a deciding factor in making purchase, the specialist mechanic can assess the degree of wear and thereby offer an estimated lifespan for each part.
Interior
A potential buyer should check the interior for unduly worn or torn upholstery, and listen for rattles and squeaks from within the car when test driving. A small degree of this in a second hand car is to be expected, but the potential buyer needs to know that they can live with it.
How to Buy a BMW Z4 on eBay
When you search for a Z4 on eBay, you can enter general information into the search bar, such as " BMW Z4", or enter more specific criteria such as " BMW Z4 2006 Sports ". When you have found a model that interests you, carefully inspect all given information as pertaining to specifications and terms of sale. Save your search and select other potential listings that fulfill your criteria, so that you can make some helpful comparisons.
If possible, look for local listings first, because you should ideally only purchase a car from eBay after first inspecting it in person. However, you should not waste your time with a seller that you do not feel you can trust. Get to know them thoroughly and develop a rapport with them. Before you arrange a personal inspection of the vehicle, find out as much as you can about the seller from their listing page including their reputation on eBay and feedback left by previous customers, including the feedback score.
Conclusion
Irrespective of the buying process the car buyer finds themselves in, eBay is a great place to score an instant bargain or to merely glean some idea of what is available when the time is right. There are many BMW Z4 listings to choose from, and with virtually every model so well represented, a customer should have no trouble in finding their ideal car.
BMW has a prestigious reputation around the world for style, quality and comfort. The Z4 represents their classic sports image that has made it such a popular two-seater around the world. The parts are durable and made to some of the highest manufacturing standards in the industry. Shopping for this car on eBay can save a considerable amount of time and running around, and heeding simple common sense precautions can prevent a lot of unnecessary regret and expense later on.