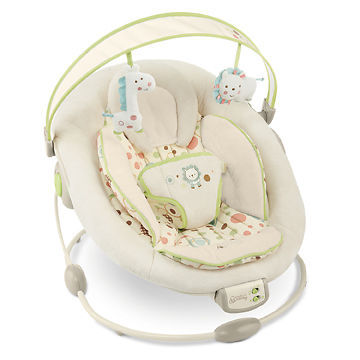 Keeping a baby happy and entertained can be hard work for parents. Baby bouncers are a good option for those who wish to keep a smile on their baby's face without too much effort. These baby accessories come in a wide array of models featuring a large number of features to provide entertainment for babies while keeping them safe. Parents should take several things into account when shopping for baby bouncers on eBay, with safety being the most important of them.
The material, capacity, ease of use, and price are some of the factors one should weigh in prior to purchasing a baby bouncer on eBay. The age of the baby is also something to consider, as not all models are suitable for all ages. By learning more about the functions of a baby bouncer and how to use it correctly, parents can make sure they make the right choice for their baby.
The concept of a baby bouncer is a simple one and the device consists of a flexible metal frame that bounces when the baby moves and a cloth seat that cradles the baby. Different models of baby bouncers available on eBay come with different extra features for soothing or stimulating the baby. Some of the most common are bells and whistles. Most baby bouncer that one can find on eBay are equipped with vibrating units that are battery operated and produce moderate vibrations in order to give the baby a continuous motion.
What to Look For in a Baby Bouncer
Depending on how difficult a baby is and how much buyers are willing to spend, they can choose from different types of baby bouncers. Not all babies succumb instantaneously to the soothing vibrations and sounds of the baby bouncer and for this reason some models provide additional stimulating features. For example, parents may choose a baby bouncer that features a toy bar suspended over the top or attached to the front of the seat.
Functions and Design
Other functions and features parents could be interested in when shopping for a baby bouncer on eBay include protective sun canopies for outdoor use, remote controls, and convertibility. Many models can be folded up easily, thus being suitable for travel. The design of the baby bouncer is also important and these devices come in a wide variety of colours and patterns. Parents can choose to buy a baby bouncer separately or as part of a set, as many manufacturers offer complete lines of baby gear in matching or coordinating prints. Generally, buying bundles of products on eBay is cheaper than buying the items separately, but parents should check and compare prices from different eBay sellers before making a purchase to ensure they get a good deal.
Materials
It goes almost without saying that most babies may have little 'accidents' while using a bouncer, so parents should look for a device made from a material that can be easily washed and dried. The material should also be breathable, as the baby may be in the bouncer for extended periods of time. Parents should remember at all times that the main function of a baby bouncer is to keep the baby happy, so materials that tend to heat up and cause discomfort to the baby should be avoided.
Ease of Use
Another aspect that should be considered when shopping for a baby bouncer on eBay is the ease of use. Parents should look for a model that is lightweight enough to be carried around easily, as they may need to take the bouncer in the park or to the grandparents' house, for example. But this feature is also important for those who want to bring their baby with them in the kitchen or bathroom in order to keep an eye on him or her at all times. Buyers should also make sure the baby bouncer can be folded easily when not in use. The weight and size of the baby bouncer when folded are usually provided by the eBay seller in the item's description. If this information is not available, buyers can contact the seller.
Child Development
Some of the baby bouncer models available on eBay feature different types of toys that can help develop the attention and motion skills of the baby while keeping him or her entertained at the same time. These can be sound-activated toys or bright objects. A baby bouncer can also help to build the muscles of the babies once they learn how to bounce on their own. The various materials from which the toys that come with a baby bouncer are manufactured are also good for sensory development.
Safety
Even though most baby bouncers are safe to use for prolonged periods of time, parents should make sure the bouncer they buy has several safety features incorporated. The most important of these is the safety harness, which should adjust easily and be comfortable for the baby. The base of the baby bouncer should feature some non-skid material in order to prevent the baby from moving the whole seat when bouncing. Another thing to check for is some padding around the frame of the baby bouncer, which should prevent the baby from getting hurt. Most models have an ergonomic design that can protect the head, neck, and spine of the baby. Regardless of the type of baby bouncer they choose to buy on eBay, parents should make sure that the baby is never left unattended when using the device in order to avoid any sort of accident.
How to Choose a Baby Bouncer in the Right Size
The capacity of a baby bouncer is very important because it may have a serious impact on the comfort of the baby. Parents should pay attention to the maximum weight the baby bouncer can hold up to before buying one. They should also consider whether the baby can sit up or crawl and choose an appropriate model for their baby's age and height. All this information is often provided by the seller in the product description. Typical bouncers can hold up a baby of up to six months, so parents should consider this aspect when deciding how much they are willing to spend.
Baby Bouncers vs. Baby Swings
Many parents find themselves in doubt when it comes to choosing between a baby bouncer and a baby swing. Both bouncers and swings are designed to help the babies fall asleep and stimulate them when awake. Swings are often more sophisticated than bouncers, allowing parents to control the swinging motion as well as the volume of the sound. However, these additional features may make swings a more expensive option. In addition to that, baby bouncers tend to take up less room than swings and they are a better option for those who plan on travelling with the baby, as they are easier to transport from one place to another.
How to Find a Baby Bouncer on eBay
When it comes to purchasing a baby bouncer, eBay is a good place to do that because of the large selection available from a variety of sellers. eBay provides buyers with simple search methods that make buying any style or brand of baby bouncer as hassle free as possible. All you need to do is search for 'baby bouncer' using eBay's search bar and a large selection of relevant products becomes available for you to browse. If you know exactly what type of baby bouncer you are looking for, you can type the exact name into the search bar for a quicker search. For example, if you are looking for a Fisher-Price Rainforest Bouncer, you can type these words into the search bar for instant results.
When shopping for baby bouncers on eBay you may sometimes notice that the selection available on the website is a bit overwhelming. Fortunately, you can use the filtering system available on eBay and thus only see results that are relevant to your preferences. Thus, you can narrow the results down by type, brand, price, location, and more. Once you have found the ideal baby bouncer, you should remember to check the seller's feedback on eBay before buying. You should also pay attention to the location of the seller, because in most cases it is more expensive to buy from a seller that is not located in your area because of the higher delivery costs.
Conclusion
Buying the right baby bouncer for their child may seem like a difficult task to many parents, mostly because no two babies are exactly alike. Parents should keep in mind that it is important to find a comfortable and safe model in which the baby can feel happy. A baby bouncer is the ideal way to soothe and amuse an energetic baby and it can be a lifesaver for parents who need to free up their hands.
Baby bouncers are available on eBay from a variety of sellers located in the UK and abroad. Parents can choose to browse through a large variety of models and compare them in order to find the ideal one for their needs on eBay. The website offers hundreds of baby bouncer models and a search system that makes the search a hassle free process. Regardless of the type of baby bouncer one is looking for, chances are they can find it quickly on eBay.