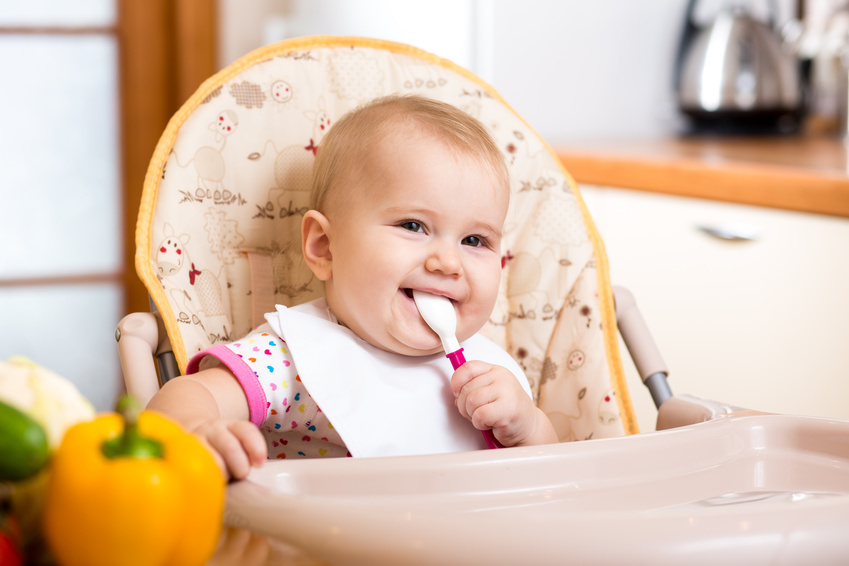 Once babies reach the age of four to six months old, their mouths, tongues, and palates become developed enough to try solid foods. For this age, parents need a safe, easy-to-use, attractive feeding chair in which to place their little one for mealtimes. A number of important factors determine the choice of the baby's first feeding chair or high chair. Explore these factors before you select an eating spot for your baby.
Safety of a Baby Feeding Chair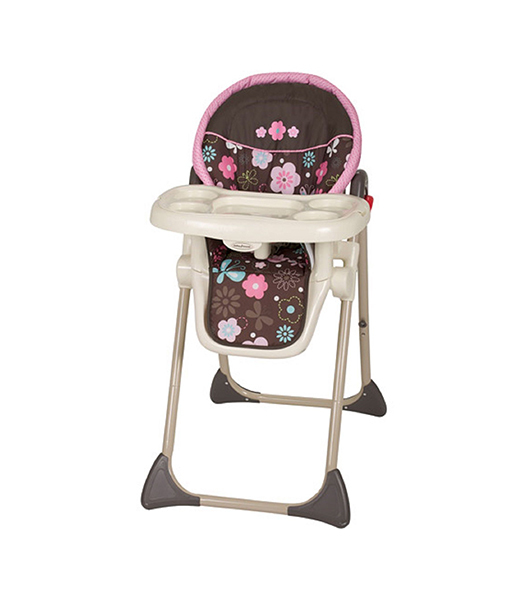 First, look at the safety and security features of the chair. Some high chairs have only a three-point harness, but a five-point harness is much safer, especially for very young babies. In addition, make sure that the feeding tray snaps on and locks in place tightly, forming a secondary barrier to keep the little one from tumbling out of the chair. Look for a baby feeding chair with a crotch post to keep the little one stable. Another consideration is the stability of the chair. It needs to have a wide stance and steady, reinforced legs, as well as rubberised feet to prevent slips on tile, hardwood, or vinyl flooring.
Adjustability of a Baby Feeding Chair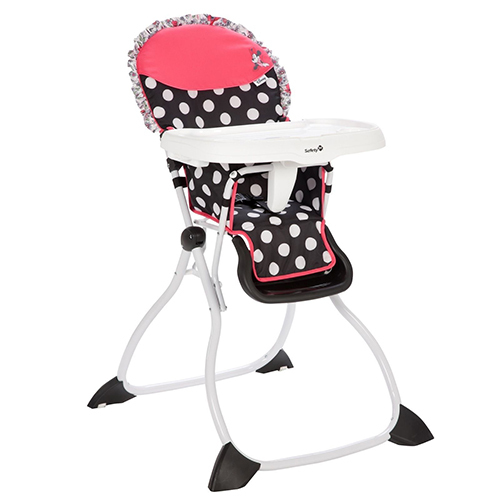 One feature to look for is adjustability. Babies grow at an astonishing rate, and as their arms, legs, and torsos lengthen, you must accommodate each new size. Many high chairs or baby feeding chairs have an adjustable seat that you can raise or lower as needed, and adjustable straps. Some chairs even have adjustable backs so that babies can sit upright, recline, or relax at a 45-degree angle. If you plan to carry the feeding chair with you on a trip, or transport it frequently from one spot in the home to another, choose a folding chair or a portable one.
Comfort of a Baby Feeding Chair
You want the entire mealtime experience to be a pleasant one, and the comfort level of the feeding chair either facilitates or sabotages that goal. Make sure that the baby feeding chair you select is wide enough, with a tray high enough to clear baby's chubby legs easily. If the chair has padding, press the padding firmly with your fingers to make sure that it is thick and soft. Chairs with extra cushions are typically more conducive to happy feeding that hard wooden ones are.
Ease of Use of a Baby Feeding Chair
All parts of the chair must be easy for busy parents to use. Test the tray to make sure it is simple to remove and attach. Check the label for care and cleaning instructions to find out how much of the product is machine washable or dishwasher-safe. Ideally, you should be able to put the tray insert or the entire tray into the dishwasher on the top rack and the padding should all be machine washable.