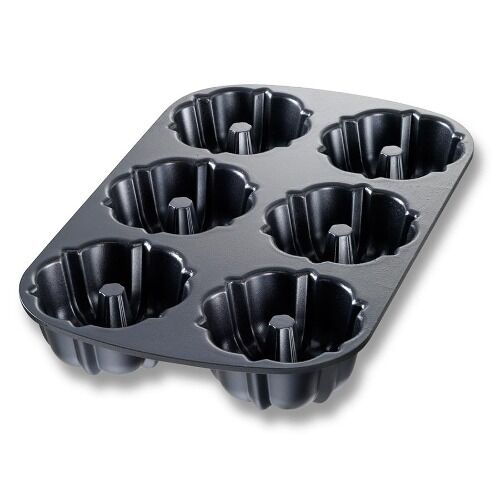 Just like its professional counterpart, no domestic kitchen is complete without a suitable collection of ovenware and bakeware, suitable for the production of bread, cakes, muffins, and savoury fare. These days, baking moulds come in a huge variety of shapes, sizes, and materials, ranging from standard baking tins for pies and cakes to personalised mould pans, and the key to finding a good buy is to research what is available and determine which option best suits individual requirements.
About Baking Moulds
Baking moulds are designed to accommodate a wide range of recipes, including those using bread and pastry dough, and most types of cake mix. There is an imaginative selection of shapes and styles available, from relatively simple circular or rectangular moulds, to more elaborate containers that help cooks create three dimensional shapes, such as fancy flowers, fluted fans, individual letters for a name, and even miniature buildings. Although bread and cakes baked on hot stones date from Neolithic times, the earliest form of baking mould is thought to have originated in the middle of the 18th century and consisted of two simple tin hoops placed on parchment paper.
Baking Mould Materials
Based on the system of using two tin hoops with a parchment base, baking moulds developed gradually at first from simple tin containers. Then manufacturers began to experiment with different sorts of heatproof materials and nowadays an immense assortment of equipment is available in several different materials. These include the more traditional enamelled tins, containers made from carbon steel, non-stick aluminium pans, stainless steel frames and, the newest arrival, baking moulds made from silicone. Although certain types of pots and pans are recommended for specific types of cooker hobs, the materials used for baking moulds are generally suitable for every type of oven, enhancing the choices available to purchasers.
Enamel
Enamel is an opaque or semitransparent glassy substance that can be applied to metal or other hard surfaces in order to provide a protective coating. A smooth hard patina of enamel on the surface of a tin will enable it to tolerate high temperatures, making it ideal for baking in a hot oven. Enamel remains a popular choice for baking moulds, particularly but not exclusively, for home made pies and tarts.
Steel
Carbon steel contains an alloy that is mostly carbon, whereas stainless steel contains chromium, which is resistant to rust and to tarnishing. Both types of steel are used in the manufacture of a very wide range of kitchen utensils, and, as with enamel, both have proved to be an enduring and popular choice for professional as well as domestic cooks and chefs.
Aluminium
Aluminium is the most abundant metal in the world and is derived mainly from bauxite – a type of clay rock that contains iron oxides. Strong, light, and resistant to corrosion, it has long been in demand for domestic utensils, as well as for aircraft construction and engineering parts. Aluminium is often used for traditional, geometrically shaped, baking moulds. Square and circular tins of different diameters, for example, are ideal for making a tiered wedding cake, and increasingly aluminium baking moulds are also being made available in novelty shapes.
Silicone
Silicone is a soft, pliant, synthetic material formed from chains of oxygen atoms alternating with silicone atoms. Resistant to chemical attack and insensitive to changes in temperature, silicone polymers are also used in the manufacture of plastics, rubber, polishes, and lubricants. Most silicone moulds are non-stick and resistant to damage or tearing, and, because they last a long time, and like most other materials for baking moulds, they can be popped into the dishwasher, they are ideal for regular use.
Choosing the Most Suitable Baking Mould
To make sure baking moulds are fit for purpose, it's important to think about how they are to be used and whether, for example, specific types of container suit a specialised item or whether they can be multipurpose. In fact, with a little imagination, the majority of baking moulds have a number of different uses, so choosing a few basic shapes and a few speciality ones will cover most eventualities.
Making Bread
Rapidly coming back into fashion, there is nothing quite so delicious as homemade bread straight from the oven. Traditional loaf tins are rectangular in shape and they vary in size depending on whether large, medium, or small loaves are required. A large aluminium loaf tin measures approximately 9.25 x 5.25 x 2.75 inches internally, and can also be used for large cakes. A medium tin, in either aluminium or silicone, measures approximately 8.25 x 4.3 x 2.4 inches and the silicone ones are available in a variety of bright colours, an attractive feature for budding younger cooks.
Specialty Loaves
Serious breadmakers sometimes use special tins for making sandwich loaves that come with a lid; sizes include 450g; 750g; 1000g; and, 1500g. Speciality breads require customised bread baking moulds, and there are tubes designed to make bread for canapes, and to produce attractive shapes, such as circles, hearts, and flowers.
Making Cakes
Cake creation today is no longer confined to making a basic fruit or sponge cake in square or round tins and coating it with icing; in fact, the choice of baking moulds available for cakes can turn the simplest recipe into a triumph of the imagination. In particular, novelty cakes to celebrate special occasions are no longer the sole province of master bakers and can be engineered easily in the domestic kitchen.
Springform Tins
Baking moulds that have a removable cake ring or a removable base are known as springform cake tins and are designed to make it easy to detach a baked product from the tin when it has cooled slightly. In additional to round, square, and rectangular varieties, springform cake tins also come in heart shapes. Younger children who are learning about making cakes find the smaller custom-made types particularly easy to use in the kitchen.
Novelty Baking Moulds
No matter what the nature of the event or the personality of the celebrant, there is a novelty baking mould that will produce the ideal three-dimensional cake or decorative item that fits the bill. From children's favourite storybook or TV characters to sporting motifs, from beer glass shapes to champagne bottles, anything can be achieved with the right baking mould, and using coloured icing to decorate adds a genuinely professional touch. Baking moulds in the shape of individual letters and numbers can be particularly useful, as these can be customised to form a variety of different names and ages.
Individual Cakes
Muffins, fairy cakes, and cupcakes are all popular alternatives to a larger cake, and particularly useful for parties or other get-togethers. Baking moulds for these can double up as tins for Yorkshire puddings, or indeed any other batter-based savoury. Moulds for small cakes come as collections of individual cases or are built in to trays. Once again, there are attractive shapes available with a number of themes, including seashells, stars, teddy bears, Father Christmas faces, snowmen, and flowers.
Making Pies and Pastry
Pastry cutters have evolved beyond the traditional round fluted circles and the gingerbread man shape, and there are now decorative moulds for making biscuits to bring a smile to any face, delighting young people and those who are young at heart. Animals, fruit, seasonal options, and fairytale characters abound and the baking moulds can be used to create individual biscuits or to cut out pastry shapes to decorate a pie. Pans for making pies and flans also come in different shapes and sizes, and there is such a wide range overall online that there is no difficulty finding baking moulds on eBay.
Find Baking Moulds On eBay
Baking moulds can be quickly and easily located using the search box at the top of the eBay homepage. When on the homepage, enter a search term in the white box next to the Categories dropdown. For example, typing in "stainless steel baking mould" reveals everything listed under that name and similar products. Shoppers can then filter their results by using the pane on the left hand side of the page. Alternatively, hover over the All Categories tab on the left side of the eBay homepage. From there, click on the Home and Garden link. Next, hover over Furniture & Living, and click on Cookware, Dining & Bar. Finally, on the left hand side of the resulting page click on Bakeware & Ovenware.
Conclusion
Choosing the right baking moulds is simple if the essential requirements are factored in; this includes selecting the material that fits with the rest of the cookware in a kitchen; for example, if pots and pans are stainless steel, then ovenware in the same material will be a good match. It pays to consider who will make most use of the equipment; if there is only one cook in a household then their particular requirements should be paramount, whereas if family members cook together, this should be taken into account. It is worth estimating how frequently special occasion items are likely to be needed, and on what scale catering will take place. This will help determine which items can be used for a variety of different baking tasks. An online search of sellers and suppliers for new individual items, or to add to an existing collection, will ensure the most suitable options are easily identified.