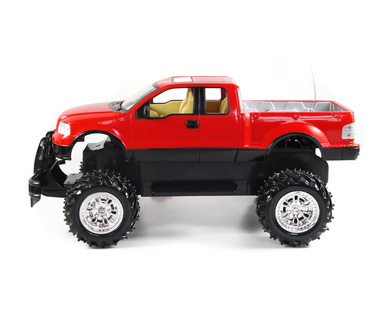 Radio-controlled cars have been a children's favourite for decades, but manufacturers are starting to target collectors and hobbyists by bringing more powerful and technically accurate models to the market. Battery-operated versions are becoming increasingly popular, with enthusiasts turning away from petrol-powered models in favour of their quieter, fume-free alternatives. With so many different models available, it can be difficult to know what to look for, but there are a number of key considerations that you should take into account when shopping for a battery-operated radio-controlled car. Fortunately, the purchasing process is made simple on eBay, which is home to some of the best deals on radio-controlled cars.
The Advantages of Battery-Operation
There are two basic types of radio-controlled car: electric and fuel. While a number of collectors prefer the sound and power of fuel-powered models, their electric counterparts (and especially battery-operated cars) come with a number of distinct advantages.
Noise
Generally speaking, battery-operated models are virtually sound free, with the exception of a moderate whirring noise that comes from the car's mechanics. Fuel-powered models can be quite loud, simulating the experience of driving a real car.
Ease of Use
As they do not have an ignition and do not require refuelling, battery-operated models are quick to turn on; there are no complicated start-up steps, meaning that a driver with very little prior experience can start driving or racing with ease.
Cleanliness
Battery-operated radio-controlled cars also hold an advantage of cleanliness over petrol-powered models, with zero fuel emissions making them environmentally friendly. This is a key benefit for those who like to test or race their cars indoors – with battery-operated cars, there are no fumes or potential fuel spillages to clear up.
These models aren't without their drawbacks, though; it may be necessary to invest in a number of battery packs in order to use them for longer distances, while fuel models are generally able to reach higher top speeds.
Picking the Right Battery-Operated Radio-Controlled Car
For newcomers purchasing their first battery-operated radio-controlled car or more experienced hobbyists looking to add to their collection, there are four main buying points to consider. These are: kit models vs. ready to run, terrain, scale, and driver experience level.
Kit Models vs. Ready to Run
Kit models are primarily designed for the more dedicated radio-controlled car hobbyist, as assembling some specific models may require a certain level of previous experience. Essentially, a kit will provide all of the materials needed to build the chosen model from the ground up, along with comprehensive step-by-step instructions. Some basic tools may be required. Both kits and the tools needed to assemble them can be found with ease on eBay.
Ready to run (RTR) models, on the other hand, are just that: they are more or less ready to use straight out of the box, with only minimal preparation required. It is still a good idea, however, to make an overall inspection of the model to ensure that it is free from faults, before charging the batteries and potentially completing any additional assembly, including adding the body to the engine. eBay usually has a comprehensive range of ready to run remote-controlled vehicles available.
Terrain
The type of terrain that a battery-operated remote-controlled car will be driven or raced on also affects which model should be chosen. There are two different, terrain-specific types of car: on-road and off-road models.
Terrain Type

Car Type

Suitable For

Speed

Notes

On-road

Based on real cars

Traditional races

Non-competitive use on smooth, flat roads

Can reach higher speeds than off-road models

Can drift around corners

Off-road

Buggies, monster trucks, rock crawlers

Difficult terrain like sand, grass, and pebbles

Off-road races

Slower acceleration and lower top speeds than on-road models

Can perform jumps and other tricks thanks to taller suspension and hydraulics
Scale
Battery-powered radio-controlled cars come in a number of different scales, and the scale chosen should depend on any pre-existing car collections and the type of race events that the car might enter. Scale refers to the size of the car; a 1/10th model, for example, is 1/10th of the size of a real car.
The most common scales are as follows:
| Scale | Operation | Notes |
| --- | --- | --- |
| | Electric | Smallest model: suitable for very smooth surfaces. Best for toys. |
| | Electric or Nitro | Most popular scale: easy to carry and can handle rougher terrain. Good for racing. |
| | Electric or Nitro | Popular for off-road models: ideal for handling rough terrain. Good for off-road collectors. |
| | Fuel | Extremely large and heavy models: usually up to 1 metre in length. Capable of high speeds, excellent for off-road terrain. |
1/10th scale cars are great for anyone looking for an everyday model that can be used in most hobbyist race events. 1/8th and 1/5th models are better suited to off-road challenges, and are generally much more expensive and complex to assemble.
Driver Experience Levels
One final aspect to consider before buying a battery-operated radio-controlled car is the driver's own experience levels, especially when it comes to purchasing a kit model. Beginners might do well to stick to simple-to-construct and easy-to-operate models until they are more experienced, with kits including the Tamiya Rising Fighterand the Ansmann Mad Rat Buggy - both of which are readily available on eBay - fitting the specification for first-time buyers.
Those after something more challenging might consider a Schumacher Cougar SV or one of the BSD Brushless Buggies, which both offer a more complex construction challenge, while also giving the driver greater control over the entire driving or racing experience.
There are hundreds of models to choose from in the wide range of battery-operated remote-controlled vehicles on eBay, where a variety of different skill levels are catered for. Any necessary experience, tools and additional items are likely to be made clear in the product description.
Adding Additional Components
The ability to add additional components and upgrades to a battery-operated radio-controlled car is useful, as it can prevent a model's components from becoming out-of-date. This is another factor that should be taken into account when purchasing a radio-controlled car. There are a number of potential upgrades, which can all be found at competitive prices on eBay, including:
Wheels
Wheels can be changed according to potential future usage, as different wheels are suitable for different races and terrains. For road racing or general smooth surface usage, softer rubber composites are better, whilst harder versions are more suited to off-road, hard terrain tracks. Changing wheels and tyres appropriately can be key to maximising the racing performance of any model.
Motor
The majority of kit models provide the driver with the opportunity to change the car's motor, offering the chance to increase its power and improve its technical specifications. Standard models come with a brush engine, but upgrading to a brushless motor can reduce power consumption and increase speed. Investing in an automatic starting mechanisms can also enhance performance and ease-of-use.
Batteries
A battery-operated radio-controlled car is only as good as the batteries themselves - the better the power source, the better the car's performance. Ideally, any battery pack used should have a current output of more than 1,500 mAh, which will improve the car's speed, power and longevity. Packs with higher cell counts are also recommended, as these can keep a car running for longer without the need for recharging. To find a high quality battery pack at an affordable price, search through the range of car parts and accessories on eBay.
Buying Battery-Operated Radio-Controlled Cars on eBay
There are thousands of new and second-hand battery-operated radio-controlled cars on eBay, including models in all scales, appropriate for all drivers and terrains. By shopping with eBay, you can use a simple search bar to find the product you are looking for, before using flexible payment methods to purchase from reliable eBay sellers.
To find radio-controlled cars, visit the Sports, Hobbies & Leisure portal. From there, select the Toys & Games sub-menu, followed by Radio Controlled. You can narrow your search even further by selecting Cars, Electric, and then battery-operated. This last menu lets you see all the items in your chosen category, but you can narrow the search even further by choosing brands, scales, conditions and sale format.
Alternatively, if you have a particular model in mind, you can search for it directly from the home screen. For example, if you're looking to buy a Bugatti Veyron battery-operated radio-controlled car with a 1/18th scale, simply type that into the search box to be presented with all of the items matching your description.
Make sure you carefully review the item before you buy, and, if you're unsure, use the Ask the Seller function. When you're ready to buy, you can place a Bid, Buy it Now, or make a Best Offer.
Conclusion
Purchasing the right battery-operated radio-controlled car will largely depend on the buyer's driving or racing needs. The type of races that a driver is looking to enter will be a significant contributing factor, along with the terrain that they want to drive on - larger models are more suited to off-road adventures, while smaller cars are better for circuit racing.
More experienced hobbyists might want to look for cars that are upgradeable, with kit models generally providing the greatest scope to add personal modifications. For anyone that's unsure, it may be a good idea to look for a premium but second-hand model, as this will allow buyers to try out some of the better options available without blowing their budget. With thousands of models to choose from, it's easy to find the right battery-operated radio-controlled car on eBay.