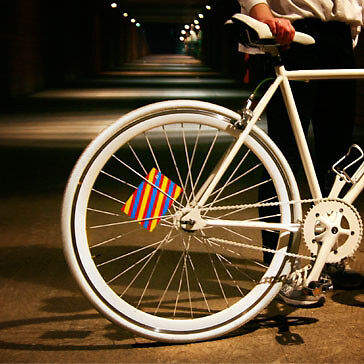 Cycling is a popular pastime and a fast-growing sport in the UK. There is no substitute for the thrill of getting out in the open on two wheels. The bicycle has come a long way since its original incarnation in the early 19th century. Have a look on eBay and you will find there are now many different types of bike available. Road bikes are designed for travelling at speed, trekking bikes are best for touring, city bikes are built for urban commuting, mountain bikes are designed for off-road cycling and BMX bikes are specialist machines designed for freestyle tricks and fun.
All bikes have one thing in common: the wheels are a vital part of the package. These days it is common for more serious riders to build their own bikes, buying components separately and carefully choosing the best combination. A visit to eBay will confirm that there are a great variety of different bike wheels and many are specialist items. There are several key points that need to be considered when buying a bike wheel or wheel-set.
The Benefits of the Right Wheels
The first thing to consider is the type of bike that the wheels will be used for and where the bike will be ridden. Wheels come in many different shapes and sizes and at various levels of assembly. Wheels are the bike's point of contact with the road, and therefore need to be considered very carefully indeed. Wheels are also the part of the bike that works the hardest, and they need to stand up to whatever forces they will be subjected to. The following are some of the questions that may be asked when considering wheels:
How strong does the wheel need to be?
How light does the wheel need to be?
What terrain is it going to be used on?
What size wheel is needed?
Tube or tubeless?
What material should be used?
Which spoke count is best?
What are the best hubs?
While fundamentally simple, the bicycle wheel is an engineering marvel with various different attributes that you need to be aware of when making a purchase.
Wheel Strength
The required strength of a bicycle wheel depends very much on the type of riding it will be used for. Off-road wheels will naturally need to be strong and durable, as they have to tackle uneven terrain. BMX wheels also need to be strong to cope with the unusual demands of freestyle cycling. Road racing wheels need a combination of strength and lightness. Aerodynamic properties are an important consideration if you are looking for serious road racing wheels. Wheels for commuting need to be strong enough to perform on city roads, but they do not need the technical sophistication of more advanced racing wheels. A quick look at eBay will give a good idea of the various strengths of wheel available.
Wheel Weight
The weight of the wheel is a very important factor but it should not be confused with strength. Somebody who is building a high-end racing bike will want wheels that are as light as possible in order to keep the overall weight of the bike to a minimum. This may also be true when it comes to mountain bikes, but these require more of an emphasis on strength and durability. For commuters, a strong wheel that offers excellent weight saving is also a bonus. For BMX riders, the diminutive size of the bike will compensate for the added weight of a heavy wheel.
Terrain
Wheels that are not designed for off-road use may be easily damaged by rough terrain, but those intended for mountain bikes may still perform perfectly well on the road. A thin, lightweight wheel will not take kindly to rough or rocky surfaces, and will quickly bend and distort.
Wheel Size
When building a bike, the wheel size needs to be determined by the size of the frame. If you are upgrading your set of wheels it is sensible to choose the same size as that of the original wheels. The wheel size corresponds to the tyre size, and a simple diameter measurement can be carried out. Always check the width of the rim as well as the diameter, as this can also have an effect on the overall measurement. Thinner rims are for road bikes that need aerodynamic properties whereas thicker rims are for commuter and mountain bikes that will be subjected to more rigorous use.
Tube or Tubeless?
Some types of wheel have an inflatable inner tube, whereas others are solid and tubeless. The advantage of tubeless wheels is that they can adapt to lower pressures, resulting in smoother riding. Tubeless wheels require special tyres and need a rim feature that forms a seal. While tubeless tyres can be fitted to standard wheels, they require a kit that is difficult to handle and expensive. The advantage of tubes is that they are low maintenance.
Wheel Material
There are two types of wheels used on bikes these days: aluminium wheels are the most common and offer a great strength to weight ratio plus impressive stiffness and durability, while at the very top of the market you can find carbon wheels, which are very light, extremely strong and much more expensive. Carbon wheels are usually only found on full carbon frame bikes.
Spoke Count
When looking at top quality wheels it is important consider the spoke count as this can have a great effect on the behaviour of the wheel. The general rule of thumb is that a wheel that is designed for heavy, arduous use will need to be stronger and therefore will have more spokes, whereas one used for racing on the open road will have as few as possible.
Hubs
The hub is the centre part of a wheel on which the wheel spins. It consists of an axle, bearings and a shell. Choosing hubs is about getting the best set of bearings and accommodating the gear set attachment. It pays to do your research or get expert advice on this part of the wheel.
Tread pattern
Bicycle tyres have a surface pattern that can either be smooth or bumpy. Smooth treads offer very little traction and are best suited to on-road use. Bumpy treads are intended for off-road use where the pronounced tread texture can improve traction on rough surfaces. Mountain bike tires have a tread designed for either the front or the rear wheel, whereas other tires have different front wheel and rear wheel treads.
Brakes
The type of brakes that the wheel will be carrying is also important. The old style of rim brakes – those that form a clasp at the rim to slow the wheel – are still widely used and are effective and affordable, but by far the most effective form of brake is the disc brake. This requires a special type of wheel that allows for a disc brake system to be fitted to the hub. It has an added advantage in that it allows the bike to do without the necessary braking surface on the rim that standard rim brakes require.
How to Buy a Bike Wheel on eBay
A quick look at eBay will show the difference in price between the various wheel specifications. With an extensive choice of cycling accessories, bike wheels and clothing, bikes, frames and more, and vendors offering free delivery and affordable prices, shopping for the right bike wheels on eBay is easy. Using eBay is straightforward, and once you have decided upon the bike wheels you want to buy simply go to www.ebay.co.uk and go to the Cycling section under the Sporting Goods header. Next, click on the Bike Parts category, and then on the Tyres and Wheels option that comes next. You will be find a choice of bike wheels of all kinds, and you can narrow your search down by entering a brand or name into the search box, or by selecting sizes and other details on the drop down menu to the left. If you need further advice on buying bike wheels on eBay you can visit the Search Tips page, and you can also look in the eBay Stores section for more choice on bike wheels at eBay.
Conclusion
It is easy to see why cycling, in its various forms, is so popular these days. Many people save money by cycling to work or using a bike to do the shopping. eBay offers some impressive bargains when it comes to bikes. Upgrading a current bike to a better wheel specification is always a good idea and better wheels are an affordable way of making a bike much better than it was. Building a bike from scratch is also a great way of getting the very best quality and performance from the machine and can save a great deal of money over buying a complete bike. As with many items, bikes on eBay cover every need and budget, and the selection of wheels available is also very impressive.