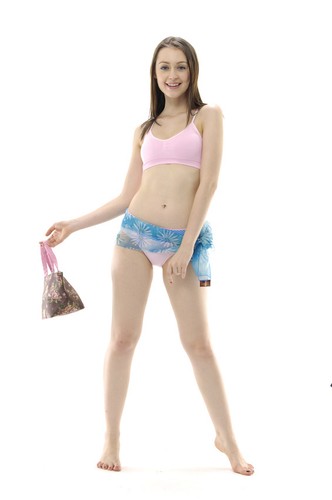 Bikinis are purchased from almost any retailer that sells women's clothing, and there is generally a large selection of colours and styles to choose from; however, many women find themselves confused as to what bikini style is best suited for their body shape. A wide selection of bikinis are usually found in department stores and many high street clothing shoppes. Most sports stores also carry a variety of different style bikinis. But locally is not the only place where bikinis are purchased, because there are many online retailers such as Agent Provocateur, Victoria's Secret and sports websites that sell bikinis, and of course, eBay has an extensive selection of both brand new and slightly used bikinis to suit every body shape, fashion, taste, and budget.
When looking for a new bikini to purchase, regardless of whether that purchase is made in a local retail store or online, it helps to know what style bikini works for certain body shapes, so that you can feel rest assured that the bikini you choose is the right one for you.
Different Types of Body Shapes
While no two women are exactly alike, there are a few general types of body shapes that are considered to be normal. However, it should be noted that not all ladies will fall into a specific body shape category, so the suitable bikini styles mentioned should only be used as a guideline. You should purchase a bikini that you will feel comfortable wearing.
Hourglass Shape
A typical hourglass shape is one where the bust area is similar in measurement or the same as the hip area. Women with an hourglass shape will also have quite small, well-defined waists, giving the appearance of an hourglass.
Women with an hourglass figure often look great in classic string bikinis. Larger chested hourglass figures can also wear string bikinis but should try to find ones with a little extra coverage. Another good look for women with an hourglass figure and a large chest area is a bikini with a halter top or any other bikini style that gives a little additional chest support. Women with hourglass figures should avoid the mix and match look, as wearing different colours makes the hourglass shape look disproportional.
Triangular Shape
If you carry more weight on the top half of your body, often around the hip and thigh area, then you are considered to have a triangular body shape. Women with triangle-shaped figures usually have hips that measure larger than the bust area and an average or slightly small waist.
If you have a triangular body shape and are a little unsure about your bottom area, a bikini with boy short style bottoms is a good idea, as it gives a little more coverage. The triangular body type is one of the few that look fantastic in a strapless bandeau style bikini top.
To balance out a triangular figure you can use bold patterns and colours, because these draw attention to your figure, whereas dark solid colours play down a figure and minimize attention. Purchasing your bikini as separates allows you to mix and match a brightly patterned top and a solid, dark coloured bottom, which is a great look for a triangular figure. Purchasing separates also allows you to buy different sizes for your bottom half and top half if necessary.
Inverted Triangle Shape
Women who are more top than bottom heavy with larger bust areas, wide shoulders, and small hips are considered to have an inverted triangle body shape. If you have this type of figure, try to avoid a strapless bikini top as it does not offer you adequate bust support. Instead, choose a bikini top that has thick straps, a halter shape, and fabric thick enough to help hold your bust area in place. A bikini top with underwire is also a very good option.
Ladies with an inverted triangle figure can mix and match colours by wearing darker coloured bikini tops and brightly coloured or patterned bikini bottoms. This helps to draw attention to your bottom half and minimize your top half, creating a more balanced look. As with the triangular body shape, women with an inverted triangle figure benefit from purchasing separates, as they are often a smaller size on the bottom and a larger size on top.
Rectangular Shape
Women with a rectangular body shape typically have a boxy frame consisting of proportional hips, broad shoulders, and a waistline without much definition. If you have a rectangular figure and would like to add some curves, consider a bikini with some embellishments, such as ruffles, bows, and ties, as these help to add extra volume to the suit and draw the eyes to the hip and bust area, depending on where the embellishments are located.
Any girly-type look helps a rectangular body shape appear to be more feminine, and it balances an athletic shape. Bikinis with floral fabrics, lingerie inspired suits, and those with crochet detailing are often a good choice. If you are quite thin, padded tops with some ruching helps to add volume, and bottoms with side ties helps draw attention to the hip area.
Of course, no two women are the same shape and size, and there are many ladies with figures that do not fit into any of the body shape categories. If your body shape does not fit into any of the main groups, you can still make use of some hints and tips to help you buy a bikini that is right for your shape.
Bodies Which Do Not Fit General Body Shapes
While body shapes fit a great many people, there may not be a suitable guideline for everybody. Women may have a triangular shape with a larger bust area, or they may be a plus-size, hourglass shape. Because of this, there are a few hints and tips to help find the perfect bikini to fit specific areas of the body.
Tone Down a Large Bust
Women with a large bust area benefit from wearing bikini tops that offer full coverage and extra support. Halter tops with underwire and wider, adjustable straps are a fantastic option, as they offer similar support and coverage to a bra.
Transform a Flat Chest
Women who feel they are a little flat chested benefit from triangular style bikini tops, demi bra style bikinis, and tops with padding and underwire; all of these help give the bust a fuller look. Brightly patterned, horizontal striped bikini tops, and those with ruffles or bows also help to hide a flat chest and compensate for any lack of body shape. Additionally, consider purchasing separates, so that you can choose the style and size of the top and bottoms separately.
Play Down a Big Bottom
If you are a bit self-conscious about the size of your bottom, try to camouflage it with surfer shorts or swim skirt styled bikini bottoms with plenty of coverage. Darker coloured bikini bottoms also help to hide a larger bottom area, but try avoid horizontal stripes as they can make your bottom appear bigger.
Accentuate a Small Bottom
Women who want to make a small bottom appear larger should opt for bikini bottoms. They may also opt for boy shorts with added detailing such as ruffles and bows, as they help give the appearance of a fuller bottom.
Elongate and Shape Legs
Women wanting to make large legs appear thinner can wear high-cut style bikini bottoms, which will also help to elongate the legs. Avoid skirt style bottoms as the hems often stop at the widest point of the body, which will make it appear wider than it is. For a quick cover up, keep a sarong type wrap close by.
Long Body Shape
To avoid looking like a beanpole, choose bikinis with embellishments at the bust line and hip area. Ties, bows, jewels, rings, and ruffles are all fantastic choices for this body type. Women with a long body can also wear horizontal stripes and bright colours; however, dark solid colours and vertical stripes should be avoided. Boy shorts and ruffled skirted bottoms are ideal bikini choices for women with slim hips, and cover-ups are a perfect accessory for long-bodied women.
Tummy Tips
If your stomach area is larger than you would like, darker colours, small prints, horizontal stripes, and ruching all help to visually reduce a few extra pounds and hide bulges and bumps. On the other hand, women with a flat, toned tummy area can show it off by wearing sexy, skimpy bikinis and monokinis.
Plus-Size Ladies
Many plus-size women do not buy bikinis, and if that is the case, opt for a one-piece that has mesh or lace inserts to show a little skin in all the right places. If you do opt for a bikini, to lengthen your thighs, choose one with a ruching detail at the hip area, and if possible choose one that is adjustable. Avoid bright and light colours such as neons and white, rather, choose darker, cool colours or large, swirling patterns, or even V-type patterns to help create a slimming appearance.
Sizing Guide
Of course, in order for any bikini to fit properly, it has to be the correct size. Fortunately, many bikini styles are sold as separates, which enables women to purchase one size for their upper body and another for their lower body. This is an extremely convenient option for many ladies.
All measurements are in centimetres.
| | | | | | | | | | | | |
| --- | --- | --- | --- | --- | --- | --- | --- | --- | --- | --- | --- |
| Clothing Size | 6 | 8 | 10 | 12 | 14 | 16 | 18 | 20 | 22 | 24 | 26 |
| Bust | 76 | 79 | 81 | 86 | 91 | 96 | 106 | 111 | 114 | 116 | 126 |
| Waist | 58 | 63 | 68 | 73 | 78 | 83 | 88 | 93 | 100 | 105 | 110 |
| Hips | 83 | 88 | 93 | 98 | 103 | 108 | 113 | 118 | 124 | 129 | 134 |
While this chart gives a general idea of clothing sizes. Every style and design may be sized slightly differently, and it is recommended that you ask for the exact measurements of the bikini, or try it on to ensure it fits properly prior to purchase.
Finding the Right Bikini on eBay
eBay has a wide variety of bikinis available in many different styles, sizes, colours, and designs. There is also a wide selection of separates making it a great option for women who want to mix and match their swimwear, or for women whose body style requires two different sizes. Your search for a bikini that is right for your body shape should start on the eBay homepage.
If you are unsure of the bikini style you are looking for, you can simply type "bikini" in the search bar and browse the selection. However, if you are looking for a specific brand or style of bikini, you can type in some descriptive keywords into the search bar for a more precise list of results. For example, if you have a triangular body shape and would like a bikini with a strapless bandeau bikini top, you can simply type "bandeau bikini" into the search bar. Your search will then immediately return a page with bandeau style bikinis for you to choose from. You can refine your search even further by choosing your preferred style, size, and condition from the menu.
Before purchasing your bikini, it is a good idea to check the seller's refund and exchange policy in case the bikini does not fit correctly. If you cannot find information about refunds or exchanges, you can contact the seller directly by going to the profile and clicking the contact link.
Conclusion
Finding the perfect bikini that is right for your specific body type can take some time, and it can be quite complicated, especially if your shape does not fit neatly into one of the general shapes such as hourglass, triangle, or rectangular body shapes. However, when you are armed with a little knowledge as to what shape, style, colour, or pattern of bikini is ideal for a triangular body shape, how to minimise the look of a large bust area, or how to elongate your short legs, buying a bikini that will flatter your shape becomes much easier.
Remember that size matters, a bikini that is too small will cut into your skin and quickly become extremely uncomfortable, and a bikini that is too tight is usually very unflattering for any body shape. Alternatively, a bikini that is too large may fall off and cause embarrassment, sag in the wrong places, or not give you the support that you need. Ladies looking for bikinis will find that eBay offers an extensive selection of all sizes and styles to suit all body shapes.