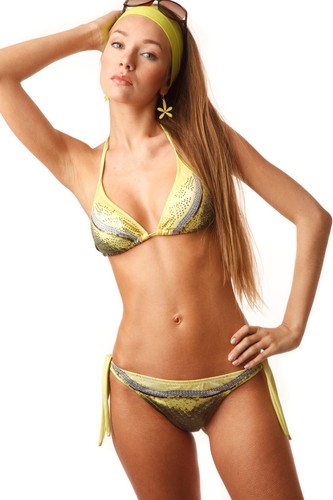 Buying a bikini can sometimes be difficult for many women with a large chest due to a lack of appropriate sizes in stores. Some bikinis are available in a one-size-fits-all version meaning that women who are smaller or larger than the norm will have difficulty finding the right sizes for them. Other times, women with a large chest choose to purchase bigger sizes which are intended for heavier women, and end up with a poor-fitting bikini look. However, there are many styles designed to flatter women with a large chest. Whether these women are petite or plus sizes, there are hundreds of flattering bikini styles for them to choose from.
It is useful to know the different styles of bikinis that flatter women with a large chest, as well as how to purchase bikinis for different looks and body types. Women can chose a look based on preference, on the most flattering style, or on what is most appropriate for the occasion.
What to Look for in a Bikini
The first thing to consider if you have a large chest is purchasing tops and bottoms separately to ensure that both fit well. In some cases, this can mean purchasing two of the same bikini set in different sizes, but in other cases, this is not necessary as the tops and bottoms are sold separately.
Women with a large bust should consider that their breasts are likely to be heavy, meaning that they need appropriate support. Therefore, choosing bikinis with wide straps, underwire, and made from thick fabrics is important to prevent sagging. Moreover, women should be extremely careful when choosing swimming bikinis, as those with ties or those made of thin fabric might easily slip off in water.
Flattering Bikini Styles if You Have a Large Chest
While many women with large busts are familiar with the sight of celebrities flaunting their large busts on the beach, many more women are familiar with the fear of sagging, drooping, or even losing the bikini altogether in water. While all of these problems are possible, if the bikini is selected properly, they shouldn't be an issue. Women with a large bust, when dressed properly, are actually the envy of nearly everybody, especially when they have a small waist. However, women with a larger waist can also find incredibly flattering bikini styles as well.
Underwire Bikini
The underwire bikini is not very popular, yet is incredibly important for women with a large bust. By simply purchasing a bikini that includes wiring, women can prevent slippage, sagging, and the possibility of the bikini sliding away from the breasts while swimming. While this type of bikini is often sold in the standard S-M-L format of other bikinis, it is also possible to purchase the underwire bikini in an exact bra size, meaning that the fit will be better.
Halter Bikini
Halter bikinis can be either retro or modern, depending on the style. For example, a full coverage halter bikini is usually retro, but can be quite flattering on young and older women alike. A demi-style halter bikini is more modern and usually shows more skin. Halter bikinis usually feature a band that wraps and ties around the neck. While halter bikinis can look flattering on large-chested women, if their bust is very large, women should look for other types of bikinis that have wider straps to avoid neck pain.
Wide-Strap Bikini
Wide bikini straps are especially important for women with a large bust. While they may not enhance the appearance of the bikini, the wider straps do wonders for fit and comfort. Women with large busts have more weight on the front, and a bikini strap has to hold that weight. Selecting a wide bikini strap helps to evenly distribute that weight across the shoulders, rather than creating a painful knot in one area as halter bikinis can cause.
Full-Coverage Bikini
A woman with a full chest is one of the few who can pull off a full-coverage bikini without appearing old fashioned. Full-coverage bikini tops cover the entire bust, and usually feature very wide straps which can give a full-chested woman the support she needs. While full-coverage bikinis are a good choice for modest women because they do not attract attention, they are not recommended for tanning, as they cover too much skin.
Wrap-Around Bikini
A wrap-around bikini can be a one piece, a tankini, or a bikini top. This look is especially flattering for large-chested women because the bikini draws attention to other places than the bust. While not every woman will appreciate this look, it works to slightly minimise a large chest, which means drawing less attention to the bust when wearing a bikini.
One-Piece Bikini
The one-piece bikini is also known as a monokini or swimsuit. Women looking for a one piece can choose a wrap around, high neckline, low neck, and a variety of bottom styles including shorts, thongs, and classic bikinis. One-piece styles are excellent for many women because they provide full coverage, are harder to slip out of, and can be used to cover any problem areas around the waistline. One-piece bikinis in dark colours are usually the most flattering for fuller figures because they help to minimise the entire figure, while lighter colours bikinis are more flattering for slender women with a large bust.
Tankini
The tankini is a tank top bikini and often features build-in bikini cups that include underwires. Tankinis are available with straps, halter necks, and with no straps, but the last style is usually not appropriate for large-chested women because it does not offer appropriate support. The tankini is excellent for both slender and larger women, and can be used to cover problem areas if necessary. Tankinis, when paired with a matching or contrasting bikini can be cute, fun, and not as revealing as a traditional bikini.
Buying a Flattering Bikini for Your Figure
There are eight typical women's figures and four of those normally have a large bust: the inverted triangle, the hourglass, the diamond, and the oval. The inverted triangle figure is the most common to feature a large bust with slender waist and hips. This figure is most flattered by a minimising bikini such as a striped halter bikini in a dark colour, paired with a large, tie bottom in a light colour. This helps to balance the figure while still flattering the bust.
Hourglass figures have hips and bust of an equal size, with a much smaller waist. Women with this figure can wear almost any type of bikini, but should avoid wearing one piece or tankinis that will straighten and add bulk to the waistline.
The diamond figure feature a bust that can be small or large, but a large waist. One of the most flattering styles for women with this body shape is a one piece or tankini with a colour-blocking band in a darker colour around the waist. This look helps to minimise the waist, while accentuating the bust and hips.
Finally, the oval shape is one that is large everywhere; bust, hips, and waist are usually the same size. Women with this shape should consider similar styles to those that flatter diamond-shaped bodies, but remember that they might need a lot of coverage on top and bottom. Pairing equally large bikini tops and bottoms will avoid creating an imbalance.
Minimising the Large Chest
Some women with a large chest want to minimise their bust before they go out in public. While it is not healthy to bind the bust, it is possible to achieve a minimising effect by wearing the right styles of bikinis. For example, women can choose square necklines for a minimising effect. One of the most effective minimising bikinis is a dark-coloured one-piece bikini, especially with a square neck, which draws attention away from the bust. Adding vertical striping to any bikini can also help to minimise the chest.
Enhancing the Large Chest
Other women do not mind their chest being the centre of attention and prefer to know how to choose a bikini that enhance it or improves its appearance. In this case, lighter colours, underwires, and minimal padding can all effectively display the bust. Choosing lower-cut styles rather than full coverage can also make the bust look larger and more flattering. Women with a large bust and large hips can draw attention to the bust by wearing a light-coloured bikini top and a darker coloured bottom, or by wearing a low-cut, one-piece bikini.
Buying a Bikini on eBay
eBay is home to a large collection of swimwear including bikinis for large-chested women. There are hundreds of different styles of bikinis that fuller women can find flattering for their body type, including in very large cups with small bands, or with large cups and large bands.
You can start your search on the home page of eBay. If you want to browse through hundreds of styles before making a decision, you can use a generic search term, such as 'bikinis'. If, however, you have decided the style you are looking for, type it into the search bar. Good examples for women with a large chest include 'retro bikini', 'underwire bikini', or 'colour blocking bikinis'. If you have other preferences about a certain type of bikini, you can include specific searches such as the desired colour, pattern, or brand. Once you have decided on what bikini you would like to purchase, you can contact the seller for more details, any sizes that aren't mentioned, or for an estimated shipping time should you need the bikini by a specific date.
Conclusion
Buying a bikini can be difficult for women with large busts, but that doesn't mean it's impossible to find a flattering style. Good examples of flattering bikinis for large-chested women include those with underwire, minimal padding for support, and more coverage to prevent slippage. Women should also consider choosing bikinis with wide straps, in order to prevent pain or a rash from the straps.
Women with a large bust but small waist and hips should choose styles to balance their figure, while women with larger waists should chose styles to minimise the waist while wearing the bikini. Women who cannot find the styles and sizes they are looking for in local stores can look for credible retailers, such as Agent Provocateur, on eBay where there are more sizes catering to women who fall outside of 'average' sizes. There are thousands of styles of bikinis, and many of them are flattering on large-chested women, no matter what their body shape is.