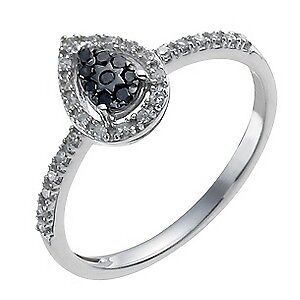 Black diamonds are distinctive and rare, which makes them ideal for the buyer who is looking for jewellery that offers something a little different. Paired with white gold, black diamonds can look quite stunning. Black diamonds can also look particularly impressive when contrasted with white diamonds, with the opacity of the one setting off the sparkle of the other. Because they are considered a more masculine stone than white diamonds, black diamond rings are often worn by men.
However the term 'black diamond' can mean different things to different people, and before investing in a black diamond ring, whether as a gift or otherwise, it is important to know a little about these unique stones, including the different types of black diamonds, the terminology used to describe black diamonds, as well as how to size a black diamond ring.
Black diamond jewellery is increasingly available from high street jewellers, but the range on offer is still quite limited. For shoppers who want more choice, it is a good idea to go online, where eBay boasts a better selection of black diamond rings.
What Are Black Diamonds?
The term 'black diamond' immediately conjures up conflicting images in most people's minds. This is because diamonds are normally prized for their sparkly whiteness. Many people are intrigued when they try to think of something black that sparkles. This confusion has led some people to wonder whether black diamonds are really diamonds at all. In most cases, the answer is yes, they are really diamonds, just different from the traditional white diamonds.
Several Types of Black Diamond
Black diamonds can actually be sourced in several ways. All are genuinely diamonds. Some are natural, some are cultured, and some are enhanced. When it comes to buying black diamonds, the rarity and cost of good Carbonado black diamonds means that cultured or enhanced diamonds are a more realistic option. Ironically, they also tend to be of better quality too, what with even colouring and a flawless finish that lacks the impurities characteristic of Carbonado diamonds.
Natural Black Diamonds
Natural black diamonds are mined in Brazil, although some are found in the Central African Republic. Known as Carbonado, this black diamond is a naturally occurring form of diamond, but which has a polycrystalline structure. What this means is that rather than being a single large crystal, as is the case with white diamonds, the black diamond is composed of a large number of tiny crystals.
Carbonado diamonds of sufficient quality to be used in jewellery are comparatively rare, and much of the black diamonds seen in jewellery today are not of the Carbonado variety. These diamonds are so rare that some scientists believe Carbonado came to earth on a giant meteor. Accordingly, good quality Carbonado is extremely expensive.
Carbonado is made of the same carbon material as other diamonds, but tends to have more graphite inclusions. This makes it difficult to cut a natural black diamond without fracturing the stone.
There are nevertheless several notable examples of large black diamonds having been successfully cut, including the fifth largest diamond in the world, called the Spirit of de Grisogono diamond. This stone was cut in Switzerland, weighed 587 carats before cutting and 312.24 carats after cutting, and was set in a white gold ring with over 700 smaller white diamonds.
Cultured Black Diamonds
Most black diamonds on the market today are cultured, or cultivated diamonds. Cultured diamonds are created using one of two special processes. These diamonds are also called HPHT (high-pressure high-temperature) diamond or CVD (chemical vapor deposition) diamond. It would be wrong to call these diamonds 'synthetic' because they are made from carbon just like conventional diamonds, and are in fact chemically identical to diamonds that have been mined from the earth. Without special spectroscopy equipment, it is almost impossible to tell cultured diamonds from diamonds dug up from the ground.
Enhanced Black Diamonds
The third type of black diamond is a natural diamond that has been dug from the ground, and has had its colour enhanced. One of the special properties of diamonds is that certain types of radiation can alter its colour, and one of the colours it can take on is a very dark green black. Seen in ordinary light, these diamonds actually look completely black. These diamonds are often of a much higher quality than Carbonado diamond, as they do not have the inclusions often common to Carbonado diamonds.
How to Buy a Black Diamond Ring
When choosing a black diamond ring, the first thing to check is the appearance of the diamond itself. It should be smooth and glossy on its surface, appear to be flawless, and have a colour that is rich and satisfying to the eye. One should ask about the grade of the diamond, which is its rating for clarity: AAA is the highest rating, with other grades in order being AA+, AA, A, and so forth.
Bear in mind that a black diamond is actually denser and harder than a white diamond, and as such a one carat black diamond looks smaller than the equivalent white diamond of the same weight.
Which Metal to Choose?
There is a reason why black diamonds are so often paired with white gold: the pairing of the two simply looks stunning. Silver or platinum black diamond rings look fantastic, too. For the same reason, black diamonds go well with white diamonds in a ring setting. Since men favour black diamonds over white diamond, it is even possible to find black diamond and titanium rings, for that decidedly masculine look.
Ring Sizes
It is important when buying a ring, to find out the ring size of the wearer. This is best done by having a trained jeweller take a measurement using a mandrel. As fingers swell during the day, the afternoon or evening is the best time to measure for a ring. An alternative way to find the size is to measure a ring that is known to already fit well.
The measurement used is either the internal circumference of the ring, or the internal diameter of the finger. These are graded according to a chart, with a typical measurement for a man being something like Q or S. These sizes equate to a diameter of 18.34 mm, or an internal circumference of 57.6 mm for Q, and 19.5 mm and 60.5 mm respectively for S. There are half sizes too, such as Q1/2, or S1/2. Typical measurements for a woman are smaller, perhaps J or K.
Rings made of gold, platinum and silver can be resized, although not if they have jewels or complex patterns all the way around the band.
Where to Buy a Black Diamond Ring
When choosing a piece of jewellery as unique and striking as a black diamond ring, it is important to view as wide a selection as possible. Only by gaining a clear idea of the different designs available, and the way in which different metals look with the stone, is it possible to settle on the ideal combination to match the style and personality of the wearer.
Black diamond rings are available in the high street, although the disadvantage of buying there is that the all important breadth of choice is absent. A better solution is to look online, where Internet retailers such as eBay offer a substantial selection of black diamond rings.
Finding a Black Diamond Ring on eBay
It is easy to find black diamond rings on eBay. You simply enter the search term 'black diamond rings' in the search bar on the eBay homepage. This action should return many pages filled with listings for black diamond rings. To narrow down the search, you can filter the results by selecting, for example, black diamond rings for men, or rings of silver or white gold. You can also specify how the listings are presented on the page, by choosing to see the most expensive first, or the cheapest rings first.
Study the pictures carefully, and read the descriptions. Look at the seller's feedback, to discover how previous buyers have rated the seller. If you are making a substantial purchase, you probably want to contact the seller through their profile page, in order to ask questions about the ring. Perhaps you would like to see more photos, or a copy of a provenance. If you want to be able to view the ring before you buy, you can choose to sort the search results by specifying that the search engine only show listings from those sellers located close to you.
Conclusion
Black diamond is a form of diamond which is often paired in rings with light-coloured precious metals and white diamonds, to contrasting and stunning effect. The rarity of naturally occurring black diamonds means that they are very costly. However, it is an ironic fact that naturally occurring black diamonds tend to suffer from flaws, whereas cultured and enhanced black diamonds are likely to be the better quality stones. All these types of black diamond are 'diamond'. Although, an enhanced stone has had its colour improved, with the result being an even and rich black colour which is satisfying to the eye.
When buying a black diamond ring, it pays to look at as many rings as possible before choosing one. The selection available in the high street is likely to be rather limiting in this regard, therefore it is helpful to go online. Internet markets such as eBay offer a far better range of black diamond rings, which makes it easier to find one that matches the personality of the wearer. This advantage, together with its easy to use search tools, make eBay the ideal venue to find a black diamond ring.