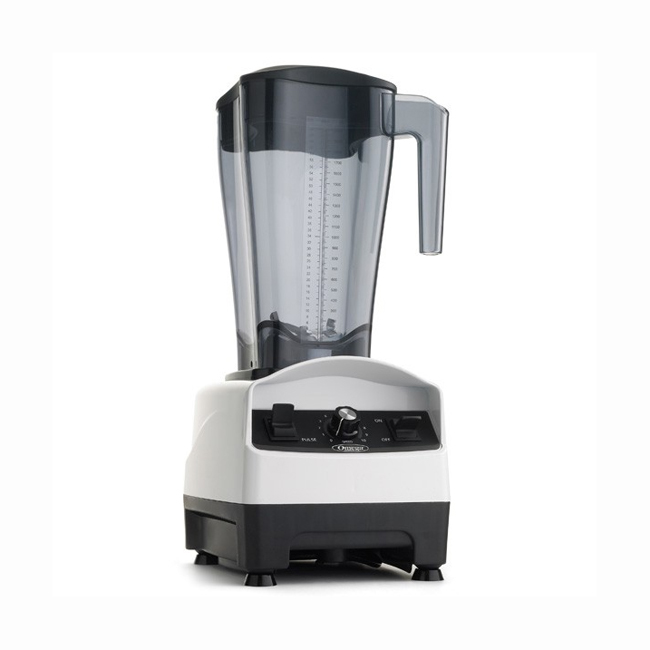 When the modern blender was first introduced in the early 1920s, it was marketed as little more than a drink mixer with relatively few features. Blenders have come a long way since that time, however. Now one of the most common small appliances in home kitchens, blenders offer consumers a versatile range of functions that can assist with a wide array of cooking tasks. When shopping for a blender, the first thing a consumer should decide on is style. These useful small appliances come in two major categories: tabletop blenders and immersion blenders.
Tabletop Blenders
For most people, the word "blender" conjures up an image of the familiar tabletop model, which has for generations been the most common type of blender used in UK home kitchens. Tabletop blenders are designed with a blade assembly that fits inside a heavy-duty jug that is usually made of thick glass.
Common Features
Shopping for a blender often means deciding on a range of special features offered by the various models available at online shopping outlets like eBay.
Speed Controls
Simple tabletop blenders may feature only an on-off switch. More advanced models will allow users to control gradations of speed by means of a series of buttons that cause the blades to spin faster or slower, or a dial that allows for even finer adjustments. This feature makes it possible for users to choose between actions that range from a gentle mixing of ingredients for a batter to the vigorous action needed to produce whipped cream with standing peaks. Luxury blenders often take this concept a step further by providing users with fully programmable controls via a keypad. This can be ideal because it allows for a very high level of control over blending operations. An additional benefit of such keypads is the fact that they lack crevices or seams that can collect food. This simplifies cleaning and keeps a blender looking brand new for far longer. These keypads do have their drawbacks however; they can be time-consuming to use, particularly when all a cook needs is a very simple function. Moreover, because they depend on complex electronic controls, they may be more prone to malfunction than models that rely on mechanical means to adjust blending speed.
Measuring Jug
Another useful feature to look for is a jug with measurement markings. This can save on washing up since ingredients can be poured directly into the jug without seeing the inside of a measuring cup first.
Separable Blade Systems
Tabletop blenders can be difficult to clean unless they come with a detachable blade, which simplifies the process considerably. Even better is a model in which these detachable parts and the jug itself are all dishwasher-safe. Even with such models, however, some home cooks prefer to wash the rubber gasket by hand in order to keep it in good condition for longer.
Advantages of Tabletop Blenders
A tabletop blender is a complete unit that requires no other equipment to function, something that is not true of immersion models. The included jug is usually large enough to make large quantities of drinks or other preparations, which can simplify cooking tasks by allowing cooks to make one batch instead of several.
Drawbacks to Tabletop Blenders
The main disadvantage to a tabletop blender is the fact that it will become useless for a time should the included jug break. Replacement jugs are available, but they can be difficult and time-consuming to find. Moreover, after a blender model has gone out of fashion, it may not be possible to find a replacement jug that fits it.
Immersion Blenders
Immersion models, also known as handheld blenders, have become increasingly popular in recent decades. An immersion blender consists of a long, thin rod capped by a spinning blade protected by a blade guard. This type of blender includes no jug; instead, the rod capped by the blade can be inserted into any container of adequate size.
Common Features
Most immersion blenders feature at least two speed settings, generally labelled high and low. Standard handheld blenders will usually have only a single attachment, one that features a spinning blade. More expensive models, however, may offer additional attachments such as a wire whisk that can help to aerate cream as it is being whipped.
Benefits of Immersion Blenders
Immersion blenders can simplify cooking tasks considerably by allowing cooks to perform blending operations directly inside cans, which means that there is no container to clean as the can may be binned after use. Making a fruit puree in a tabletop blender, for example, will result in a jug that needs washing. The same operation with an immersion blender requires only that the blender itself be cleaned, but this can be done very easily by running the blades in water and rinsing off any portions of the handle that have been in contact with food. Similarly, an immersion blender can be used to smooth out a sauce while it is cooking in a pan. Since the pan will need to be washed in any case, this results in less cleaning for a cook who probably already has more than enough to do to get the meal on the table.
Disadvantages of Immersion Blenders
Immersion blenders, on the other hand, take longer to process large batches of material because they are generally much less powerful than a tabletop model. Good-quality immersion blenders will even feature an automatic shut-off feature that protects the motor by preventing operation when it has become too hot. While this does help extend the life of the blender, it can prove inconvenient for a cook who has not yet finished a blending task. Partly because of their lower power, immersion blenders are usually not the only blender a household will possess. Instead, they are often a secondary blender purchased for convenience use in homes that already have a tabletop model. Because immersion blenders feature exposed blades during operation, they present more of a safety concern than tabletop models. That said, all blenders must be used with appropriate caution since all appliances that cut, chop, or blend food can present hazards if used inappropriately.
Blender Power Considerations
Another major decision that blender shoppers must make involves power levels. A handheld blender's power level directly influences the types of tasks it can handle. The least expensive immersion blenders tend to consume only 100 watts, but this is barely enough to mix frozen juice and water efficiently. It is, therefore, best to look for an immersion blender with more power, even though it will probably mean paying more. Tabletop blenders generally offer at least 300 watts of blending power. This is enough to crush ice and blend purees that have a lovely, smooth texture. Many home users find that the true usefulness of power levels begins to taper off at about 500 watts. This means that paying for a blender that offers 800 or 1000 watts may yield a consumer very little for the extra money. Some users in fact believe that higher-powered blenders are merely louder, offering no true benefit once at least 500 watts will be in operation.
The Style Issue
Because a tabletop blender is generally on display in a kitchen, many users shop with decor in mind. A blender base that coordinates with the colours of other appliances in a home can be advantageous. While most jugs are made of glass, other options do exist, the most notable of which being stainless steel and plastic.
Plastic Containers
Plastic will usually show signs of wear in relatively little time. In addition, plastic blender containers can retain food smells.
Glass Containers
Glass remains beautiful for a long time. Many people are wary of glass containers because of the possibility of breakage, but the truth is that blender containers are made from very thick and durable glass. They can be broken, but not easily. Blenders with glass containers offer two important advantages. Like plastic, it allows cooks to see the progress of blending while the blades are in motion. This can help save time and produce a superior result. Unlike plastic, however, glass is heavy enough to help stabilise the blender, making it less likely to "walk" across the counter as it vibrates.
Stainless Steel Containers
Stainless steel is an attractive option, but may require more maintenance to look its best as it shows fingerprints much more than does glass. This type of container can complicate blending, however, because the appliance must be stopped in order to check on the progress of the food inside. The lid can be left off, of course, but this may lead to spattering and the need to wipe down worktops and even floors.
Find Blenders on eBay
Blenders are such a common kitchen appliances that they have their own category on online shopping site eBay. Shoppers looking for a blender should begin at the Home & Garden category and select Furniture & Living then Cookware, Dining, & Bar before choosing Small Appliances and finally, Blenders. Another way to find blenders on eBay is to use the site's handy search function. Use brand names such as,"Morphy Richards" to filter your search further.
Conclusion
A blender is an essential tool in the modern kitchen. It helps cooks complete a variety of tasks including pureeing vegetables for soups, smoothing out sauces and gravies, and making mixed drinks for family or company. The online auction site eBay allows shoppers to find a variety of blenders that will meet their needs, whether they are interested in a standard tabletop model or a handheld immersion blender.