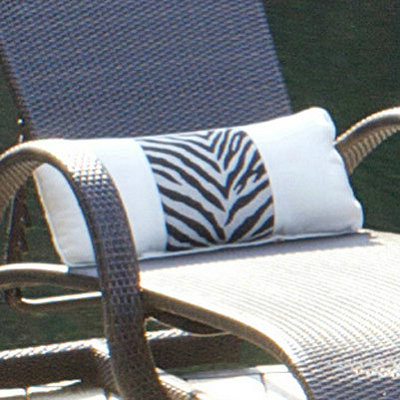 Bolster pillows are long, narrow, and circular. Their unique shape sets them apart from other throw pillows because they add dimension to a space. They are can be used in multiple ways such as on a bed, couch, chair, in a crib, or even on the floor of a child's playroom. They are ideal for both decoration as well as lounging because they offer support in a way that other pillows cannot. Their cylinder shape can be tucked under the lower back for lumbar support, cuddled with at night, or they can be folded into a "V" shape to provide extra back support when sitting.
Throw pillows and fabrics give a space texture, colour, and highlights. There are a lot of things to consider when shopping for them because they can truly make or break the room. The pillows should complement and enhance the existing layout and decor. If possible, they should be easy to maintain, and they should be functional. The following sections will aid shoppers in finding the bolster pillows that will complete the look of their living space.
Culture of the Bolster Pillow
Bolster pillows are used around the world but viewed differently by the various cultures. In many of the asian regions such as Vietnam, Singapore, and Thailand, the pillow is designed to be very long and held while sleeping. Old tales say that the wives would give bolster pillows to their husbands when they travelled away from home so that they would not be lonely at night. Some of the pillows are made out of bamboo with a hollow centre so that the air flows through it at night keeping the surface cool for the sleeper. In other countries, bolster pillows are purely for decoration and adding a unique look to a room.
What to Consider When Shopping for a Bolster Pillow
There are nearly limitless options when it comes to purchasing bolster pillows. There are different sizes, patterns, colours, materials, and interiors. The following are three things for shoppers to consider that will help in the selection process.
Bolster Pillow Filling
Bolster pillows can filled with a number of materials such as cotton, synthetic blends, duck feathers, or foam. Nothing compares to the convenience and soft elegance of feather pillows because they are very pliable and never wear out. However, they can be very expensive. Cotton and synthetic blends are affordable and they provide good cushion, but they do flatten over time. Foam pillows are for decoration only because they are relatively stiff and do not provide a lot of cushion.
Bolster Pillow Maintenance
Bolster pillows come in one of three different forms. Purely decorative pillows are fully sewn up with no access to the filling inside. This can be problematic because they cannot be washed. Other pillows have a zip or buttons that open up so that the filling can be removed and the casing can be washed. Another option is to get a pillow that comes with a casing. These are the most convenient because the case can simply be removed and thrown in the wash, or even replaced.
Complement the Decor
Whether the pillow is used functionally or not, it should always be eye-catching and compliment the colour scheme of the living space. There are a number of ways to do this.
Scaling Bolster Pillows
The pillows should always match the size of the furniture. A large pillow will look great on big furniture with a lot of seating space. However, smaller pillows should be reserved for the more delicate furniture thats smaller.
Scaling also comes into consideration when creating layers of pillows. The pillows in the back need to be the largest and then each layer in front gets continually smaller. Layers are most often used on beds because layering a couch would take up all the seating room. The back layer of pillows on the bed should be around 26 x 26 inches. The second layer stays in the 24 x 18 inches range, and the third layer is where the smaller decorative pillows go. If using the bolster pillow as a body pillow, it will be large enough to fit in the back or second layer.
Recently it has become popular to put large pillows on the floor as well. Doing this gives the living space a cosy feel. Be sure to choose large pillows for this and if the pillows are going to be placed in an area with no other furniture, be sure to stack several pillows together. One lone pillow by itself just looks messy and unplanned. If the pillows are placed next to a table, couch, or bed, they can be by themselves but there should be other similar pillows placed around the room in a similar way.
Trimming and Embellishments
Pillows can be spruced up even more with additional trimmings such as silky tassels or large buttons. Don't stop short of just picking out the fabric since there are more ways than one to add character.
Number of Pillows
Do not be fooled into think that pillows can only go in there traditional locations and that there is a limit on how many there can be. Consider getting more pillows for other areas such as a side table, under a decorative basket, by a fireplace, in a garden room, on patio furniture, or for a pet.
Bolster Pillow Materials
The material is what makes the pillow. It can be warm and soft, cool and cosy, or bright and cheery. There are endless possibilities. The most obvious part of selecting the material is the colour and pattern. First off, do not select a pillow that is the same colour or pattern as the furniture that it will be placed on. The pillow will simply become an extension of the furniture and add nothing to the decor. Second, if there is a pattern in the room, such as a colourful ottoman, do not repeat that same pattern on the pillow. Select a bolster that has the same basic colours and a more simple or more complex design, whichever contrasts the existing pattern.
Third, solid coloured pillows will add subtle detail to the room. Choose a colour that pulls together the other colours in the living space. Typically this is done by selecting a shade that is in between the two main colours in the room. For example, a light orange pillow would go well on tan couch that is framed by flowing burnt orange curtains. Fourth, select a material that is consistent with the feel of the room, for example, elegant materials such as satin should go in rooms with finer furniture and fancy decorations.
How to Find Bolster Pillows on eBay
Online stores like eBay have a much larger selection of pillows that any local shop can possibly carry. eBay makes home decoration easy because people have access to everything they need in one place. Comparing designs and colours online is convenient because the objects can be looked at side by side. To begin shopping, go to the eBay website and type what you are looking for into the search box. eBay will then pull up all the items that match your description. For example, if you enter "bolster pillow", eBay will then populate a list of all the bolster pillows for sale on eBay. You can then browse through the listings to see which ones you like. If you want to narrow down the selection so that it's not too overwhelming, enter in your price range and then sort the listings based on the lowest price first. This will help you find the good deals first.
Keep in mind that some sellers have pillows in more than one colour which means that you can get a variety of colours and save money on postage prices because the seller can ship them both to you together. On the same note, some listings are for one colour but multiple different shapes and sizes. Be sure to specify the shape and size of pillow you want so that you do not end up getting the wrong thing.
Conclusion
Bolster pillows are a great way to get a good night's sleep in comfort or add a unique, decorative touch to the living space. That can help keep the body aligned and in a good position throughout the night as well as give people something to hold onto. The smaller pillows make great additions to couches and can be quickly transformed from a throw pillow to back support. All shoppers need to do to find the perfect bolster pillows is to figure out what materials will flow with the colour pallet and feel of the room, how the pillow is built, and what sizes to get. To find the designs and sizes they need, a person can simply pull up images of the pillow on eBay and see how the bolster pillow would fit into the living area. No matter what taste or style preferences a person has, he or she will be able to find a bolster pillow to fit their home decor on eBay.