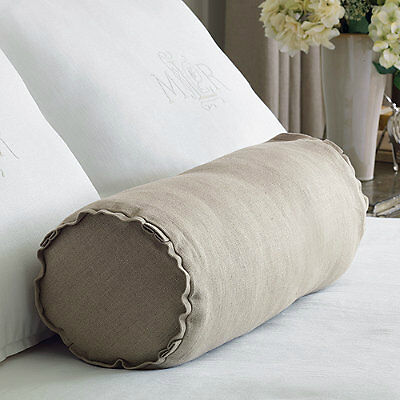 A bolster is a type of long, narrow cushion filled with cotton, down, or fibre that is used in different ways around the world. In Western countries, it is usually placed at the head of the bed or on a sofa and used as head or back support, perhaps while seated up in bed or on a chair. They can also be used as a cot bumper in a child's bed, as support for a pregnant or breastfeeding woman or as nighttime support for those with an injury. In the United States they are also called 'body pillows'. Other names for a bolster are cushion, pillow or prop. Although bolsters are usually elongated, it is possible to find them in other shapes as well, including stars, hearts and almost any other shape. In Asian countries, a bolster is designed to be hugged while sleeping, and in some countries is also known as a 'bamboo wife'. The design of some bolster cushions is to keep the body cool during the summer months. Bolster cushions can be highly decorated and ornate, with end tassels or other embellishments, and can be made out of virtually any fabric from cotton, to leather, to velvet and more. There are many types and styles of bolster cushion and they can come in virtually any colour.
What is a Bolster Cushion Used For?
This type of cushion is very popular due to its great versatility in the home. As well as normal home decor purposes on sofas, beds, or other pieces of furniture, bolster cushions can be used for more specific needs, as listed below.
Support for Injuries
Bolster cushions of various sizes and shapes can be used to give areas of the body extra support in order to help heal or otherwise reduce body stresses, particularly for bad backs while sleeping. A round bolster or a half round bolster are often used in massage therapy, and can support areas of the body that are being targeted. Small versions are sometimes used to support the back during car journeys or while working at a computer. Some of these types are designed to mold to the shape of the user in order to provide relief.
Pregnancy/Breastfeeding
Some bolster cushions are designed so that they may be used as breastfeeding pillows. These designs are generally smaller in style, similar to neck support pillows used while flying, and aim to support an infant so that it may either breastfeed or to provide some back support while resting. Maternity pillows are similar but usually much larger in size than even a normal bolster cushion, often designed to wrap around the front of the body and provide comfort and support to a pregnant woman while lying down or sleeping. Maternity pillows are usually trademarked under specific names so it is always worth doing research on the desired product before purchase.
Cot Bumper for Children
Bolster cushions can be used in a child's bed to prevent them from rolling out of bed and possibly injuring themselves, as an alternative to a bed guard. A basic bolster pillow will serve for this purpose, but highly decorated versions that will appeal to children are available.
Yoga Positioner
Some yoga practioners use bolster cushions on which to rest the body as part of exercise or meditation. There are also some yoga positions that use bolsters to achieve them, or simply as a way of resting. There are even cushions marketed as yoga bolsters due to the size and material they are made from being less rigid.
A 'Bamboo Wife'
This is a very specific type of bolster that is hollow with an open bamboo membrane inside. It is designed to be tightly held by the body while sleeping in hot climates, which exposes the maximum amount of the body to cool air. The cool air enters the bamboo structure towards the body. More modern versions are made of cotton or hollowfibre.
Making Bolster Cushions
For those with the necessary skills, it can be relatively easy to make bolster cushions at home in any size, with the added bonus that the finished product will be totally unique. The materials and tools with which to make one are available to buy on eBay. As a general rule, the specific materials required to make a bolster cushion are as follows: Fabric, Foam cushion, Zipper and Sewing machine, as well as ordinary sewing materials such as pins, scissors, a tape measure, embellishments etc. Of course, a proper method and pattern should be followed when creating a bolster cushion.
Buying on eBay
Before making any kind of purchase, it is always recommended that a certain amount of research is conducted first, in order to establish exactly what type of bolster cushion is needed. This is even more important in medical cases where a bolster is needed to help a bad back, for example, and a professional's advice should always be sought first. Prices of products can vary greatly and additional costs such as delivery and insurance should always be considered before any purchase is completed. Some eBay sellers offer free delivery and/or insurance for purchasing their products, so look closely at a listing. After having completed a search for the desired item, use the category break downs on the left hand side of the page to filter for free p&p listings. Using the filter selection, it is also possible to narrow down the possible selection into the condition of the item, the status of the seller, what the buying format is, location and distance from the purchase's destination. Some sellers will create a product at the buyer's request, and can usually be contacted via the eBay inbox system after payment - which is useful for those searching for a specific product they are unable to make themselves. Once the desired item is found, it will need to be purchased. With any purchase, ensure a safe and reliable mode of payment is selected and follow the seller's description on how to pay (some will only accept Paypal which must be paid immediately, for example).
How to Buy Bolster Cushions on eBay
To purchase a bolster cushion, first head to the eBay homepage. Go to the drop down box on the left hand side of the page and click on Home and Garden from the list, and then Home and Garden from the drop down box there. This will then load the Home and Garden page. Then go to the drop down box on the left again and click on Furniture & Living and then Home Decor from the list. This will lead to the home decor page. Cushions is an option on the left hand side of the page, and clicking on that will go to the next page of options for cushions. Bolster is one of the options in the cushions category. Alternatively, use the search engine on the eBay homepage to search for a more specific type of bolster cushion. Use the words 'bolster cushion' or connected words to display a more select list of suggested purchases. Since bolster cushions come under different categories, often this is the simplest way in which to find one.
Conclusion
Bolster cushions have many uses or can simply be bought for decoration in the home, and can come in many different sizes, shapes, colours and materials. Buying one on eBay is quick, simple and secure, as is buying the materials needed in order to make one or have one made to order. So the next time a little extra finishing touch is needed in the home, think of how a bolster cushion could help complete the decor perfectly.