Women's bomber jackets have continued to gain widespread popularity, due in part to their versatility and chic styling. They provide exceptional warmth in subpar climates and can be worn in a variety of settings, from casual to semi-formal. While A-2 bomber jackets prove a timeless classic, more modern varieties come in bright colours.
Features
Women's bomber jackets typically feature front zip closures and extra thick wind flaps, helping to keep cold air out and trap in warm air. Still, extended collars keep wind away from the neck, while knit cuffs are comfortably fitted to provide additional warmth and protection. A black bomber jacket adds elegance to the ensemble, while a print bomber jacket makes the ultimate fashion statement.
Size
Measure the circumference of your neck, the sleeve from the back of your neck to your wrist, your upper chest, your waist, and your hips. For an optimal fit, compare the measurements to the manufacturer's sizing chart.
Material
Bomber jackets were traditionally made from sheepskin leather outer shells and a soft wool inner lining, designed to promote warmth and comfort during wear. However, more modern jackets tend to favour style over practicality, and thus, may be made from other fabrics.
| Material | Description |
| --- | --- |
| Leather or Suede | An outer shell that is made of sheepskin, cowhide, or goatskin leather; provides excellent warmth; weather repellent and stylish; and can be dyed a variety of colours, from light tan to dark brown or black |
| TP Eco Fabric | Made entirely from recycled thermoplastic; improved wear and washability; and comfortable and easy to care for |
| Gore-Tex | Made from fluoropolymer products; offers superior protection against wind and rain; and breathable |
| Waxed Denim or Nylon | Created by processing denim with beeswax, linseed oil, and turpentine; water and weather resistant; provides excellent warmth and has a shiny finish; and more affordable and breathable than leather bomber jackets |
A-2 and B-3 Bomber Jackets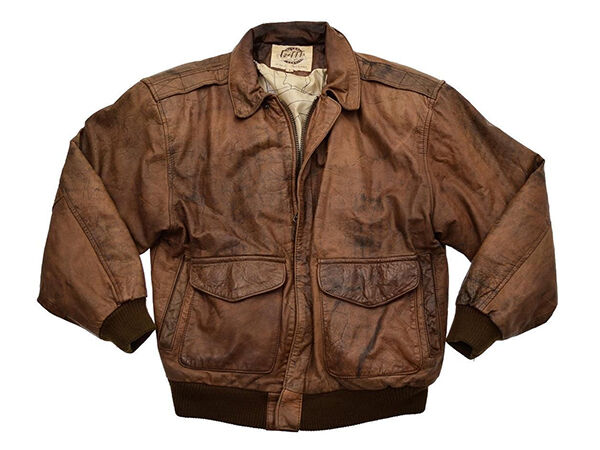 A-2 bomber jackets are highly coveted. These flight jackets feature a snap down collar and leather epaulettes. They also feature front flap and side entry pockets, underarm grommets from ventilation, and knit cuffs and waistband to keep out the cold. Conversely, B-3 bomber jackets feature a sheepskin leather outer shell, a wool liner, welted seams, a brass zip, and a collar that contains buckles. Adjustable straps for the waist and hand warmer pockets add to this leather bomber jacket's desirability.
MA-1 and Aviator Bomber Jackets
MA-1 bomber jackets are designed for year round wear. Made from lightweight nylon, this jacket features slashed side-entry pockets, a zip front closure, ribbed cuffs, a waistband, and an orange liner of synthetic material. Still, aviator bomber jackets are similar in fashion; however, these jackets have a liner that is made from polyfill synthetic material.