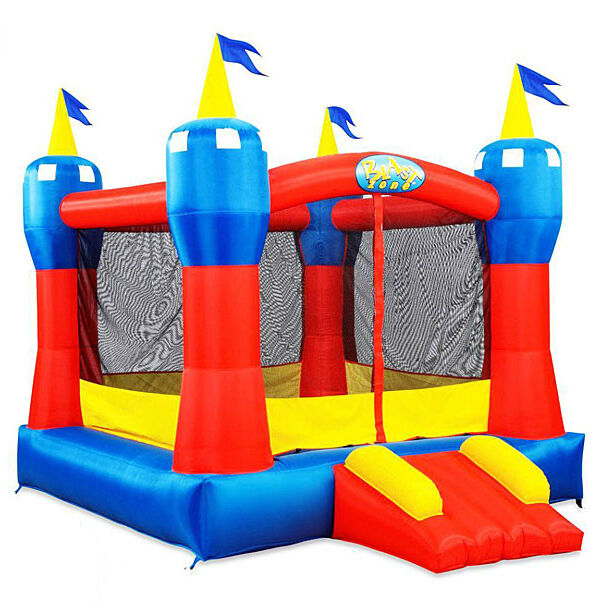 Bouncy castles come in a variety of different styles and sizes. Whilst always needing to be connected to a blower to keep them inflatable, they are an affordable way of entertaining in a safe but fun environment.
There are wide ranges of bouncy castles available for purchase, whether they are for commercial purposes or to be used recreationally at home.
Bouncy castles are available on the market at reasonable prices especially on auction sites such as eBay.
Type of Bouncy Castle
With there being a number of different bouncy castles available to purchase it may be shrewd to read up on the types of bouncy castle that exist within the marketplace. Here is a table to highlight and give insight into the types of bouncy castle that can be purchased from eBay:
| Type of Bouncy Castle | Information |
| --- | --- |
| Commercial Bouncy Castle | Commercial bouncy castles are the most likely to be found at social functions having been privately hired. They are generally the biggest in size of the bouncy castles available to purchase. Commercial bouncy castles can be anything up to fifteen feet and plus in base width. Some commercial bouncy castles may include added extras such as slides and ball pits. There are however, despite their size, a wide variety of commercial bouncy castles available for purchase from eBay. |
| Residential Bouncy Castle | Residential bouncy castles, otherwise known as garden bouncy castles, are better suited for recreational use in a garden, for example. They tend to be smaller than commercial bouncy castles with a width base ranging from six feet up to ten or twelve feet. Bouncy castles of this variety tend not to have as many added extras and are recommended as a safer alternative to the trampoline. |
| Children's Bouncy Castle | These are most popular amongst parents who want to entertain their children in a safe but fun way. Children's bouncy castles are the smallest variety of bouncy castle available. They tend to come with width bases of six feet and under. This variety of bouncy castle is the most affordable but only really suitable for those under the age of ten. |
Considerations When Buying a Bouncy Castle on eBay
There are a number of elements to take into concern when purchasing a bouncy castle from eBay. Whether it is accessories necessary for the use of a bouncy castle or safety and space considerations, below are a number of things that one should look out for before purchasing a bouncy castle on eBay.
Accessories and Equipment
Before a bouncy castle can be used there a few accessories and pieces of equipment that also need to be purchased or possessed to make the experience both safe and fun. Below are the sorts of things needed:
Fan or Blower
A fan or blower is the most important thing needed other than the bouncy castle itself. For the bouncy castle to stay inflated a constant source of air needs to be pushed through the shell of the castle. Air naturally escapes through small holes and gaps in the material and a fan or blower is there to make sure that air is constantly blowing throughout the castle to keep jumping both secure and enjoyable. There are a number of fans or blowers available on auction sites such as eBay for reasonable new or second hand prices.
Generator
If there is no accessible and safe way of powering the fan or blower near to the bouncy castle then a generator may need to be purchased. eBay is host to countless electricity generators that are available both second hand and new. Be wary when buying electrical equipment that the product desired has had the necessary safety checks and that the seller is honest in his product description if buying second hand.
Ground Sheets
Ground sheets are necessary if one wishes to protect and preserve the ground underneath the bouncy castle. Due to the movement of the castle whilst being jumped upon, surfaces below the castle can be damaged. Ground sheets can also protect the bouncy castle itself from damage such as punctures as it provides an extra layer between the castle and the ground. Ground sheets should cover a wider surface area than the bouncy castle. There is a wide range of ground sheets available for purchase from sites such as eBay.
Crash Mats
Crash mats are particularly necessary if the bouncy castle if to be used by children. They are placed at the entry and exit of the bouncy castle. Crash mats ensures a child's safety when getting on or off the castle. Coming in a variety of different colours and sizes, they are crash mats available in the marketplace for reasonable prices.
Anchor Pegs
Anchor pegs keep the bouncy castle firmly in place. This prevents damage to the bouncy castle as well as injury to those jumping. Whilst anchor pegs may come as part of a bouncy castle package they can also be purchased separately from auction sites such as eBay.
Carry Bag
Again, a carry bag may be part of a bouncy castle package but if not it is essential for the efficient transportation and storage of the castle. Depending on size, bouncy castles can be heavy and a carry bag may be necessary to aid in the moving around of the castle.
Sack Truck
Essentially a trolley, a sack truck may be necessary for the transportation of the bouncy castle whilst it is deflated. A sack truck is only really a vital accessory if a commercial bouncy castle is being purchased.
Safety and Bouncy Castles
Safety is an extremely important issue whilst in the process of inflating, deflating or jumping on a bouncy castle. Here are some considerations that should be taken concerning the safety of bouncy castle use:
| Safety Consideration | Description |
| --- | --- |
| Space | Before purchasing a bouncy castle it is wise to match the size of the castle with the space it is going to occupy. Allow for a couple of feet around the outside of the bouncy castle before settling for a specific size as the size of a castle is measured by its jumping surface area and not by its size when inflated. Also it may be best to allow for space for anchor pegs to ensure a safe bouncy castle experience. |
| Users | Be wary of who is going to be using the bouncy castle. There are guidelines online for the maximum amount of users and weight limits concerning individual bouncy castle sizes. |
| Power | The maintaining of power to the fan of bouncy castle is paramount to the enjoyment and safety of the experience. Take into consideration electricity or fuel problems that may be encountered. |
Buying a Bouncy Castle Online
· When buying a bouncy castle online, it may be a wise idea to browse bouncy castle retailer's websites in order to gain an insight into the types of bouncy castle available. Also use these sites to be familiar with the different kinds of accessories, equipment and guidelines necessary to the proper use of a bouncy castle.
Compare brands of bouncy castles and visit outdoor entertainment blogs to gain an idea of how to get the best price available for your specific requirements.
Whilst it may seem as though bouncy castles are a simple replacement for the likes of a trampoline, there is a lot to be taken into consideration before a purchase.
Once a clear idea has been formed as to which type of bouncy castle is to be purchased, it is always a good idea to head to auction sites such as eBay. This can allow for the acquisition of an affordable bouncy castle that may be less reasonably priced elsewhere.
Buying a Bouncy Castle on eBay
Using eBay to purchase a bouncy castle need not be a complicated process. Whilst there are a few considerations to take in before purchasing a bouncy castle, eBay offers a simple and smooth search and transaction.The keyword filters available on eBay allow for a specific search to be made. Use the keyword search bar as well as the clickable filter to narrow your search down to enable a precise discovery of the desired type of bouncy castle or accessory.On eBay there are also a number of specialist outdoor activity equipment sellers who may provide information useful to the purchase of a bouncy castle. Do not be afraid to ask questions of them if this is an option.When buying on eBay be sure to thoroughly read a seller's transaction history, as well as feedback on previous sales. Also, read through the product description carefully just to make sure that the product is exactly as desired.
Conclusion
Bouncy castles are a safer alternative to other outdoor activities like the trampoline. The amount of accessories and fun add-ons available to bouncy castles is vast and can only enhance the bouncy castle experience.However, before settling for a specific type of bouncy castle, take into consideration safety factors as well as equipment required in order to keep your bouncy castle experience an enjoyable yet safe one.