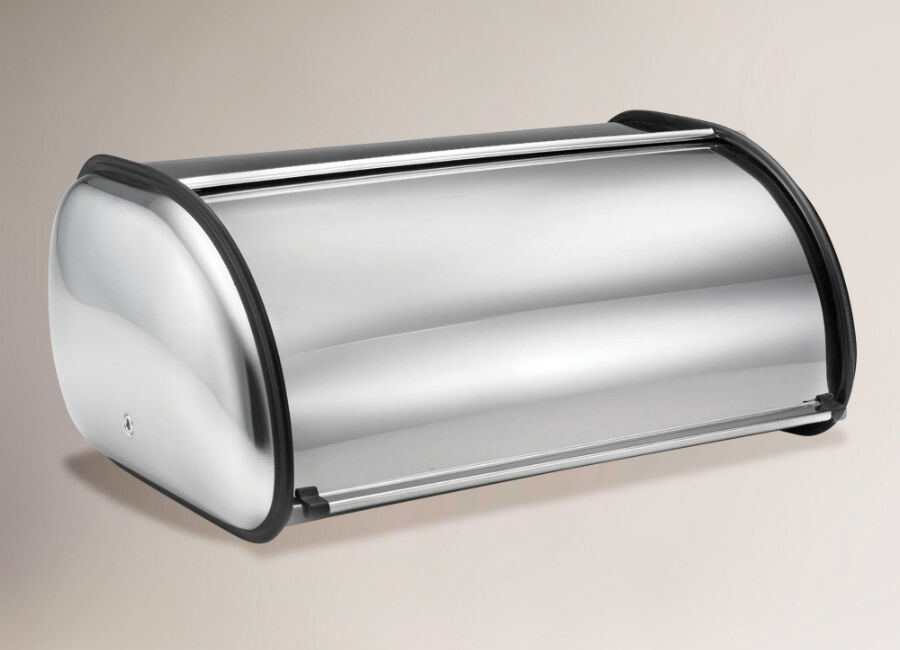 This is a guide that aims to demonstrate how simple it is to buy a bread bin on the auction website, eBay. Bread bins are a great way of storing different types of bread and keeping them fresh and out of sight for an extended period of time. They are also ideal for keeping other leftovers fresher for longer meaning they are also a multi-purpose.
Aiming to provide everything a buyer will need to know, this guide will explain the benefits of a bread bin, as well as the best way to purchase one online. Known for being a practical way of storing food, bread bins have other qualities that are fully outlined in the following directions.
The Benefits of Owning a Bread Bin
With bread being such an important part of every family's kitchen, it is imperative to buy the right bread bin and to know the benefits of owning one. The benefits include:
Freshness: The main benefit of a owning a bread bin is that it is a superb way of keeping loaves, bread rolls, bagels, muffins or any other type of bread, cool. This is done in an effort to help it have a longer lasting, fresher taste and freshly baked bread especially will feel the benefits of a bread bin. Preventing expose from heat and light, bread will not age as quickly and will not dry out or develop mold. Bread bins with a retractable lid reduce the amount of condensation that builds up inside the bin as the lid is light and allows air to freely flow in and out of the bin.
Storage: They are also ideal as they are a sensible way of tidying up food in the kitchen and keeping mess and clutter away from worktops, while also adding character and a modern feel to any kitchen.
Hygiene: With the air kept tight inside the main compartment, bread will stay mold free for much longer than it would out in the open. Perhaps the most significant benefit of owning bread bin, however, is that it will firmly keep vermin and pests away from the food stored inside. Anything inside the bread bin will be free of contamination from other products in the kitchen.
Uses: Some bread bins will even have multiple uses such as performing as a breadboard. Modern designs especially may contain extra compartments for items such as herbs and spices which would come in handy when cooking.
Purchasing Considerations When Buying a Bread Bin
Purchasing a bread bin is not as simple as one would initially think. There are certain factors that one should think about, in regards to the type of bread bin that is suitable for you, and eBay has a wide variety of choices all catering to different needs and wants. While all still offer the same benefits of storing bread they differ in numerous ways. The key points to consider before buying a bread bin are:
Material
This is a vital factor as many different types are available all offering different specifications.
Wood: Giving a more traditional looking feel that matches plenty of different designs of kitchen, wooden bread bins are a popular choice due to their simple and elegant design. However the wooden design has its negatives with one being they can be very hard to clean. Also, as the bread bin eventually ages the wood could start to build up and collect moisture which would dampen the bin and could bring germs to bread stored inside.
Cermaic or stoneware: When comparing wooden to ceramic or stoneware bread bins, the clear advantage is that ceramic and stoneware is much easier to maintain and offers a much sleeker, sophisticated design. Ceramic or stoneware bread bins often come with a pattern or design etched across the front creating a more personal feel to the item.
Stainless steel: Stainless steel bread bins are generally the most popular selection as they are very durable, fit well and compliment plenty of more modern based kitchens. They are also easy to clean and a quick wipe will get rid of dirt and any fingerprints that may be stained onto the front.
Size
This is something all buyers should consider, as different families will need different sizes. Generally bread bins are made to store between one and two loaves of bread; there are many available that can store three, four or even more. However, many people do not store just loaves of bread in their bread bin, and also store rolls and many other items, so it is important to consider what other uses the bread bin will have before deciding on a size.
Design
A well-designed bread bin will not only look good on a kitchen surface, but also be practical in its functionality. Well-designed bread bins are atheistically pleasing emphasises the usefulness as they do not aim for a fashionable design that will easily wear and tear but a practical, well thought out design. Capacity of space is another important thinking point, as buyers must think about how they are going to fit the design of bread bin in their kitchen. Bread bins must be easy to open and close and easy to insert and take out bread. Many opening designs are available such as roll top, where the lid rolls inside the top of the bin; the pull down, where the door handles like a drawer opening the main compartment; and a touch bin, where the lid silently opens with a slight touch, and of course simple lid top bread bins. Vintage bread bins are also something of a popular choice on eBay and may work just as well as an ornamental piece for the kitchen as it would a practical piece to store bread.
Cleaning a Bread Bin
A simple, but easy to forget, task is the cleaning out of a bread bin. They are designed for safe and hygienic storage of bread, but if they are not cleaned thoroughly they can themselves be an unsafe place to house bread, as they could contain germs and bacteria. There is not one specific way to clean a bread bin because they differ greatly in shape and material. For example, some models can be washed in the dishwasher, and others cannot. To start with, a buyer should always strictly follow the manufacturer's instructions, as these will obviously be the most concise details.
Wood obviously will not wash the same as stainless steel, so make sure to understand how to clean out your specific bread bin first. Another main point in keeping your bread bin clean is take out old bread on regular basis, in case of contamination.
Where to Buy a Bread Bin
A whole host of bread bins, with innovative designs that can compliment any kitchen, are available on the high street, department store or online. eBay is a frontrunner in bread bin purchasing, as they have the unrivalled ability of offering extensive choice of both new and second-hand bread bins, of all varied designs and colours.
Bread bins represent a certain style of kitchen as they can match with traditional to even the most up to date kitchens and when searching for right bread bin, eBay search options are the best place to go. The search engine will provide a varied list of bread bins and from there users can manually pin down their ideal choice by using the handy selector on the left hand side which narrow down choices through
Colour
Type
Material
Brand
Condition
Style
Buyers should thoroughly read the products and seller's information to make sure they are getting the right service and product they desire. All items will be shown with a full written description detailing everything a buyer would need to know as well as a full colour image. Warranties and money back guarantees may be in place with some items so fully check to see if a refund could be offered if you are unhappy with the bread bin. If a buyer may need further advice then they can contact any online suppliers or eBay's own customer support, who will guide across any purchase.
Many bread bins may be sold second hand or used as sellers may not need to take them if they are leaving or moving house. They should not dismay any buyer as this is common on eBay and in a bidding process, sellers may start at a surprising low price to create a frantic bidding war that may exceed the price they were originally hoping for.
Conclusion
Bread bins have a wide range of benefits and should be a major feature of any modern day kitchen. Even though there are other places to purchase a bread bin, eBay has all the necessary elements for a complete shopping experience. eBay also provides an added confidence when purchasing online offering support along with lengthy product descriptions. Bread bins can be found in the cooking and kitchen fittings and home and garden categories.