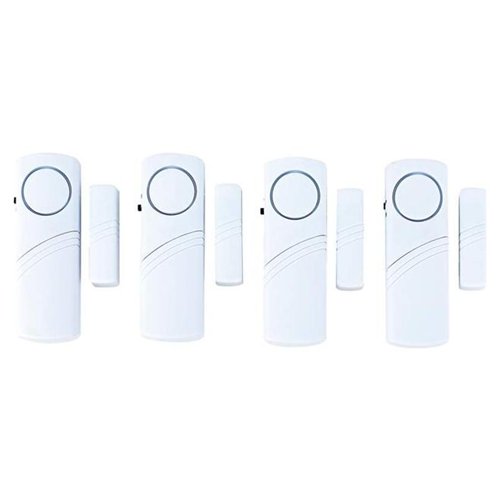 While no one ever expects a burglary to happen to them, on average one occurs every 15 seconds. With a nonchalant attitude about home security, people do not seem to worry about a home break-in until it is too late. Studies show that homes with burglar alarms are three times less likely to get broken into. Most of the time, it's not until after a home gets robbed that the family installs a home security system. Though once a burglary occurs, the damage is irreversible. Not only do the victims of these crimes lose memories and valuables, they lose peace of mind that cannot easily be replaced. More than protecting homes and possessions, burglar alarms protect people from being caught in dangerous situations.
Alarm systems are an easy and affordable way to protect against and prevent burglaries. Burglar alarms can be purchased through home security companies, or online using eBay.. While purchasing alarms from home security companies can be very expensive, eBay has many affordable options to purchase that give the homeowner peace of mind without an expensive installation and monthly fee. When purchasing a burglar alarm, buyers must consider which type of burglar alarm is best for their home and fits within their budget.
Types of Burglar Alarms
A basic burglar alarm consists of three things: a central control panel, a siren or sounder, and a detection device. When choosing to purchase a burglar alarm, it is important to understand the different types of burglar alarms to make the best selection. People who live in areas with high crime and break-in rates may want to purchase a more secure system, while people who are simply looking for added peace of mind could go for a more basic system, like a security camera or siren alarm.
Wired Burglar Alarms
Wired alarm systems feature detection devices wired to a central control panel. Wired alarms are often more reliable than wireless systems, since wireless systems run on batteries. Some wired alarms connect to a monitoring service through the home phone line. Wired systems generally cost less than wireless but can be difficult to install if the home is not previously wired.
Wireless Burglar Alarms
Wireless burglar alarms use radio waves instead of wires to communicate between the central control panel and the detection devices. Since wireless alarms can't connect to the home phone line, they have to be compatible with the homeowner's cell phone to connect to the monitoring service. The benefit of a wireless alarm is that it is smaller and it has less wires, usually only the main power supply and siren cabling. Wireless systems are often more expensive but are simple to install. Typically, installation can be completed by the homeowner in just a short period of time.
Siren (Sounder) Burglar Alarm
After considering a wired or wireless alarm system, the next step is to decide on the type of burglar alarm. Siren alarms, also known as sounder alarms, is a device that sounds to alert anyone around that a sensor has been triggered. Siren alarms often also have strobe lights attached, to ward off any intruders before they enter. Sirens are often installed in an out-of-reach visible area on the property to ward off any potential intruders.
Monitored Burglar Alarm
Monitor alarms use the home telephone line to call the owner's cell phone or emergency number at the first sign of a break-in. Other monitored alarm systems place a call to a monitoring centre, where they determine if the police or homeowner should be contacted. Monitoring centres typically monitor the house 24 hours a day. Monitored burglar alarms are often more complex and more expensive than other systems. Many monitored alarms incur both installation costs and a monthly fee.
Sensor Devices
Sensor devices,, or detection devices, send signals to the main control panel based on movement. Sensor devices are also capable of detecting heat, smoke, vibration, noise, and shock. The most common sensors are heat and movement sensors called PIR (passive infra-red) sensors. PIR sensors detect changes in temperature by monitoring infra-red radiation, which is energy in the form of heat. These systems ignore temperature changes from sunlight, heat, or air conditioning, and instead detect the heat given off by all living things. Heat and motion detectors are usually installed high on the wall or ceiling, and positioned towards windows and doors. PIR devices are highly effective in detecting movement in the area.
Magnetic Switches
Magnetic switches are a popular choice for protecting doors and windows. Magnetic switches consist of only two things: a magnet and a switch. The magnet connects to the spring to create an electric circuit when the door or window is closed. When the door or window is opened, the electric circuit is broken, which sends a signal to the command unit. Many units have an alarm that sounds to prevent the intruder from closing the door or window and deactivating the alarm. Magnetic switches are cost effective, reliable, and easy to install. The only downside to magnetic switches is that the window must be closed to activate the alarm.
Ultrasonic Detectors
Ultrasonic detectors detect motion in the area using high frequency sound waves. High frequency sound waves bounce off the room's walls, doors, and furniture to create a stable frequency. When the frequency is disrupted by an outside force, it disrupts the sound waves, which triggers the alarm.
Microwave Detectors
Microwave detectors work the same was as ultrasonic detectors, but instead of using high frequency sound waves, microwave detectors use high frequency radio waves. The benefit of using microwave detectors instead of ultrasonic detectors is that high frequency radio waves can pass through walls to detect movement in other rooms.
Security Cameras
Many people choose to install security cameras in addition to or instead of burglar alarms. Security cameras can be placed inside or outside the house or around the premises. The most common place for a security camera is over the front door. Installing several security cameras require a closed circuit television to view the cameras at once. Recording devices can also be installed on security cameras for additional security.
Additional Features of a Burglar Alarm
While all burglar alarms generally do the same thing, many alarms have additional features for other uses. Some alarms detect fire, smoke, and carbon monoxide detection. Others can sense glass breaking, garage doors opening, or windows opening. For buyers who want something simple, some burglar alarms feature easy to use controls. Before purchasing a burglar alarm, buyers should consider if any of the additional features meet their needs.
Set a Budget
When choosing to invest in a home security system, it is important to set a budget before making a purchase. Home security systems can range from very affordable to very expensive. While some people may prefer the security of using a monitored system, the homeowner must be willing to pay for monthly costs on top of the installation fee. Many other security systems are more affordable and make it easy for the consumer to gain peace of mind.
How to Buy a Burglar Alarm on eBay
When most people think of burglar alarms, they think of expensive monitoring devices that requires 24 hour surveillance. However, eBay offers many options to protect your home without paying a large amount of money. When you purchase a home security system on eBay, you can avoid a monthly fee, installation fee, and the burden of signing a lengthy contract. With the thousands of options for burglar alarms on eBay, you can find an alarm that is perfect for your home and your budget. Your family security is priceless, but it doesn't require an expensive price tag.
You can begin your search on eBay with the use of keywords in the search box on the eBay homepage. If you already know exactly which alarm system you want, you can start by searching 'siren alarm&' or 'microwave detector&'. If you haven't decided on a specific alarm, you can search broad keywords such as 'burglar alarm&' to search through thousands of options and compare prices of different alarms. To stick within your budget, you can set your maximum price to only see options within your price range. With the extensive selection, you can quickly and easily find an alarm that's perfect for your home.
Conclusion
There is nothing worse than when people don't bother with home security because they think a burglary won't happen to them. With the alarming number of burglaries, placing the proper importance on home security means always being prepared. Burglaries can only be prevented, not reversed. Not only is the family robbed of their valuable and priceless possessions, they lose the sense of security they felt in their home. While most people worry that an intruder can only break in at night when they are home, an alarming number of break-ins occur during the day as well.
Burglar alarms not only protect the home throughout the night, the homeowner can be sure their kids, pets, and home are safe anytime they are not there, day or night. Aside from protection, another benefit of having a burglar alarm is that many insurance companies offer discounts to homes equipped with alarm systems. Purchasing a home security system provides safety and piece of mind to anyone that wants to make sure their home is protected at all times.