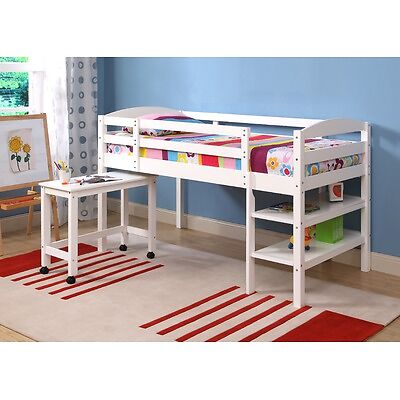 Cabin beds can provide the perfect alternative to the traditional bed for youngsters to enjoy. It has the basic advantage of including drawers and storage compartments underneath the actual bed's surface, making it practical as well as an aesthetically attractive part of a children's bedroom.
This guide will look at the different options available to parents when coming to make a purchase of a cabin bed and also where to buy one. Rather than discussing brick and mortar outlets, the following information will look at buying cabin beds online, with eBay referenced in particular - a website which provides a route into finding one at a lower rate than the average selling price in high street stores.
What are Cabin Beds?
Cabin beds are designed to have storage space underneath the mattress that can be used to keep a whole host of items, be it clothes, toys, books or additional bedding. They are primarily designed for children, but are also commonly used by adults who may require additional space in small bedrooms.
They can come in different styles to suit a number of tastes or to coincide with a certain room's existing decoration. Because of the incorporation of storage space underneath, they are often more elevated than traditional children's beds.
Beds for Children
There are some important aspects to consider for parents who wish to buy beds for their children. This section will look at some of these that can help when investing in a cabin bed model, and choosing between the different options available.
Safety is the primary consideration for youngsters, especially those under the age of 5. Look at the design of the bed in terms of the boundaries that are placed around the sides. As cabin beds will be elevated higher from the floor, due to the additional compartments underneath, the distance from the bed to the floor will be bigger; any child accidentally falling out may endure a serious injury.
The bed should also be as solidly constructed as possible. If buying a bed from a professional furniture store then it will, in all probability, have adhered to strict construction and safety guidelines. However, if looking to buy second-hand from a site such as eBay, then examining the bed as thoroughly is recommended. If possible, examine it in person or scrutinise any pictures closely.
Cabin beds will come with a ladder that allows children to climb onto the mattress. Inspect this closely for its aesthetic qualities, as well as how safe it looks. The position of the ladder may be awkward for children to step onto, especially during the middle of the night in a dark room in tired state. The actual rudders of the ladder may be poorly constructed, which children may slip on. It may also be uncomfortable to place bare feet.
Cabin beds for children are generally quite small in their width and length. Parents should know the height and size of their child and buy the right bed accordingly. They should also take into consideration the age of the child and if they are liable to grow anytime soon. Buying a cabin that will only be suitable for a few months may prove to be a costly investment.
One of the hardest jobs for parents can be to coerce fresh and energetic kids into bed. Buying an appealing cabin bed with a stimulating appearance and alluring features can help with this. Football lovers, for example, may be more attracted to a football themed cabin bed.
Buying Considerations for Cabin Beds
After understanding the needs of your child more, looking at individual cabin beds from various sources will show that they differ in their design and size. Looking on eBay for example will allow you to browse through listings and review their main pictures next to each other. For more specific buying considerations, however, this section will look at further ways to pinpoint the correct cabin bed.
Is it needed? Although a cabin bed can be an exciting venture to buy and can add an extra dimension to a room, it's the benefit of extra storage space may not actually be needed. For young children, especially who may not have many possessions and clothes, some wardrobes or drawers in the room may already be sufficient.
Age of child. How old the child is can dictate the bed that is most suitable. Very young children up to the age of 5 may only suit a cabin beds with certain youthful and colourful appearances to them, those that come with a Disney theme for example. Some models even include a slide that makes them even more appealing to some kids. As children get older, certain designs can even incorporate room for desk space and a personal computer underneath.
Room Size. The size of the room and where the bed will be positioned is again necessary to think about. Measure the area of the desired space and check the details of the bed carefully, especially if buying online. Consider the size and growing potential of the child also. Although various manufacturers can differ in their bed definitions, the standard UK size for a toddler's bed is 70 cm (2"3') wide by 140 cm (4'6") long. For standard singles, this increases up to 90 cm (3') by 190 cm (6'3").
Style/Colour. Look at the room and the style pattern or colour scheme already in place. A girl's room for example may suit a pink bed, whilst white can be considered a neutral colour for most bedrooms. Cabin beds can also be made from a variety of materials too. Wood is the most common of these, with pine, beech and oak being popular along with MDF/chipboard.
Price. Overspending is a worry for all kinds of buyers. But seeking out a good quality bed is essential when enhancing a night's sleep for a child.
Top of the range cabin beds with large storage space and smartly designed compartments can fetch over £1000, although the large proportion on the market can be found for much less. For toddlers and younger children, anything around £100 is an acceptable price for cabin beds with limited storage space or low foot ends. But be prepared to pay more as children get older.
eBay offers the chance to find cabin beds at prices much lower than can be found on the high street or professional outlets online, especially if prepared to buy a used model or get lucky winning an auction. The next section will look at how to search and buy on eBay as quickly and efficiently as possible.
Using eBay to buy a Cabin Bed
Searching on eBay can be done most efficiently by using the keyword search bar. By typing in a word or phrase, the most relevant listings will appear on the results page for you to look through. For example, typing in "children's cabin bed" from the home page will bring up the results with these words listed in the title.
After typing in a certain search term, you may notice a preference menu on the left hand side of the page. This allows the results to be narrowed down into those most desirable. Children's cabin beds will fall into two main categories; 'Furniture' and 'Children's Home & Furniture', which then will allow further options to be browsed. These can include the:
- Material
- Main Colour
- Theme
- Condition
- Brand
- Price Range
Sorting by the item's location is another useful tool here. Although the majority of brand new beds on eBay will come in the form of flat-pack kits for assembly at home, independent sellers on eBay may only be offering the bed as a collection item only. It is possible to exclude non-UK sellers if this route appeals to you, and also bring up the cabin beds that are within a certain mileage within your location using the advanced search menu.
When a suitable bed has been spotted then read the description of it as carefully as possible and also the payment and delivery details. Check out the seller and be sure to ask any questions to them if unsure about any details. Using PayPal is the most efficient way to make a payment.
Conclusion
Cabin beds are a smart alternative to traditional beds and can enhance a room both in its appearance and also by saving much needed space. They come in various styles to suit both boys and girls at numerous ages, which is reflected in the ranges in price. Think about the position the bed will go in and whether its look will compliment the room before making a final purchase.
Although it is advisable to check out a cabin bed in person, improved choice and better deals can be found online. Using eBay can be highly rewarding if searches are performed efficiently and you are up to speed with the policies of the Safety Centre.