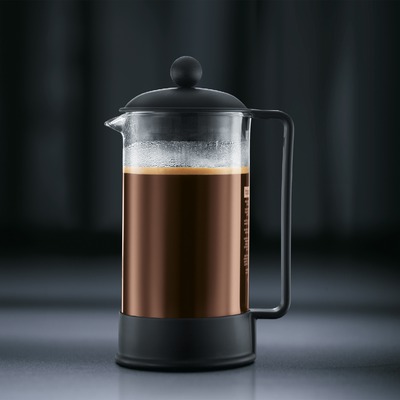 When looking for something new for the kitchen, why not consider a cafetiere?
Every coffee enthusiast knows that to achieve the best results, the perfect cup of coffee requires two things: the best ingredients, and the right equipment. A cafetiere is an invaluable piece of kitchenware for anybody who enjoys the refined flavour of genuine, fresh coffee. Also known as a French press, a coffee plunger, or a press pot, a cafetiere is a container which allows fresh coffee to brew in hot water, and which then also filters the ground coffee from the liquid, allowing the drink to be poured directly from the cafetiere into a cup. cafetieres can be found in all shapes and sizes, and made from a number of materials.
Types of Cafetiere
Cafetieres are designed in a variety of styles, from the classic, to the functional, to the ornamental. Choosing the cafetiere that will look right for the home may be a personal decision, but each cafetiere will have its own strengths and weaknesses based on the manner in which it is constructed. The most immediate of these factors is the material used to construct the cafetiere: be it glass, metal, or plastic. Bear in mind that most cafetieres will comprise of several separate parts, which are likely to be built from different materials.
| | | |
| --- | --- | --- |
| | Glass is lightweight, stylish and easy to clean. It will not sustain scratches from repeated use of the filter mechanism. | Glass is fragile and likely to shatter if dropped or mishandled. Many cafetieres are made with thin glass which is not suitable for some dishwashers. |
| | Pyrex is a brand of glassware manufactured with boron. It has low-thermal expansion, meaning it can withstand high temperatures without cracking or shattering. | Pyrex glass is heavier than standard glass. Its unique manufacturing makes Pyrex a slightly more expensive alternative to most standard glassware. |
| | Stainless steel is a robust metal which does not corrode or rust when it comes into contact with water. Stainless steel withstands high temperatures and impacts without sustaining damage, making it a durable option. Virtually every cafetiere contains at least one stainless steel component, as this is the material used for the filter mesh. | Stainless steel conducts heat rapidly, meaning that fluid contained within a stainless steel cafetiere is liable to go cold quickly. For this reason, many stainless steel cafetieres are designed with two layers, separated by a vacuum. When combined with an air-tight lid, these cafetieres can keep a drink hot for several hours, but the price is necessarily far higher than a standard cafetiere. |
| | Often seen as a budget option, plastic is a cheaper material to shape and manufacture than any of the other options. It has several benefits, too, which make it an ideal choice for many situations. Plastic is easy to mould and many of the more intricate cafetieres on the market will use at least some plastic components for this reason. Plastic absorbs shock and will never shatter. | Plastic is liable to suffer surface damage such as scratching, and heat-blistering over prolonged periods of usage. A cafetiere is for many people a refined accessory for the home, and plastic is not always seen as the most aesthetically pleasing option. |
Using a Cafetiere
The way that a cafetiere is used can influence the choice of make and model. Does the customer intend to enjoy a relaxing cup at the breakfast bar or table at the weekend? Are they looking for a more dynamic solution, which will allow them to drink their coffee on the go? Cafetieres can be used in many different ways, so thinking about how a cafetiere is likely to be used will affect the final selection. Pay attention to the information given in the following table. It details the various functions and features of the most common types of cafetiere. Note: Not every cafetiere will arrive with every component listed in this chart, though they can often be purchased separately. Pay special attention to individual product descriptions to ensure it meets every requirement.
| | |
| --- | --- |
| Beaker | The beaker is the main part of the cafetiere: it is the vessel in which the coffee is held, brewed, and from which it is eventually poured. The most crucial aspect of any cafetiere is its capacity. Each model will provide information regarding the maximum number of servings, in cups. A cafetiere chosen for personal use will only need a one to two cup capacity. One intended for a family meal time will require a larger capacity of up to six cups or more. Beakers may be glass, plastic or metal. A double-layered beaker with a vacuum will provide longer heat retention but is costly. A glass beaker may be fragile, but it is easy to clean and will not scratch. Replacement glass beakers are readily available should the worst happen. |
| Lid | If the cafetiere is only ever going to be used on the breakfast table or at home or work, then the lid will not need to offer any great protection. Plastic lids are common and cost effective. A fitted lid with fastening mechanism is essential for any cafetiere intended for transportation or mobile use. |
| Plunger | The plunger is the vertical rod usually attached to the lid. Plungers are usually stainless steel, as it is robust and will not corrode or sustain heat damage. |
| Filter | Stainless steel meshing is ideal. It is cheap and versatile for fine filtration meshing. The plunge filtering method means that the mesh has to withstand some moderate pressure with each use, and steel provides this whereas standard coffee filter paper would burst. |
| Stand | Not every cafetiere will have a stand, though they can be purchased separately. cafetieres with a glass beaker will usually arrive with a stand included. Whether this is a cork matt, or a set of metal feet, the purpose of the stand is to allow the cafetiere to be stood directly onto a table without causing heat damage to the surface. |
| Handle | Many cafetieres have detachable handles – especially models with a glass beaker. Ensure the handle is durable and will not come away at any time, as this would be a safety hazard. A cafetiere chosen for portability should not have a handle which is overly large or obstructive. |
| Stirrer/Spoon | Coffee must be stirred to release the full, rich flavour. A wooden spoon or stirrer is ideal to prevent either chipping of glass beakers or scratching on the surface of plastic ones. |
| Scoop/Measure | Many cafetieres will arrive with a scoop or measure which is designed to hold the optimum quantity of ground coffee for a single serving. These are often inexpensive, plastic spoons. |
Finding a Cafetiere on eBay
It is incredibly easy to find the ideal cafetiere on eBay, using nothing more than the site's own search function. To begin the search, open the eBay homepage and locate the options panel on the left side of the screen. Use the mouse to highlight the first option on the list: All Categories, then click Home & Garden on the pop-up menu. A new screen will load and, from this next side panel, highlight Furniture & Living. The pop-up menu that appears gives the option Cookware, Dining & Bar. Click that link. The presents the customer with a screen containing some of the listings, which is fine, but it is possible to further fine-tune the search. From the next side panel, click on Tableware, Serving & Linen. The third option of the next screen is Cafetieres. Click that and a page showing all of the currently listed cafetieres will appear. It is now possible to browse each item on this summary screen, further sorting the products by price, colour, material, and many other attributes. If a customer has already settled on a specific design or make of cafetiere, then eBay makes finding it even easier. To discover whether a particular model of cafetiere is available on eBay, return to the eBay home page. Locate the search bar that is beneath the eBay website's brand logo. Then, type or copy the name of the product into the search bar, and from the drop-down menu to the right, select Home, Furniture & DIY. The next screen shown will contain all of the relevant product listings on the site. The search can be further fine-tund by using either the side panel options, or by adding additional information into the search bar for example, "glass black". Finding the perfect cafetiere on eBay is just one consideration. Once the ideal product has been found, it is necessary to ensure that the item will arrive in a condition that is satisfactory, and that the transaction will be completed quickly and easily. When shopping on eBay, it is important to pay attention to the product vendor, and to their individual feedback score. A high feedback score is one with many successful transactions and with a very high percentage of satisfied customers. Check that the seller offers a returns policy. With a fragile item such as a Cafetiere this is crucial. Although unlikely, damage can occur in transit, and the buyer should not be left out of pocket by an honest and reputable seller. The online payment service Paypal offers further protection against poor customer service, inaccurate listings, and online fraud. It is compulsory that eBay sellers offer their customers the option to pay via Paypal on all of their listings. It is preferable to use this service whenever available.
Conclusion
Cafetieres are sleek and stylish tableware, and appearance can be just as important a factor in any purchase as functionality. Every home has a different aesthetic, and there is a cafetiere to suit every one. Finding the perfect cafetiere amongst the many alternatives may seem like an overwhelming task, but by referring to this guide, and following the step-by-step advice on searching eBay for items, it should be possible to find the ideal product in next to no time.